YEAR OF LIVING MARVELOUSLY: Local arts groups emerge full-throttle from hibernation
Music, theater, and dance came roaring back to life in Kansas City during 2022. Hungry for an arts "fix" after being stuck at home for nearly two years, audiences ventured out: first in a cautious trickle, and by the end of the year, in a flood.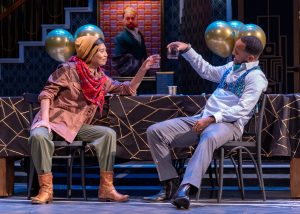 The larger producing organizations rose to new challenges, motivated by the joy of being onstage to present the most polished, extravagant productions they possibly could. Spurred by the Heart of America Shakespeare Festival's piquant outdoor Romeo and Juliet, the Kansas City Repertory Theatre rose to the challenge with a witty, sincere season-opening production of the bard's Twelfth Night.
It was Kansas City's first full exposure to the mirthful, unconventional, and prodigious directorial gifts of Associate Artistic Director Nelson T. Eusebio III.
The Lyric Opera took on Mason Bates' The (R)evolution of Steve Jobs, one of the most technically, and technologically, intricate operas it has brought to the boards. In November, Director Francesca Zambello brought dark subtleties to La traviata, almost causing me to start liking an opera I have long detested.
The Kansas City Symphony continued its parade of guest conductors contending for the music-director post the ensemble hopes to fill by the end of the 2023-2024 season. (We will report on these concerts later this spring.)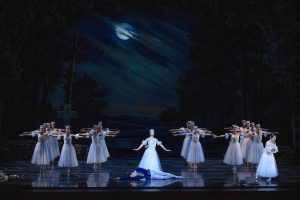 The Kansas City Ballet presented a visually arresting Giselle, then rounded out the year with its most convincing version of The Nutcracker in years: which also broke box office records. (You can read full-length reviews of some of the above at kcindependent.com: Paul's Perspectives.)
The Friends of Chamber Music presented the Ulysses String Quartet, in a program that tried a bit too hard to be "thematic" but included what is probably the most bracing performance of a Mendelssohn Quartet (Op. 44, No. 3) I've ever heard.
On the Harriman-Jewell Series, Pianist Isata Kanneh-Mason and Cellist Sheku Kanneh-Mason tackled a recital of four gigantic sonatas, in a program that suggested everything we've heard about Sheku's heart-melting cello sound is true.
And few orchestral performances I've heard can match that of the Sao Paolo State Symphony, which under Marin Alsop's direction delivered the most attention-grabbing performance of Rimsky-Korsakov's Scheherazade imaginable: Each soloist exuded his or her own distinctive personality, as Marin (striking a collaborative demeanor but always in control) gave them time and space in which to ruminate.
Just as important, though, several smaller and medium-sized companies produced work in 2022 that was as impressive as the above, while drawing on more modest budgets. The first-ever Christmas program by Voces Festivas showed that a fledgling choir of half a dozen people singing in Spanish could bring profundity to music that had never before been heard in Kansas City.
In August, the Heartland Chamber Music Festival's faculty presented a ferocious performance of Tchaikovsky's Souvenir de Florence: Headstrong visiting Cellist Zlatomir Fung (Gold Medalist at the 2019 Tchaikovsky Competition) coaxed a caffeinated performance from an ensemble of internationally renowned (but Kansas City-based) players: Benny Kim, Chiafei Lin, Scott Lee, MingYu Hsu, and Susie Yang. In true chamber-music mode, each artist fed off the energy of the others: It was something amazing to behold.
The runaway hit of the operatic year was the local premiere of Kirke Mechem's Tartuffe, presented by dauntless Landlocked Opera, Inc. It's one of the greatest operatic settings of a classic play "that you've never heard of," as the saying goes. Which is strange, considering that the 97-year-old composer is a Wichita native and that this Tartuffe has been performed more than 400 times and in six countries since its 1980 premiere at San Francisco Opera.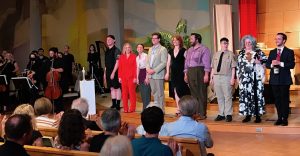 Talk about a prophet not finding honor in his own home! (Kirke's sensational John Brown, which the Lyric Opera presented here in 2008, has moreover been slow to find interest among major companies.) Yet this Tartuffe was unmitigated fun, and despite being performed in a church it came off feeling very nearly like a professional production.
The theater year was notable for KC Melting Pot Theatre's production of the final play of Lewis Morrow's dramatic trilogy. Mother/son presents an unfiltered view of a Black son's pained struggle to love his white, drug-addicted, and ultimately racist mother. It featured harrowing performances by Lewis (as the son), Jan Rogge (as Lydia, the suicidal mother), and Jackie Price.
The premiere brought this historic trilogy to a close: Melting Pot performed Baybra's Tulips in September 2021 and Begetters in May 2022. All three have been published, by Methuen Drama, as Black Matters: Lewis Morrow Plays.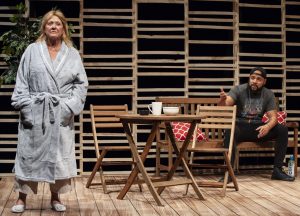 "His plays matter because he believes that the mattering of Black life is something that is done 24 hours a day, seven days a week, 365 days a year," writes Nicole Hodges Persley, a scholar who is also Melting Pot's artistic director, and who directed two of the three plays.
Also remarkable during 2022 were two productions by Kansas City Actors Theatre: The autobiographical About Alice by Kansas City native Calvin Trillin (who attended the opening and participated in an audience chat afterward) and Colman Domingo's DOT, directed by Damron Russel Armstrong.
The title character of the latter is Dotty: and yes, her name is a pun. This is an emotion-on-the-sleeve story of a mother (Nedra Dixon) who is developing dementia and realizes it's happening, and her adult children (Cecilia Ananya, Terraye Watson, and Chioma Anyanwu), who approach the dilemma with bewilderment.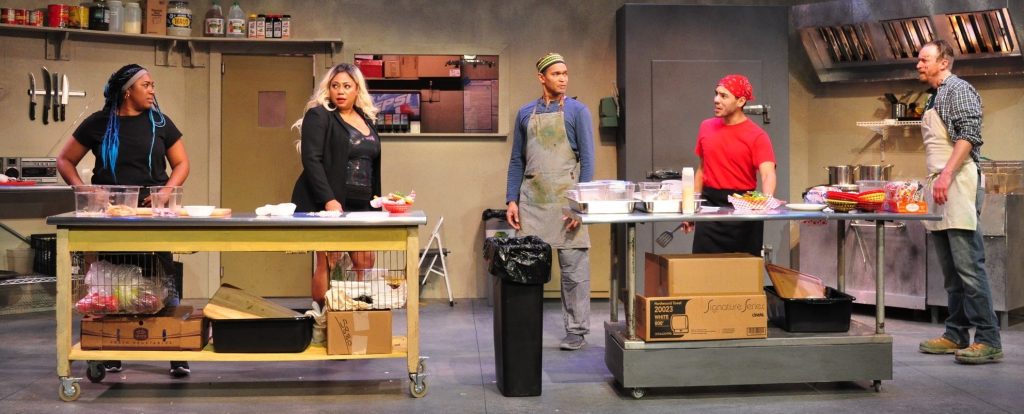 The hit of the theater year was the Unicorn Theatre's production of Clyde's, Lynn Nottage's ensemble piece about five ex-convicts who make divine sandwiches in a humble diner. This work's brilliant economy allowed the actors (Cecilia Ananya, L. Roi Hawkins, Zach Sudbury, Freddy Acevedo, and Jenise Cook) to yank us, kicking and screaming, into their stories: which seemed ordinary enough on the surface, but could break your heart if you let them in.
—By Paul Horsley
To reach Paul Horsley, performing arts editor, send an email to paul@kcindependent.com or find him on Facebook (paul.horsley.501) or Twitter/Instagram (@phorsleycritic).
After more than two decades and four deans, it was beginning to look as if the UMKC Conservatory's dream of a new facility would remain just that: a dream. Until…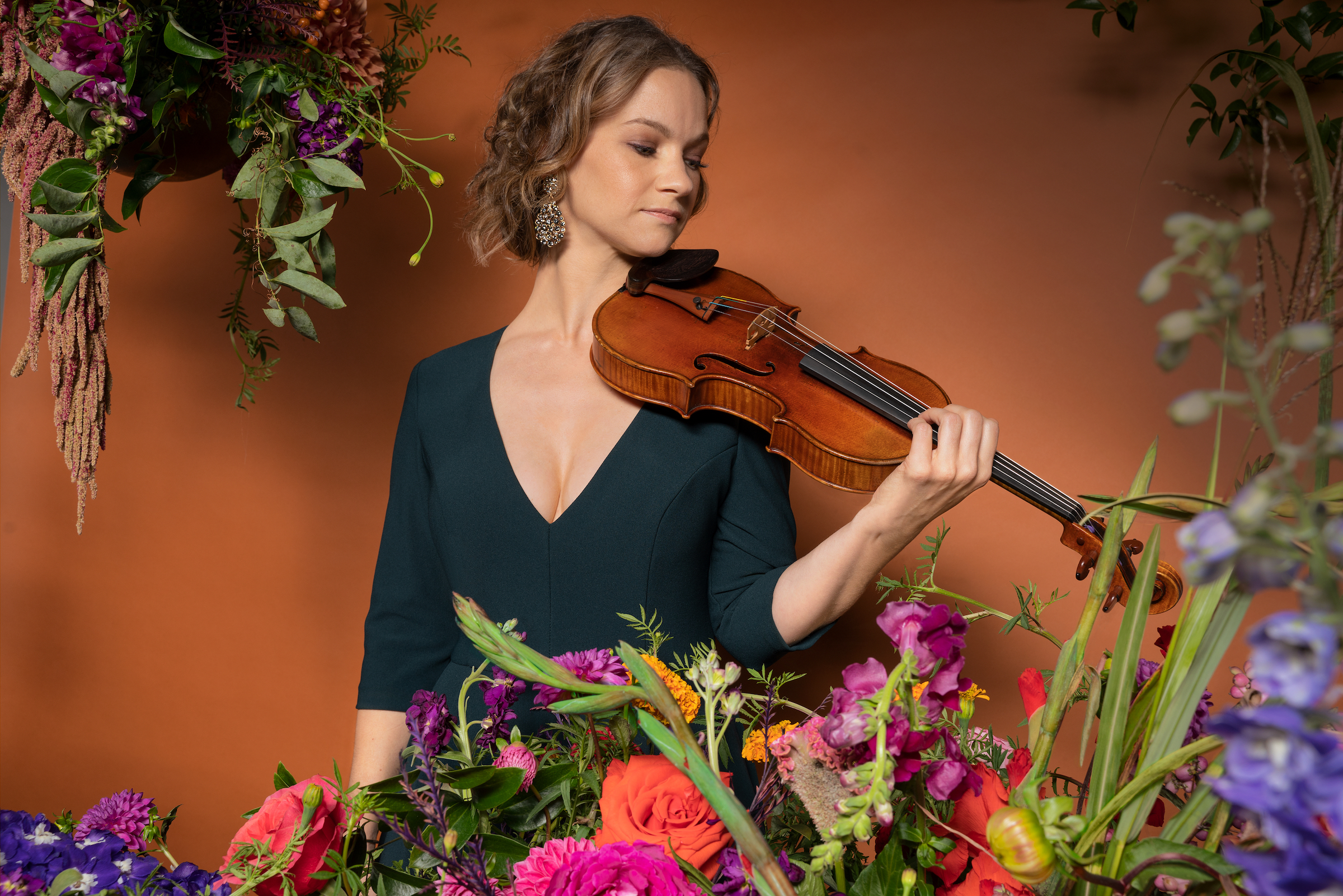 One woman, standing alone onstage. No pianist, no music-stand: Just Hilary Hahn and her violin, creating miracles. That is what Harriman-Jewell Series audiences are likely to experience this October 13th,…
Oh the weather outside is frightful(ly hot). But it won't be for long, so take a close look at this fall's diverse and provocative mix of music, dance, and theater:…
Kansas City Ballet always seems to be building something. For decades, it engaged in refitting existing buildings to meet its day-to-day needs: from the Westport Allen Center to the National…