14th Annual HALO Kansas City ArtReach Auction
The 14th Annual HALO Kansas City ArtReach Auction was held on February 22nd at the Brass on Baltimore. Susie and Chad Wollard were the honorary chairmen. Hero of the Year was the title bestowed on Sally Sallee. Carly Rae Robinson and HALO Kansas City children created the live auction item, "Love Heals," and she was named Artist of the Year. Supporter of the Year honors went to Greg Lam. Volunteers of the Year were Brittany English, Derek Yu, Allison Reeve, Elise Brummett, Sam Hoffman, and Cindy Bartko. Frankie and Madison were announced as HALO Stars of the Year. Advocates of the Year were Mariner Wealth Advisors and Perennial Places. The evening featured an auction of artwork by orphaned children throughout the world and the music of Lost Wax. HALO helps provide housing, healing, and education for homeless and at-risk children.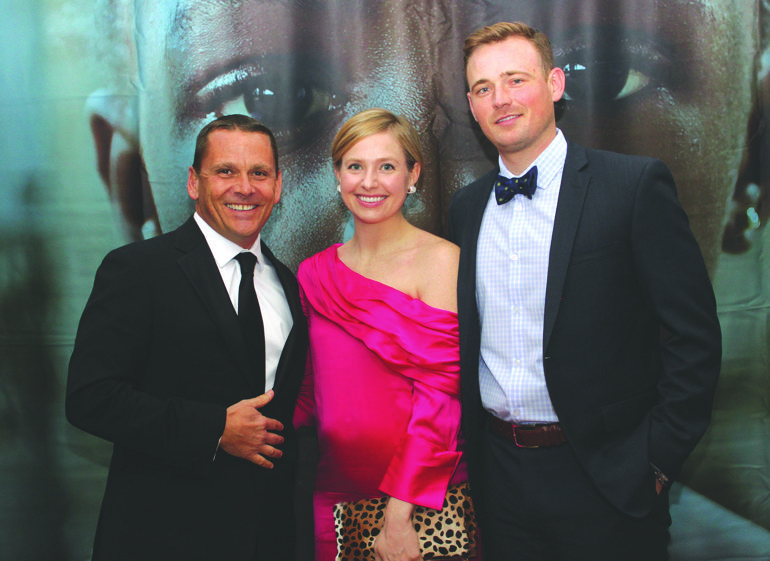 Marty Bicknell with Juli and Nick Peterson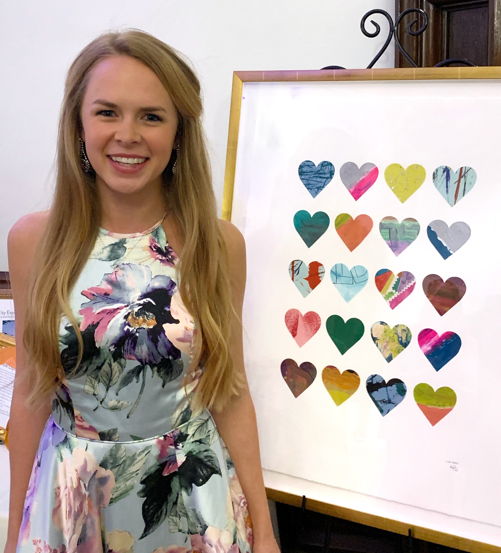 2019 HALO Artist of the Year Carly Rae Robinson posed with the live auction item she created with HALO Kansas City children, "Love Heals."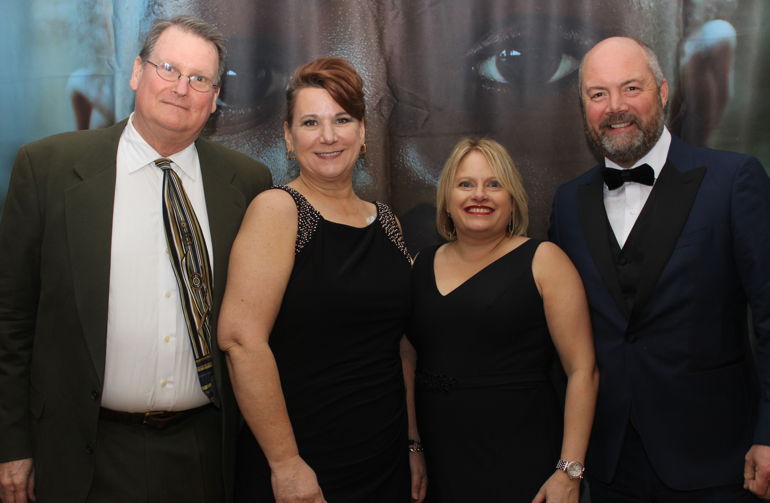 Joe and Sybil Chandler with Jody and Bryan Albers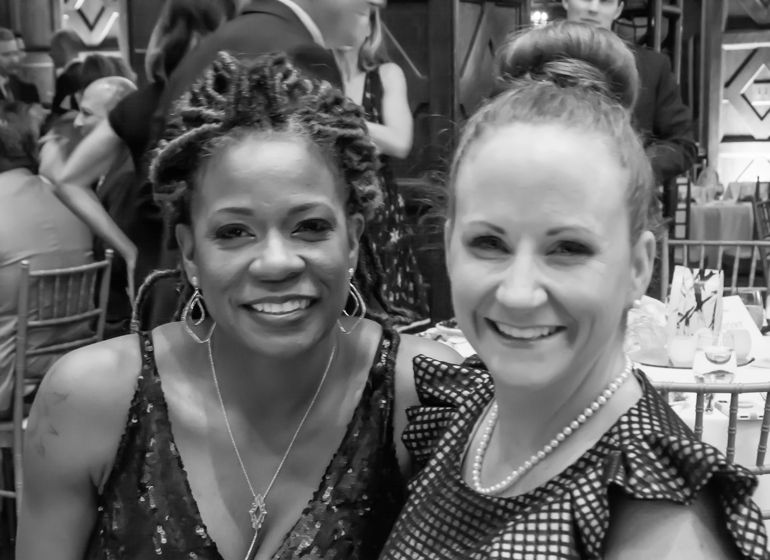 Dawn Rattan and Shayla Hamake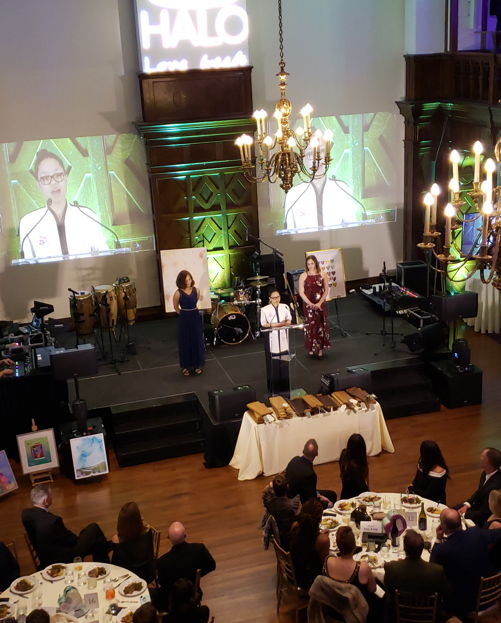 2018 HALO Star of the Year Alesia sang, as 2019 HALO Stars of the Year Frankie and Madison watched from the stage.
Award Winners: (Front row) Elise Brummett, HALO Youth Madison, HALO Youth Frankie and son, HALO Youth Alesia, Kim Ansari, Perennial Places; and Carly Rae Robinson, Carly Rae Studio (back row) Brittany English, Sam Hoffman, Greg Lam, Derek Yu, Allison Reeve, Sally Sallee, and Katrina Scott, Mariner Wealth Advisors
Additional photos featured in the April 13, 2019 issue of The Independent
KidsTLC hosted Benefit23, a dreamy evening filled with pajamas and a fun celebration (sounds wonderful!) led by Chairmen Sarah and Ryan Owings. With delightful cocktails from J. Rieger & Co.,…
Teresa Walsh hosted the 11th annual occasion of The Gathering, a benefit for Catholic Charities Foundation of Northeast Kansas and the New Roots program. Missy Kuklenski served as the chairman.…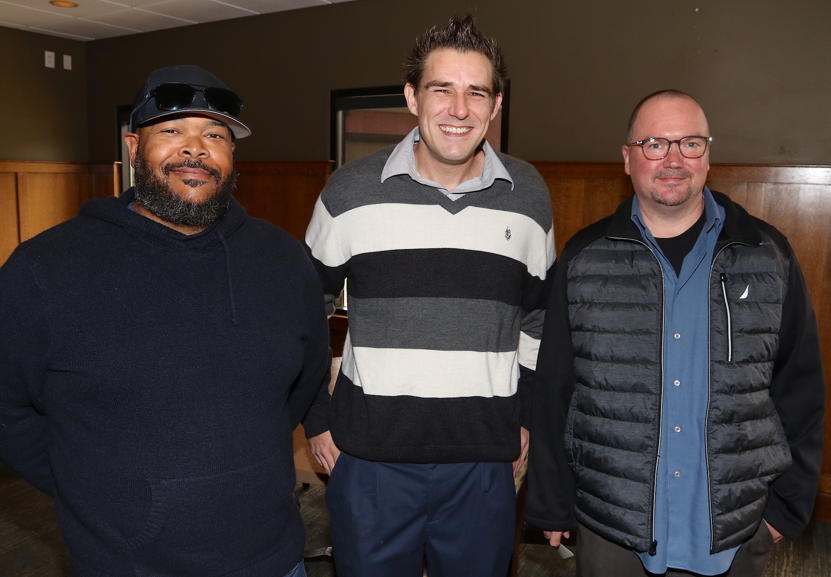 Being fitted for formalwear before the Community Ball and Cotillion on December 2nd should be fun, so the Junior League of Wyandotte and Johnson Counties hosted a Meet and Greet/Icebreaker…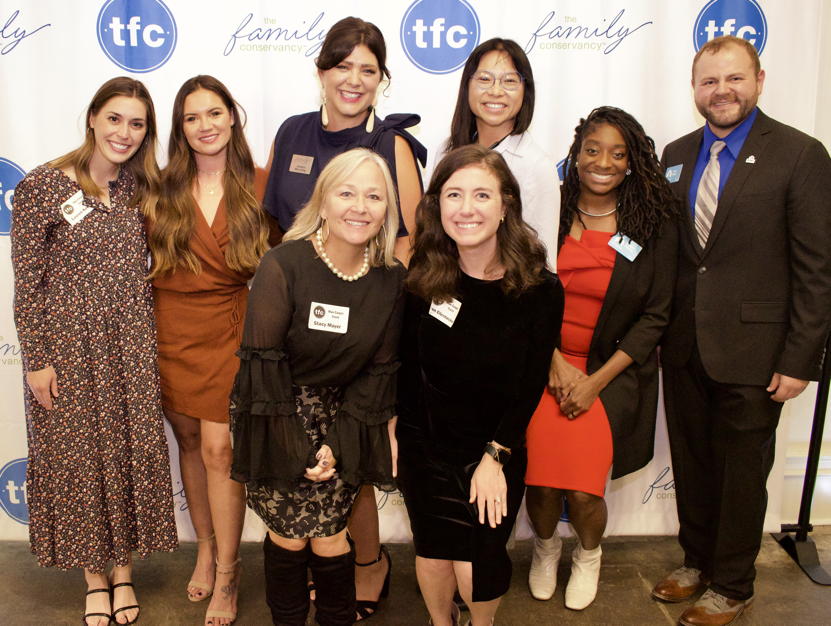 The Family Conservancy's Blue Carpet Event was held on October 13th at The Abbott. Partygoers enjoyed cocktails, dinner, live music, a wine pull, and silent and live auctions. Sly James…