Culinary Curiosity – Duck and Roll
Let's start with a confession or a few. They had me at the name – Duck and Roll redefines clever, and I fell for it. Second confession: going to Duck and Roll I had some preconceived notions regarding Asian-style food. Boy, was I wrong! The idea, the name, the food, the owner, all threw me for a loop. This is NOT your usual fare, this is original, authentic, well-thought-out, well-executed fare with no pretense, and enough flavor to make you question everything you've ever known regarding Asian-style cuisine. Third confession: do not be deterred (I might have looked twice…) by the "strip" location at 4800 Main Street, off the Plaza, across from the Kansas City Library. There are a few steps involved, or a garage entrance for convenience, so just keep your eyes peeled.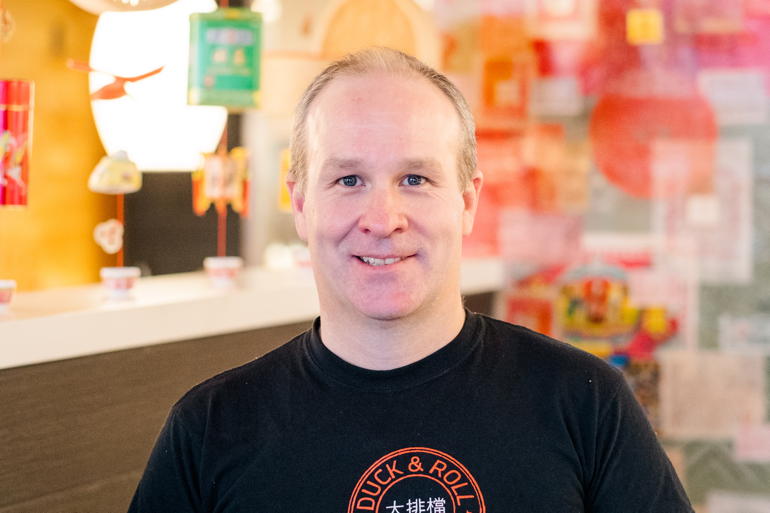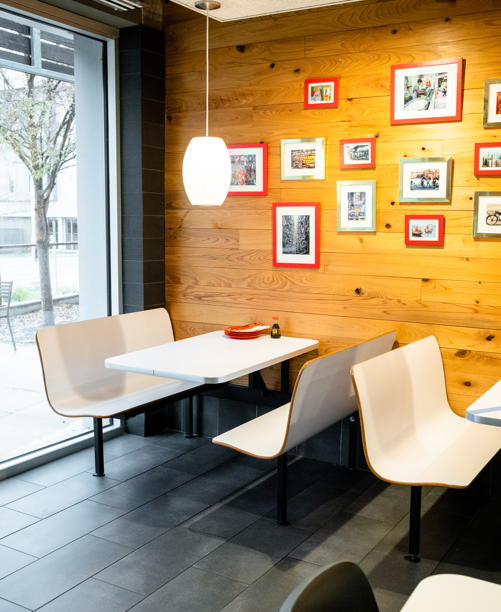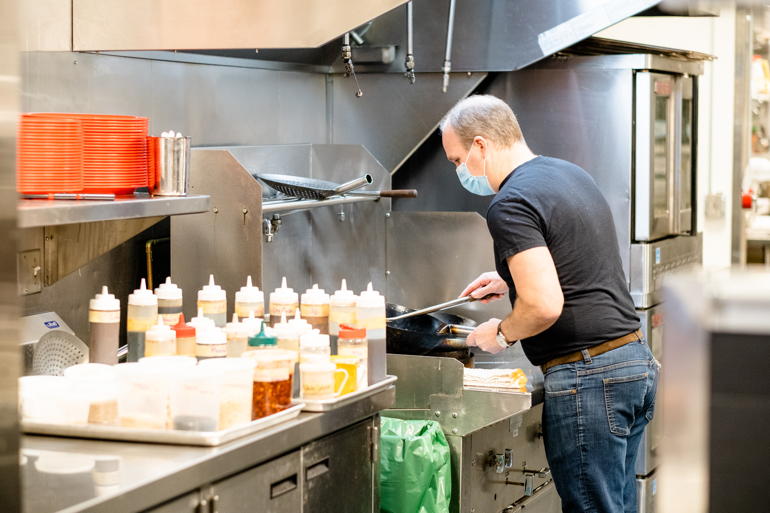 Starting with the owner and founder, Rob Joseph, the Australian accent both delights and confuses. (Australia, China, Kansas City… my mind was reeling and it was only the first phone call.) Rob and wife Kate moved to Kansas City from Sydney because Rob worked in animal pharmaceuticals, and Our Town boasts being a central figure in that world. Fast forward a couple of years, and Rob, Kate, and business partner Erika Vikor are missing the flavors of Aussie-land, so they start the restaurant Banksia at 9th and Baltimore in downtown KayCee. (Banksia's menu is cafe, bakery, breakfast, salad, soup, sandwich, and begs to be reviewed at a future juncture. And, there is a second Banksia location by Duck and Roll.) According to Rob, "one thing you can be sure of, Aussies don't take themselves too seriously, and we hope our laid-back lifestyle shines through in our restaurants."
It turns out that Rob had spent quite a bit of time working in and traveling to Hong Kong, and he missed the back street food stalls (dai pai dong), where each stall specialized in a type of Chinese food – usually Cantonese in origin. (The dai pai dong characters are now embedded in Duck and Roll's logo.) So, the owner/chef set out to recreate some of the delicious dishes he craved, and decided that Peking duck could play a central role in his cooking. It was a favorite of his and his father's when they created dishes together, and it is a staple of Cantonese feasts.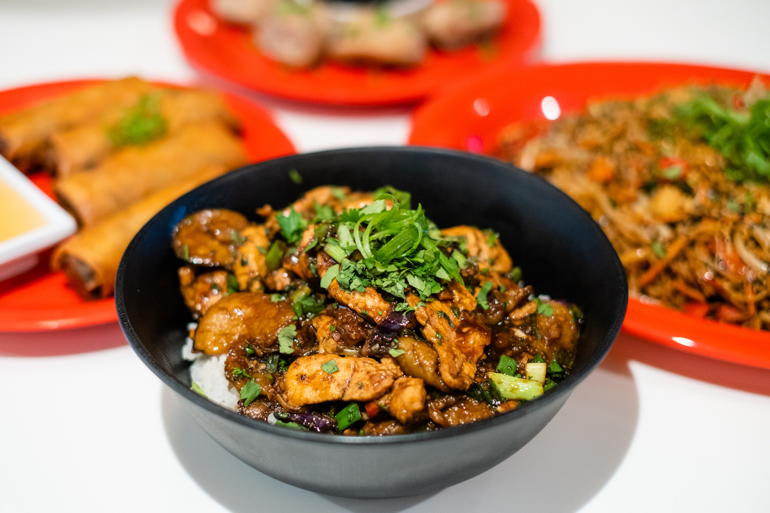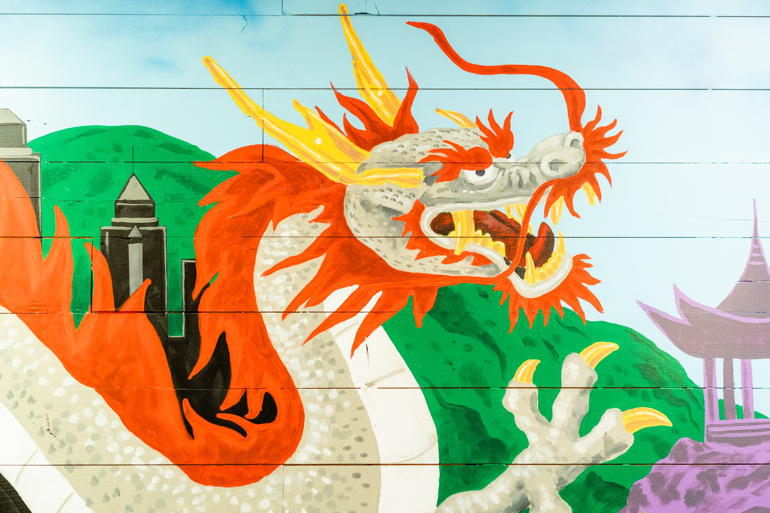 The menu of Duck and Roll is separated into four categories – appetizers, dumplings, wok bar, and Chinese BBQ and hot pot. Let's explore each division! For appetizers, we chose satay chicken skewers with fantastic peanut sauce, Peking duck pancake, Peking duck spring rolls and cucumber salad. The duck pancake was sublime – with the savory duck and the sweet-but-not-too-sweet sauce, and was a unanimous group hit. Spring rolls were very crunchy, very tasty, and very light. And, of course, the cucumber marinated with mint, dill, and cilantro cleansed the palate nicely. When I go back, I can't wait to try the Peking duck Sang Choi Bao – shredded duck meat and skin stir-fried with red peppers, bean sprouts, carrots, water chestnuts, and peanuts served in an iceberg lettuce cup. 
In the dumpling category, we tried the pork with shrimp and chives and mushrooms. Again, light, sublime tastes and textures with the unusual but complimentary combination of pork and shrimp. Those only lasted a second. Next time, we'll pick one of the seafood or vegetable dumplings. 
The wok bar choice was possibly our most surprising and enchanting treat! The sesame noodles are wok-fried chow mein noodles, carrot, green onion, and red peppers with sesame sauce and black and white sesame seeds. A large portion arrived, and each one of our party took more than one helping. The noodles were crispy while being so flavorful without sitting in a puddle of heavy sauce. 
Another fun revelation came in the hot pot decision, and we chose chicken and eggplant. If you are at all acquainted with me, you will assume that eggplant was not my choice! But, I'm here to tell you that it was marvelous! The chicken is slow-cooked with Chinese eggplant, green onions, ginger, jalapenos, cilantro, and soy sauce and served on rice. This might have been the favorite of my husband, but we won't tell tales. And, I could be an eggplant convert.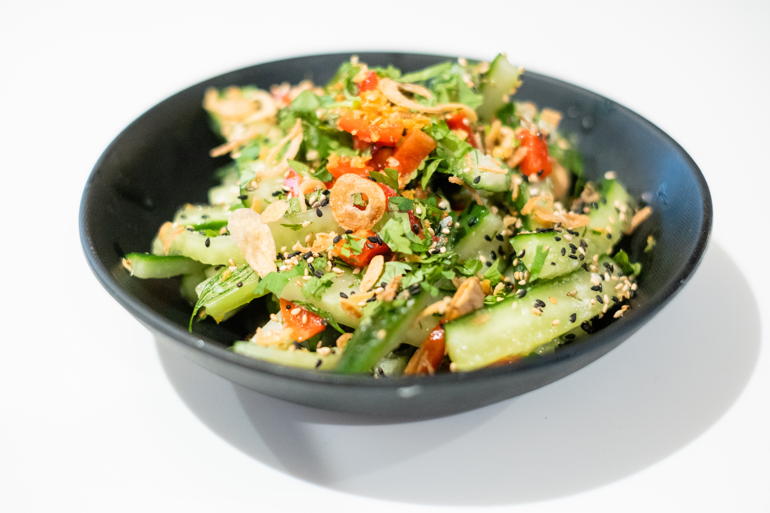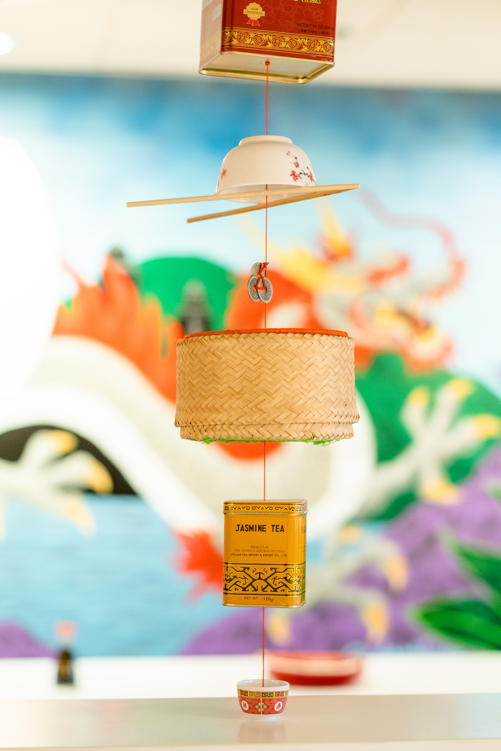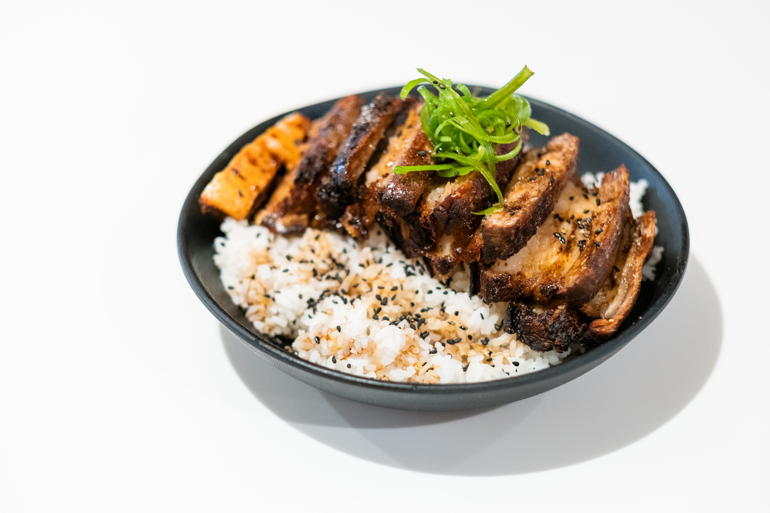 The menu is larger than we were prepared to try in one sitting. There are noodle soups, fried rice, seafood including calamari and prawns served on iceberg lettuce, crispy pork belly, lamb, beef, and a curry fish ball, just to name a few more. To accompany any dish, select from a set of Asian beers, an Australian hard cider, wine, or our tame selection of Oolong tea. 
Duck and Roll is open for dine-in seating, where you make your choices at the counter and then seat yourself at tables, booths, or high-tops. They, of course, offer pick up and delivery, and have a robust catering business for social or work gatherings. Our party relied on the recommendations of Rob and his staff, and we were not disappointed. This is a local treasure with a fun back-story, authentic fresh Cantonese food, and a delightful chef/manager who helps us explore the world from our own backyard. 
Also featured in the December 19, 2020 issue of The Independent
Photo Credit: Bailey Pianalto Photography
By Anne Potter Russ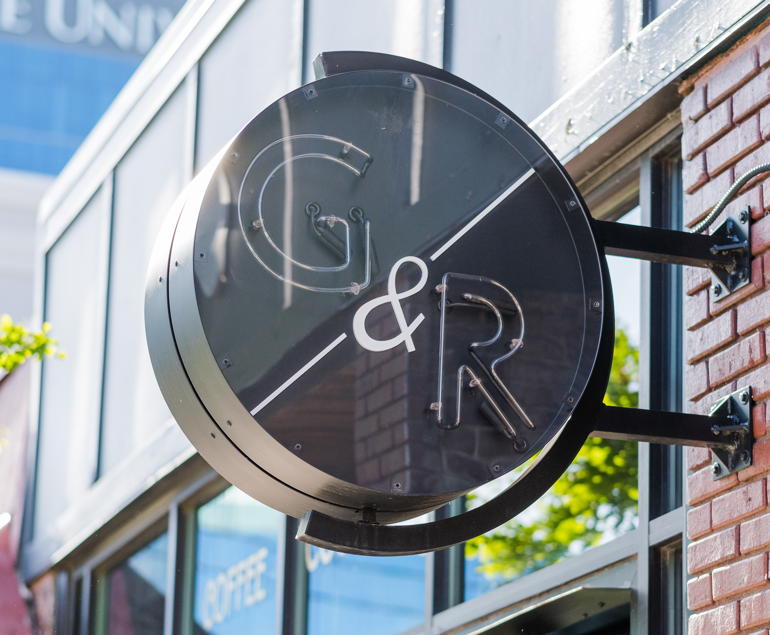 Kansas City is a story of parallels. Straddling the state line of Kansas and Missouri, our fair city has provided interest and intrigue for centuries now. From the practical, "Which…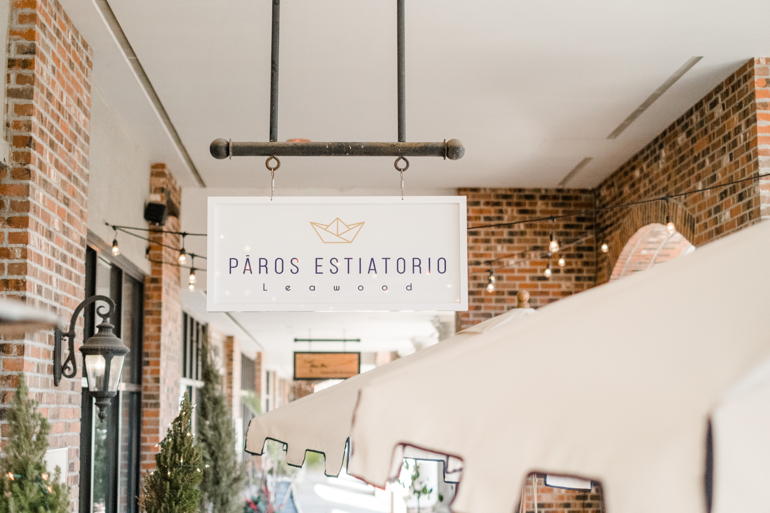 Fresh, elegant, sophisticated, and graceful – Paros Estiatorio, the new Greek-influenced neighbor in Mission Farms is just the vacation we haven't been able to take and just the fare we…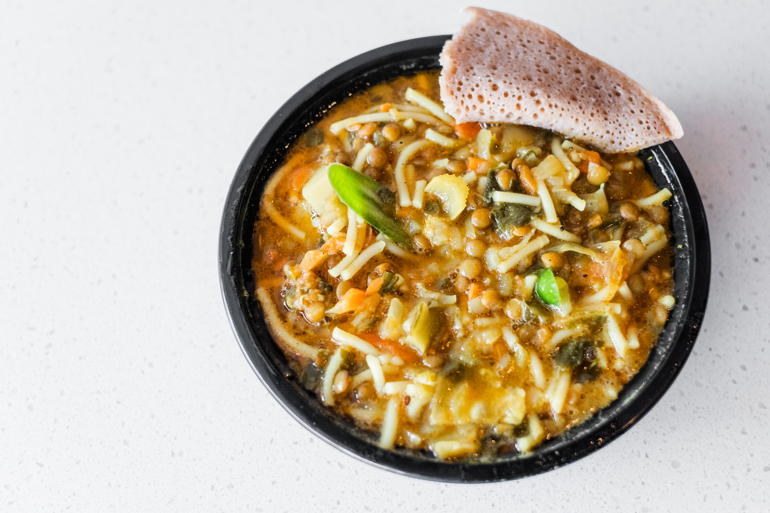 Some restaurants require diving in with both feet – or hands, as it might be in this case. Eating Ethiopian food is an intensely interactive activity, a community experience, and…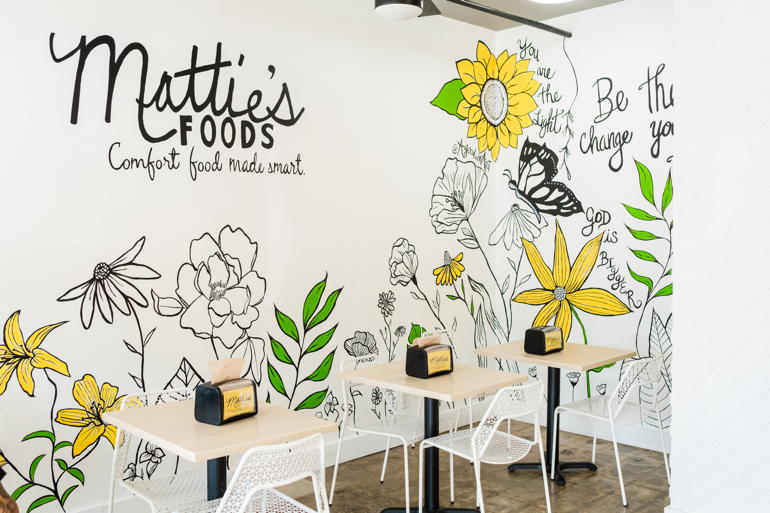 Beginners, be not afraid! Neophytes, knowledge is everything! Bravely go where others have tread and embrace the new, the tasty, the vegan. The land of all things vegan doesn't mean…