Culinary Curiosity – Wedding Traditions
Ever wondered what the traditions are in other countries when it comes to weddings? Do others revere wedding cake as much as we do? What would you serve if you wanted to incorporate some delicacies from other parts of the world? We've put together a summary of sorts for sumptuous samples and tasty traditions from all corners of the globe! In purely alphabetical order, here is what we found:
Brazil: The cookies served at weddings are called Casadinhos, meaning "married." The cookies form a sandwich, held together by marmalade, honey, jam, or cream. They are then rolled in sugar and wrapped individually, after which they are called, "Bem Casados," or "well married." They symbolize the sweet union of bride and groom.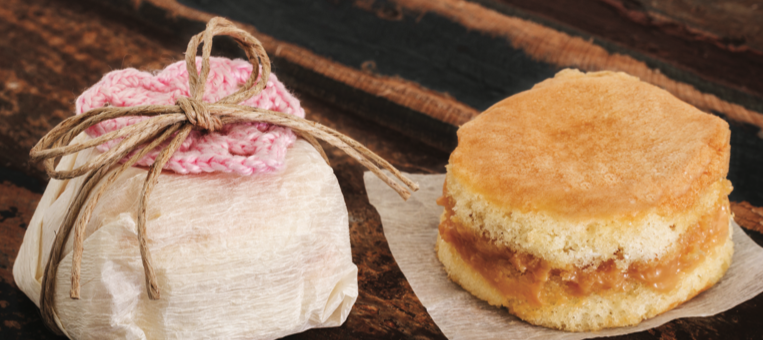 ---
Bulgaria: In Bulgaria, it's the groom's mom who greets the bride at the party with wine and a loaf of honey-drizzled Pitka, the "butter bread." The bride, her mother, and other women in the family bake on the Thursday before the wedding. The rising dough represents the growing family, and, at the reception, the couple tears it in a wishbone-like contest; whoever gets the larger half is said to have the upper hand in the family.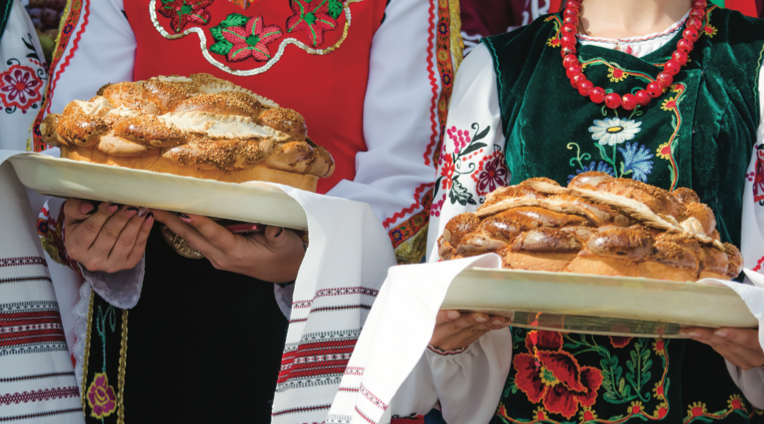 ---
China: Wedding banquets in China are grand events, and usually consist of eight courses. Peking Duck is a staple at most Chinese wedding celebrations. The duck is highly symbolic and meant to represent happiness for the new couple. Ducks are known to mate for life. Served whole, it implies the completeness of the new couple.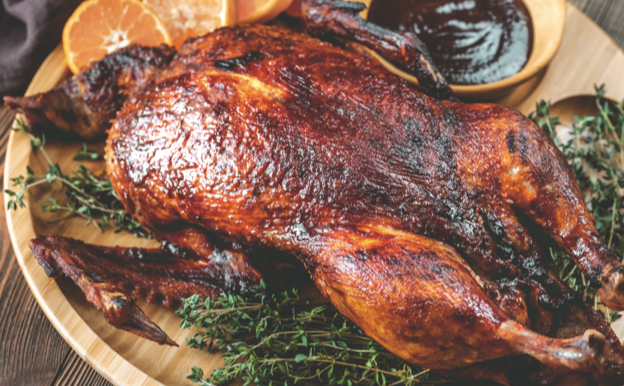 ---
France: For the French newlyweds, a must-have is Croquembouche. It is a work of art, and at the same time, a delightful "tree" of profiteroles. Each little ball of dough is filled with crème patissiere, bound together by threads of caramel. Each piece has to be made individually, and then stacked so as to look good and be sturdy at the same time. No one wants a fallen Croquembouche on their wedding day.
Greece: Savory rules the wedding day in Greece. A bread salad is the go-to meal for the wedding feast. January and June are considered ideal times to get married because they were ruled by Hera, the goddess of marriage and fertility. This hearty first course includes lettuce, sea scallops, crab, calamari, and mussels.
---
India: Even with the brilliant colors, the flowers, the henna, the veils, and the music, food still stands strong at an Indian nuptial celebration. Lasting up to a week, the wedding celebration is a marathon! Guests dine on Naan, curried dishes of sorts, roasted potatoes, and vegetables. Post wedding, alcoholic beverages are included, and sweets are incorporated. While there is no wedding cake, the couple feed each other bites of honey and yogurt.
---
Italy: Of course, Italians know how to celebrate! In addition to the antipasti, which is a staple of Italian cuisine, guests at weddings are served "bowties." These are twists of fried bread covered in powdered sugar, and are believed to bring good luck. Often, guests are also given gift boxes with candied almonds to represent the sweet and bitter (better or worse) aspects of life.
Japan: One of Japan's most famous wedding rituals is called the San-San-Kudo, during which the bride and groom take turns sipping sake from three different cups of varying sizes stacked on top of each other. The first three sips represent the three important couples: the bride and groom and each of their parents. Ku, means nine and is considered a lucky number. This moment seals the marriage and represents the newly formed and unbreakable bond.
---
Korea: In Korea, many of the foods served on the wedding day have direct symbolic meaning. Long noodles, called Kuk Soo, are for long life. The main dish at a wedding reception is known as a Kook Soo Sang, or "noodle banquet." Made of wheat flour in a light, anchovy-stock broth, Janchi-Guksu are topped with foods in the colors that represent the five natural elements which are the key to Eastern medicine — wood, fire, earth, metal, and water. Often those are green zucchini for wood, reddish carrot for fire, an egg to cover both yellow for earth and white for metal, and black seaweed for water. A dessert called Yak Shik is a sticky rice ball sweetened with brown sugar and speckled with raisins, pine nuts, and chestnuts, which symbolize children. Brides enjoy having chestnuts and dates thrown at them, and they try to catch them in their dresses. The number they catch indicates how many children they will have.
Sweden: In this country, special occasions, especially nuptials, are celebrated with a Prinsesstarta, or princess cake. This confection is made of layer cake and consists of alternating layers of cake, jam, pastry cream, and whipped cream. The whole cake is covered in an overlayer of marzipan, which is traditionally dyed green. Small details such as powdered sugar, icing swirls, and a pink rose are common to add for embellishment.
United States: A wedding cake is the ultimate reception dessert in the vast majority of America. It's a frosted fertility symbol, a combination of flour (usually made of wheat, a cross-cultural sign of abundance) and sugar, which is associated with wishes for a sweet life. The tiered cake we know today may date back to 17th century France, when a baker frosted a tower of sweet buns, starting a trend; or to 18th century London, when cakemaker William Rich created a cake inspired by the spires of St. Bride's Church in order to impress his true love. 
---
When consulting with reception venues and caterers, it helps to know what capabilities are available. We reached out to our friends at the Kansas City Marriott Downtown, and the response was very reassuring. According to Dustin Hocumbrink, director of sales and marketing, "With more than 35 years' experience, Executive Chef Ronnie Kotz has the palate and talents to deliver a phenomenal culinary experience customized to a variety of cultures. But if an event requires a special touch that we need assistance with, we are also happy to discuss involving an outside specialty caterer. It is always exciting for our events team, banquet service staff, and culinarians to find ways to incorporate beautiful, colorful décor and international cuisines into our special event packages." 
Also featured in the July 10, 2021 issue of The Independent
By Anne Potter Russ
Want it spicy? Want it mild, want it fresh, want variety? Want original? Want a personality larger than life to recommend what is best? Want true Mexican fare with four…
An increasingly high demand for quality Thai food has brought about a third location for Penny and Doug Mufuka to Our Town. Also the proud owners of the Thai House…
Contemporary comfort food with a creative flair, convenience in Prairie Village, and local owners – what's not to love? Scratch Gourmet Express and Catering is the newest, and possibly most…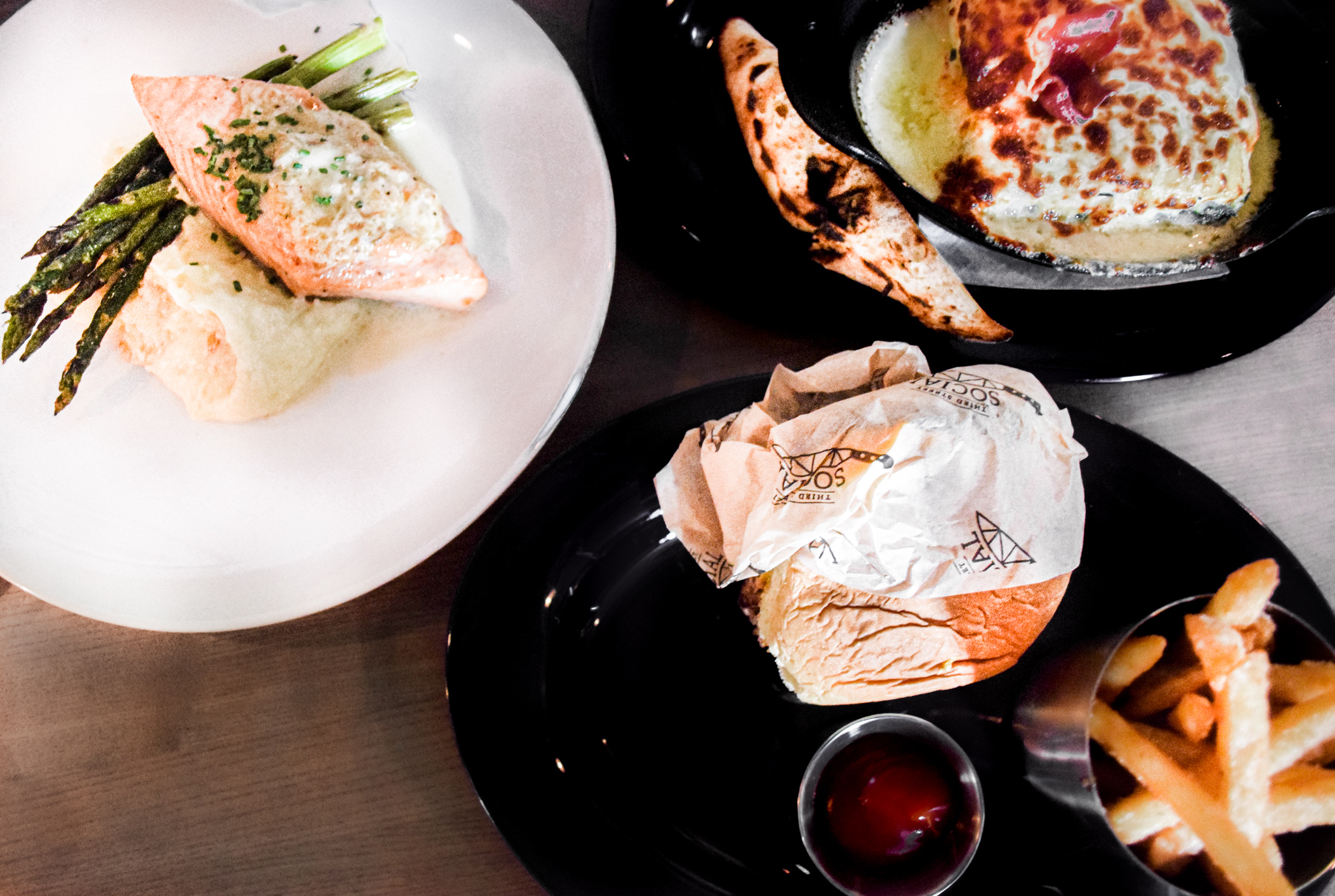 A nice drive to Lee's Summit would have been required until recently to access some of the most amazing comfort food – chicken and waffles – but not anymore! Andy…