Flowers, Garlic, and Evil Spirits? Oh My!
How fortunate brides are today to have luxurious bathtubs and exotic shower heads imitating rainfall in the forest to ensure wedding day cleanliness at its best! Because back in the day, dear friends, brides carried garlic, herbs, and spices in bouquets to cover up, shall we say, the lack of a clawfoot tub. Oh, and those smelly lovelies also warded off evil spirits who might be planning terrible things for the happily wedded couple in ancient Greece and Rome. Fast forward to Victorian times, when Queen Victoria married Prince Albert, the herbs had been replaced by fresh flowers, and even edible flowers, particularly marigolds. Other pieces of history worth noting are that a full bouquet carried by the bride symbolized fertility; and the tradition of tossing the bouquet started in the late 1500s, as brides were considered to be extremely lucky, and the ladies at the wedding wanted to grab some of that luck. (Better than tearing off pieces of the bridal gown, yes?)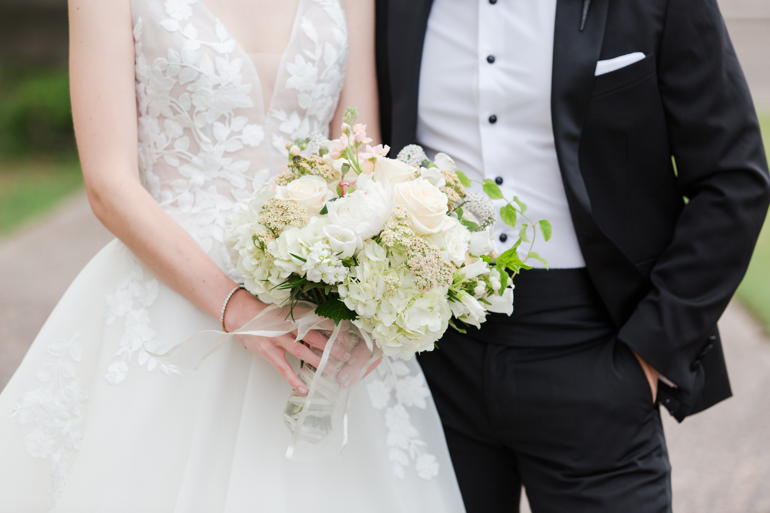 Today, brides choose the flowers to complement their wedding plans by using ideas from other weddings, the Internet, and sometimes by a mother's carefully worded guidance. The most popular wedding flowers are roses, tulips, calla lilies, dahlias, and hydrangeas. Since many varieties of flowers come in many varieties of colors, we have sought assistance from some of our local experts as to trends in wedding florals. Here is what we found:
Asymmetry – it's hip to be asymmetrical. Don't make the swags and the florals match perfectly. Craig Sole of Craig Sole Designs suggests maybe an arch for the location of the vows that is draped more to one side with an array of colors of flowers. Also, the bouquets do not have to be symmetrical. Loose, flowing gatherings of greenery and florals are in.
Use patterns in fabrics to combine with florals. Be brave – add plaid, add paisley, put some pattern into the overall look of the wedding venue, put patterned ribbons on your flowers (bouquets or decorating the chairs, etc.).
The monochromatic look is quite popular right now. From wedding websites to Pinterest to local florists to experienced floral-genetic-counselors (yes, it's a thing), these are the most utilized colors right now:

Blush, Coral, Beige, Silver, Sage, Dusty Rose, White/off-white

Metals are all the rage. Accent with the shimmer of golds, silvers, rose golds, copper, platinum, and titanium. These fun pieces do not have to cost a fortune! Do-it-yourself stores and sites have all manner of accents with metal tones. Flowers displayed in metal containers bring shine and glamour to any setting.
Greenery – don't forget to be generous with the greenery. It is less expensive than flowers, adds bulk, and it gives a splash of color, even if the monochromatic look is chosen. Greenery adds depth and breadth to any display, whether it is a whole table or one rose pinned to a groomsman. Tip from the pros: greenery will add so much visual interest to photographs. Remember to think about how the visuals will all look in 10 or 20 years.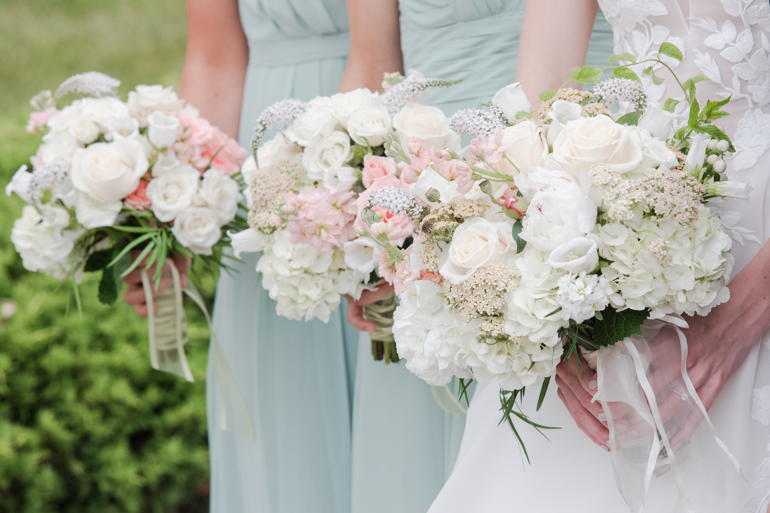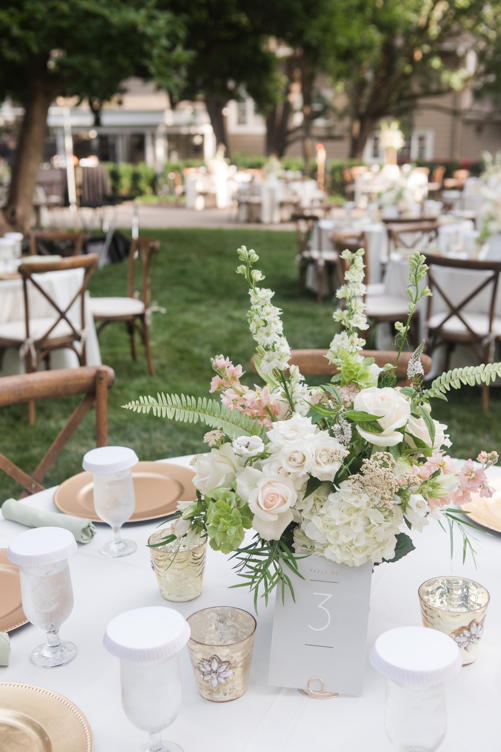 In the category of "we couldn't resist," here are a few former trends that seem to be finding their way out of our collective conscience.
Generic themes for weddings, such as country, rustic, Gatsby
Overdone tablescapes – less is more… no clutter for clutter's sake
Mason jars and burlap; let it go
Tossing anything not biodegradable at the happy couple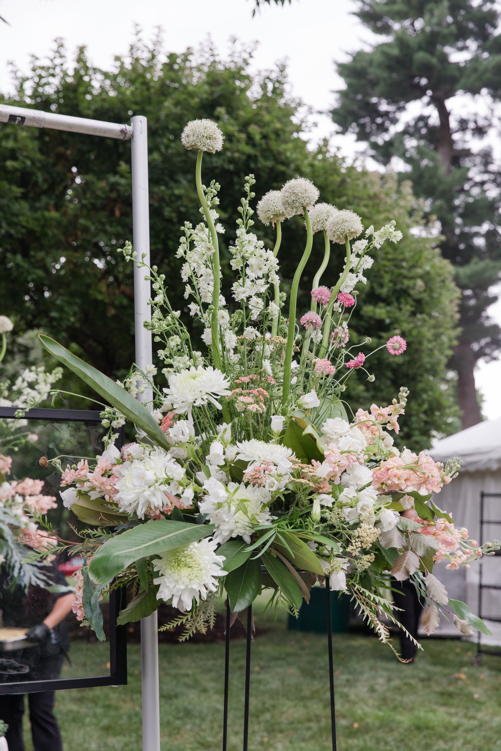 Speaking of not throwing confetti, local experts advise to keep the celebration as sustainable as possible.
Use locally-sourced, organic flowers
Use potted plants for decorations that can then be taken home and put in-ground.
Take large floral displays to nursing homes, hospice, schools, and children's centers the day after the wedding.
Beautiful and sustainable – edible florals on the cake
Research websites promoting "zero waste" or "reduced carbon footprint."
The bottom line in wedding planning, and specifically as it relates to floral planning is: be intentional, be true to what moves the couple being celebrated. Sarah Sahli, Bergamot & Ivy, said, "Embrace the intimate, smaller wedding. As the downsizing of weddings was born out of necessity recently, it has become an opportunity to really enjoy every detail of the special event."  Immerse yourself in the details of making it your favorite, gorgeous day.
Also featured in the Tie The Knot Signature Issue – August 8, 2020 
Photo Credits: Heather Brulez Photography and Julianna Noelle Jumper
By Anne Potter Russ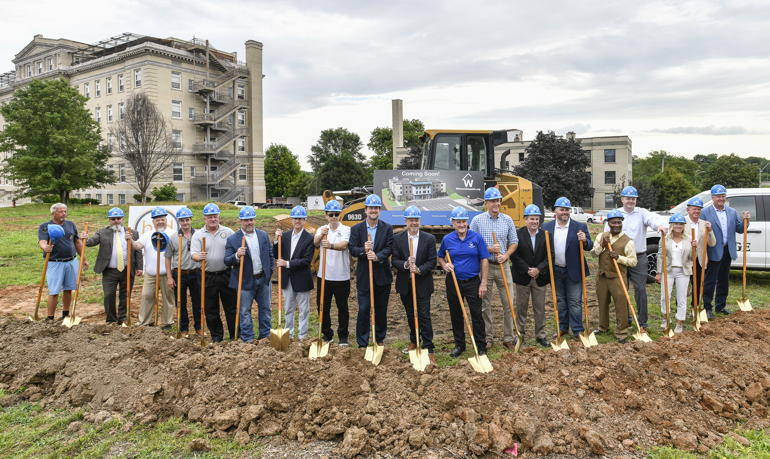 The Reverend Dr. Ted Pierce of Rolling Hills Presbyterian Church gave the invocation when Welcome House held a Groundbreaking Ceremony on June 23rd for the soon-to-be Welcome House Recovery Center.…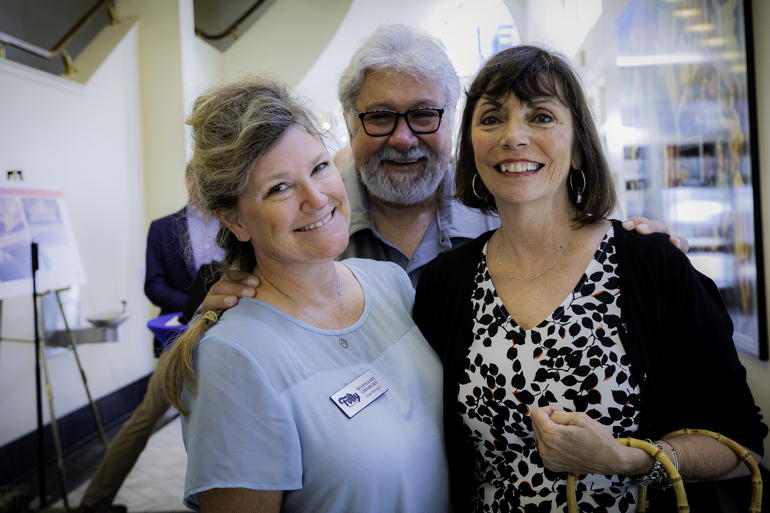 The Folly Theater has just begun the most extensive renovation project in its history. To celebrate, there was a Groundbreaking Ceremony on June 21st. Among the upcoming attractions are wider…
Kathy Hunt Woodward (Mrs. Phillip Scott Woodward) was the chairman for The Jewel Ball, a benefit for The Nelson-Atkins Museum of Art and the Kansas City Symphony. The event was…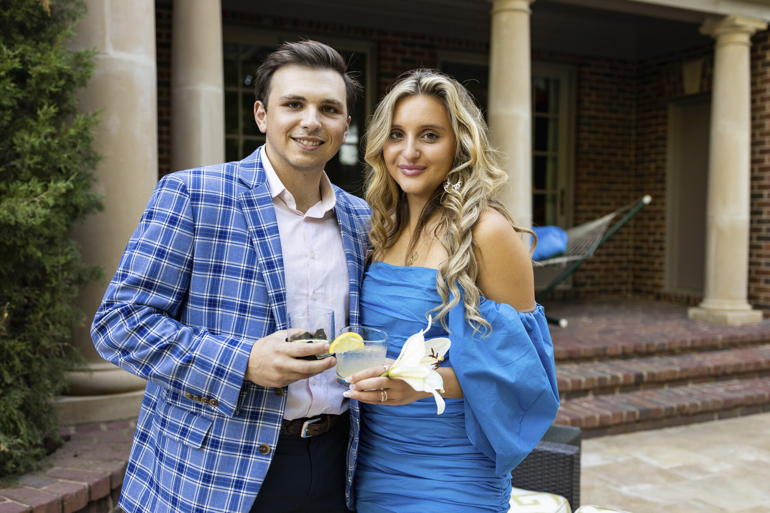 The UMKC School of Medicine's 50th Anniversary Benefactor Party was held at the stunning home of Rachael and Dr. Nelson Sabates. A jazz trio from the UMKC Conservatory provided entertainment…