IN REVIEW: Choreographed version of Oz story bursts with visuals, stagecraft
It's amazing, really, that in the dazzle of costumes, projections, puppetry, lighting and even a mechanical Toto, Septime Webre's new The Wizard of Oz still managed to remain a ballet. The Cuban-American dance maker, who recently left a longtime post at Washington Ballet to take a position at Hong Kong Ballet, is a gifted choreographer, but he also knows how to "put on a show," as Judy might have said to Mickey. The over-the-top and wildly eclectic production, which had its world premiere October 12th at the Kauffman Center, very nearly overloaded the integrity of the mostly well-built choreography with visual pizzazz. Yet for the most part this distinctive retelling of L. Frank Baum's tale stood firmly in the tradition of story-ballets—featuring solos, duets and ensembles danced with conviction by members of the Kansas City Ballet.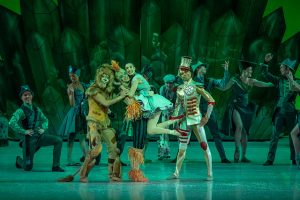 The production, a collaboration with Colorado Ballet and the Royal Winnipeg Ballet, reportedly cost about a million dollars to create, and the result is a visually overpowering spectacle the likes of which we have not seen on a Kansas City Ballet stage. Indeed, it was the enormously inventive designs that consistently captured the attention, to the point where you sometimes had to discipline yourself to focus on the dance. Michael Raiford's scenic design, in harmony with Liz Vandal's costumes and Trad Burns' lighting, introduced us to a greyish Kansas, for example, that captured not so much boredom as the subtle varieties of tones one sees in the best black-and-white cinematography from the 30s and 40s. But what grabbed the eye initially was Aaron Rhyne's projection: We were looking upward into a spinning tornado, with a growing sense of unease, even before the action began. Matthew Pierce's score, composed especially for the production, opened with a wind machine, which introduced driving rhythms in the rich orchestral score that evoked at once Philip Glass, Vivaldi and a sort of Americana tinge (performed by the Kansas City Symphony in the pit—not one their better days).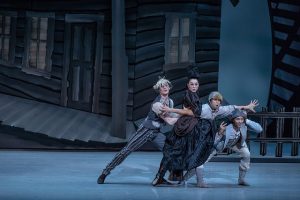 Three farmhands, who would eventually become Scarecrow (James Kirby Rogers), Tin Man (Lamin Pereira dos Santos) and Lion (Liang Fu), danced a virtuosic, smartly executed and vaguely rustic trio: It was difficult not to think of Rodéo or Applachian Spring. (Casts differed throughout the run.) Aunt Em (Kaleena Burks, who would later be transformed into Glinda) and Uncle Henry (Christopher Constantini) seemed as spry and flirtatious as the youngsters, but from the moment Dorothy (Amanda DeVenuta) entered, dressed in pale blue, all eyes were riveted on her extroverted aura. She burst forth with a life-essence that was larger than just "innocence": This Dorothy was, above all, curious, and one by one the others gradually wrapped themselves around her inquisitiveness.
But no sooner had Miss Dorothy been good-naturedly tossed about by the farm boys than grouchy Miss Gulch stormed in to complain that Toto had bitten her. She is already every bit the Wicked Witch that she will later be transformed into, and dancer Danielle Bausinger conveyed her imperious "and your little dog, too!" feel, accompanied by a mixture of spiky jazz and ominous bass lines. The music then veered toward a mixture of Latin and other hip beats, as Dorothy encountered Professor Marvel (Humberto Rivera Blanco) and his Cabinet of Wonders—the fellow who would later become the Wizard himself.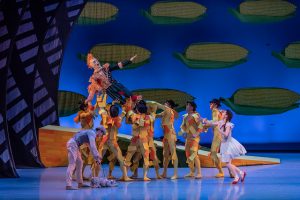 It was here, during Dorothy's brief pas de deux with the Professor, that we got to hear Matthew at his best: His soaring, beautifully crafted leitmotif for Dorothy's longing conveyed with great expressiveness the girl's yearning for "anything other than Kansas." It was a welcome moment of clarity in a context of what sometimes felt like a mish-mash of musical styles. Yes, each musical number reflected Septime's concepts, but they tended to underline the sense of disjointedness that kept this team's Wizardfrom feeling as if were cut from whole cloth.
We didn't have time to dwell on that, because upstage appeared what looked like a real-live miniature tornado, and Dorothy's home began to shake from within (thanks to clever lighting effects) before it flew apart, and everything was suddenly airborne: Dorothy (on visible cables), trucks, cows, Dorothy's bed, Toto (all via projections) and finally the Witch/Miss Gulch, riding a bike of course.
Munchkinland brought color to the eye: It was outfitted with huge multi-hued discs of psychedelia and populated by five pairs of brightly-colored Munchkins, three Curly Cues and three Ruffians. References ranged from to Bowie to Morrison (and later, from dominatrices to 90s warehouse dance-club music). As the ensemble danced a series of story-stopping (and often brilliantly executed) "variations"—with Dorothy looking on—one could hardly avoid thinking of Clara. Grasshoppers leapt wittily, with the help of accompanying dancers. All joined for a large-scale ensemble, after which things grew vaguely episodic: The Wicked Witch danced a torchy cakewalk, Dorothy got red shoes, and so on.
The Yellow Brick Road was, in part, a rolling ramp pushed around by "Yellow Brick Roadies," supplemented by floating projections of dreamlike, staircase-shaped rectangles. Dorothy's companions then presented set pieces: Scarecrow did a sort of barn dance, with crows flying around but hardly heeding him. Tin Man waddled out appeared, got oiled up and after some tapping and creaking danced a toy-soldier piece. Lion performed a loopy but accomplished tough-guy solo. The act closed as all appeared at the gate of the Emerald City but were told to "Get Lost."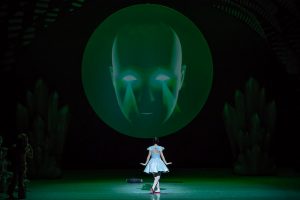 The Emerald City consisted of giant green crystals that mildly resembled those in Superman's fortresses: These bewildering visuals were mitigated by a lovely Balanchine-like pas de deux, accompanied by lyrical music meant to reflect the grace and gentility of the City. The Emerald Ballerina (Kaleena Burks) and Emerald Officer (Humberto Rivera Blanco) were joined by Emerald City Posers, Bell Hops, Popcorn Girls, and Quart Baby Ballerinas joined for episodic dances to music that was at times flip, at times flapperish, at times Gershwinesque. Each number was so brief that it was hard to get a sense of clear "narrative line" running through.
Some of the most striking visuals were found toward the end: The impervious (projected) face of the "fake Wizard" granted wishes to the four main characters, and the flying-monkeys featured three dancers on cables and more on the floor with puppets; the heart was filled with menace. (The fantastical puppetry design was by Nicholas Mahon.) The Witch herself was a sort of disco queen with her Junior Vasquez dance-boys, in a scene that simply went on too long. Eventually order was restored, as each character realized they already had what they needed inside. Dorothy clicked her pointe-shoe heels to more open-prairie music, and the Wizard was spirited away in a balloon. A final poignant moment came as Dorothy, accompanied by a lyrical "farewell theme," was "blown back" to her Kansas home, her bed—and her mechanical Toto.
 For tickets to KC Ballet performances call 816-931-8993 to go www.kcballet.com.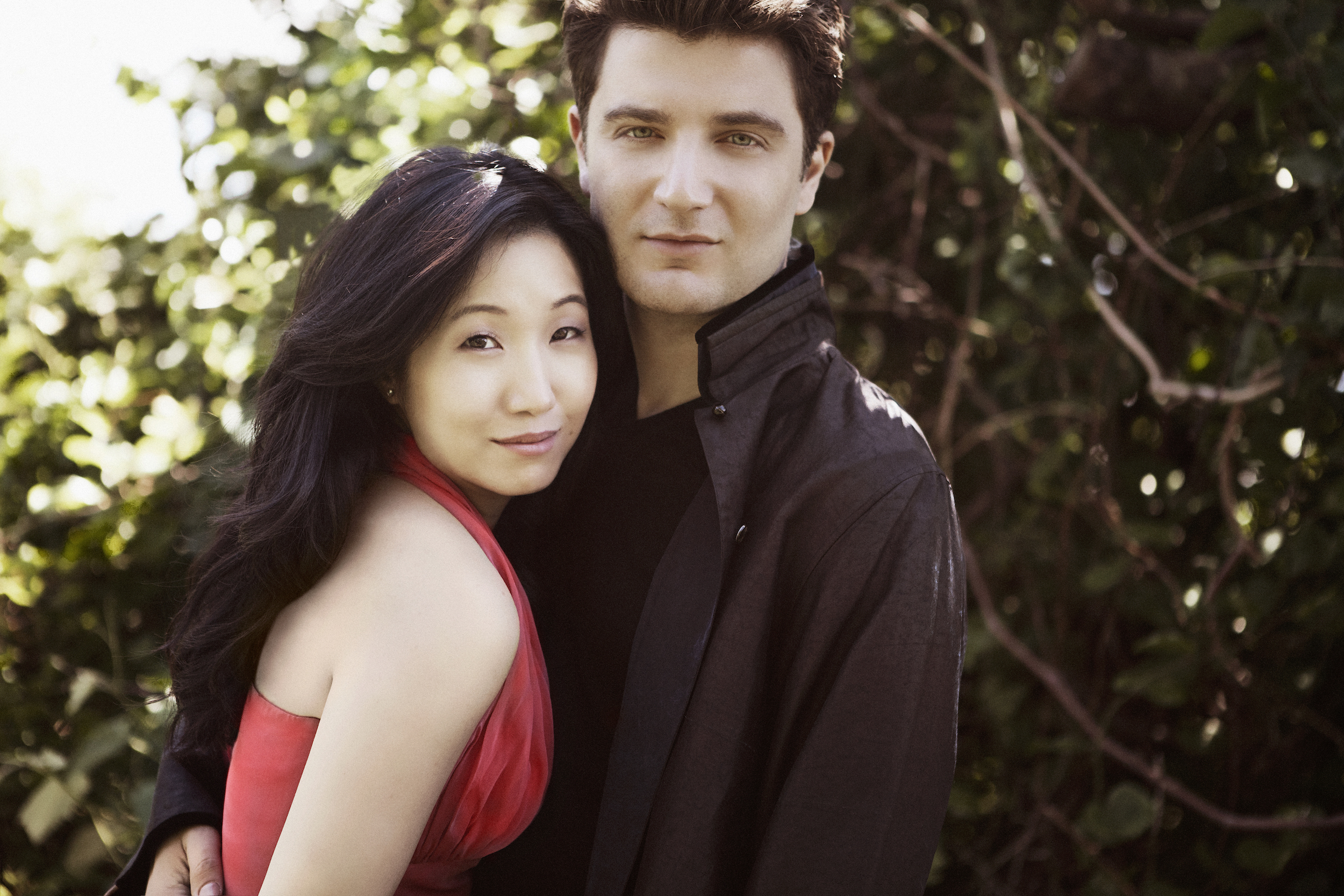 Musicians love chamber music because it offers a chance to perform with friends in a warmly collegial, relatively low-stress environment. The most intimate chamber music of all is that for…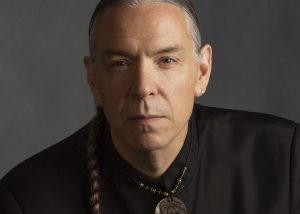 When Raven Chacon won the Pulitzer Prize for Music in 2022, the announcement surprised many American music-lovers, few of whom realized how strong the tradition of concert music by Native…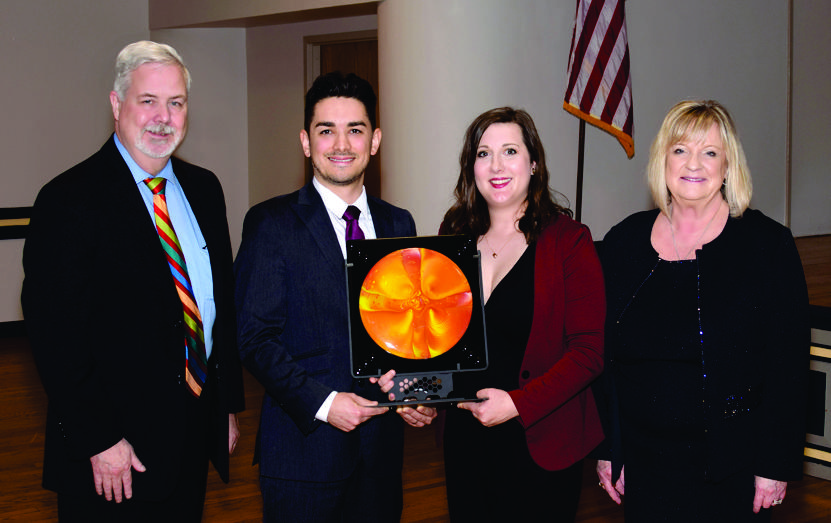 Nathan Bowman doesn't always advertise his Native American heritage when presenting himself to the public, but he is nonetheless proud of the deep roots that his family has always known…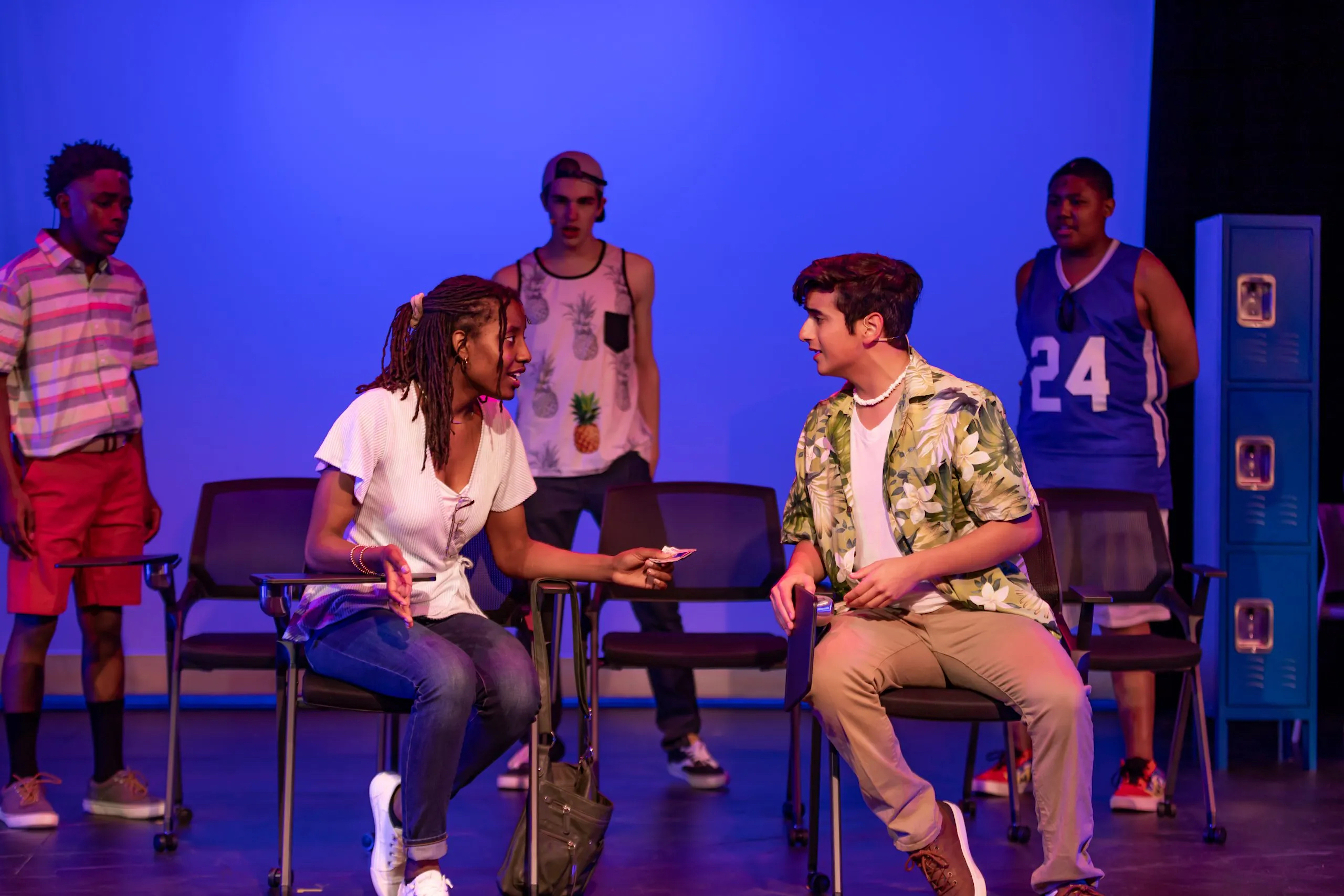 There was a time, during the restless months of 2020, when many performing arts groups wondered whether they would survive. In the decade since its founding in 2010, Spinning Tree…