MOCSA – 2021 Chiefs Charity Game
Metropolitan Organization to Counter Sexual Assault (MOCSA) has been chosen as the beneficiary of the Chiefs Charity Game for the next three years. The 2021 game was held on August 27th at Arrowhead Stadium. MOCSA's mission is to improve the lives of those impacted by sexual abuse and assault and to prevent sexual violence in our community. Proceeds will help MOCSA expand education and prevention services for schools in Our Town.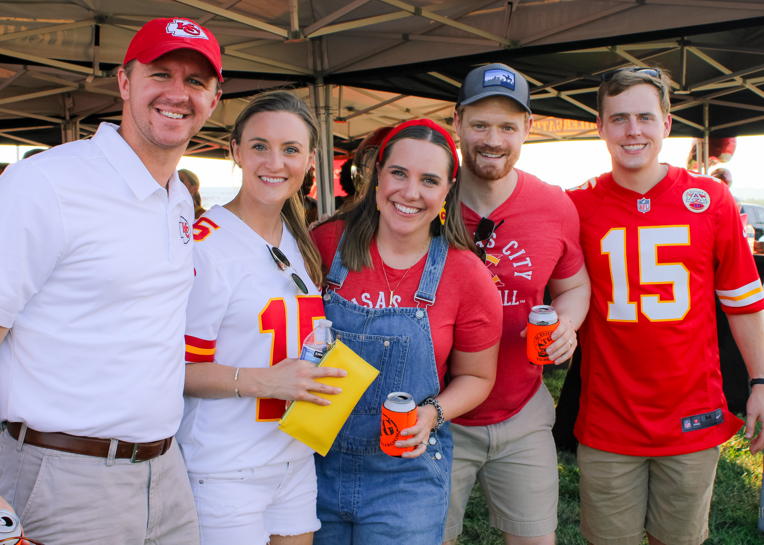 William and Madeline Tschudy, Katy and Kyle Kellenberger, and Nate Sterns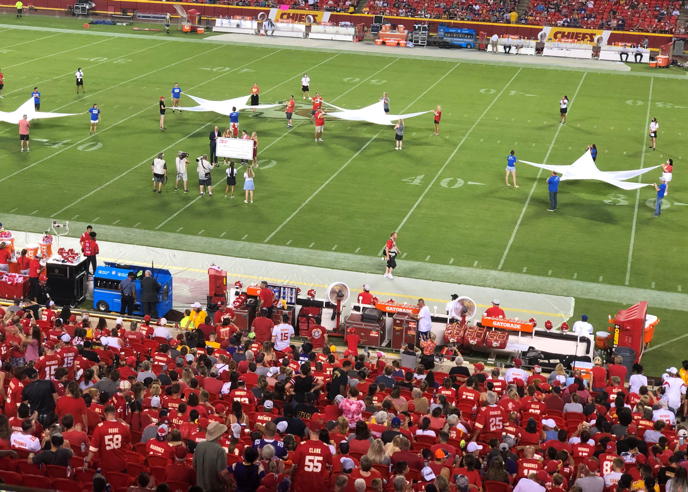 The check presentation was during halftime of the game.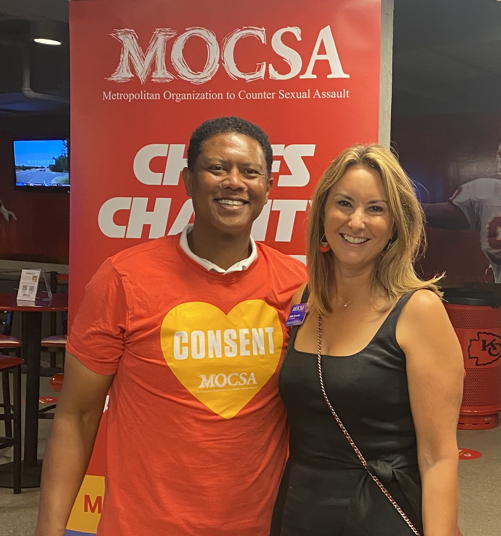 Jayice Pearson and Julie Donelon, MOCSA
Molly Schapker, Susannah Sotos, Maggie Laubscher, and Janda Nielsen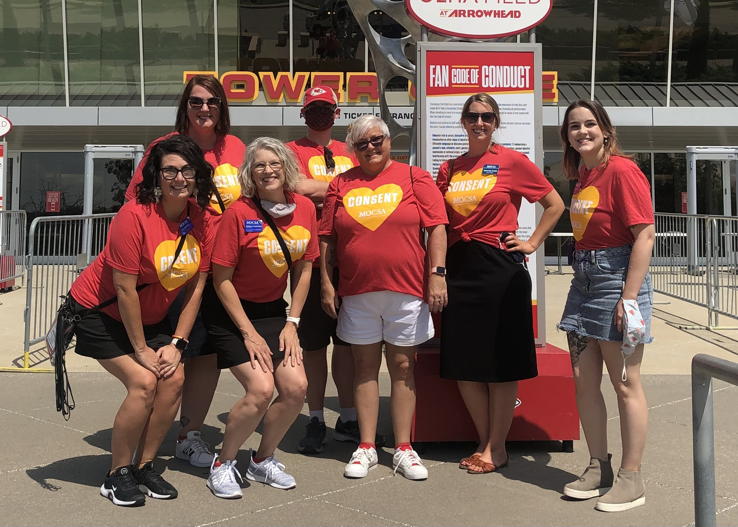 (Front row) Kate Schwaller, Debbie Frederiksen, Sandra Williams, Amanda Crain, and Hattie Saltzman, all with MOCSA (back row) Kassie Sands and Josh King, both with MOCSA
---
Also featured in the October 2, 2021 issue of The Independent
Photo Credit: MSH Visual and Kansas City Chiefs

December Brammer and Kristal Ronnebaum served as co-chairmen of HappyBottoms' inaugural Diaper Bowl. More than 400 guests enjoyed delicious sips and bites, live music, silent and live auctions, a reverse…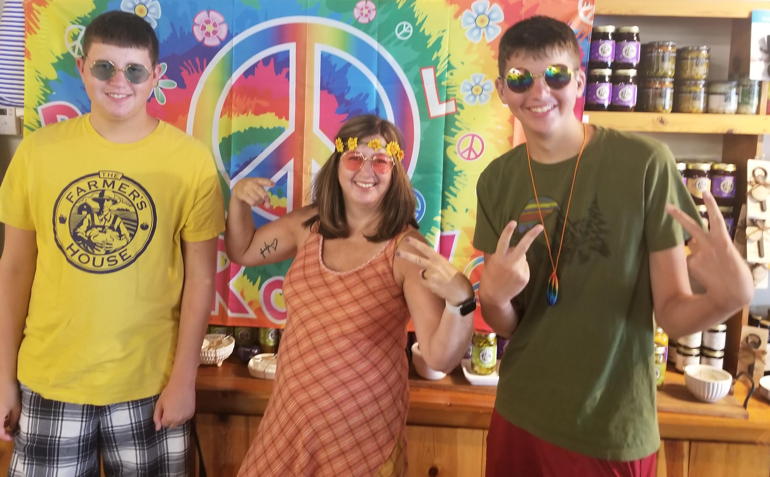 August 28th was the date for The Farmer's House's Peace, Love & Happiness Virtual Tour and Auction. Guests sported their favorite groovy attire and gathered at fun watch parties around…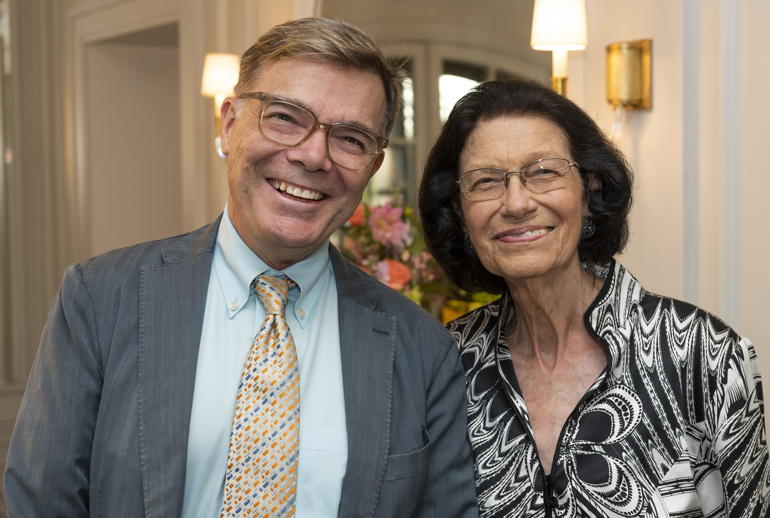 The Symphony Ball Benefactors' Party was held on September 9th at the beautiful home of Tennille and Jason Adkins. Guests enjoyed cocktails, delicious cuisine, and wonderful music from the Kansas…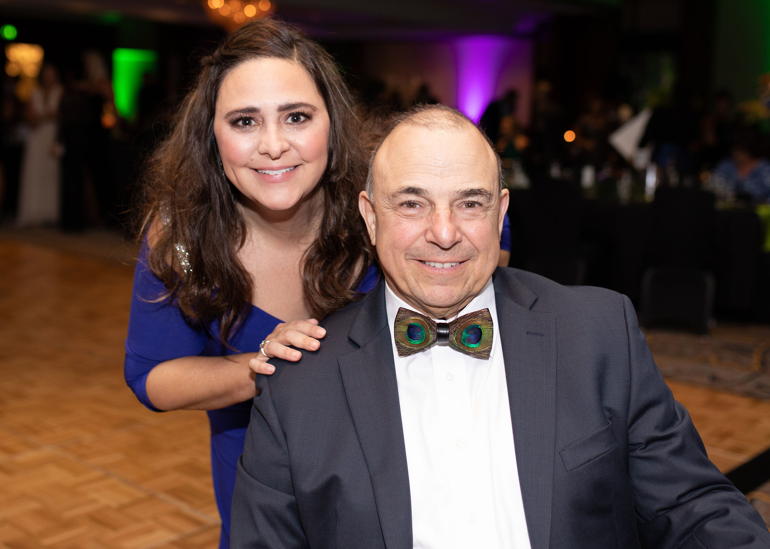 The Kansas City Marriott Downtown was the site for the 3rd Annual Green Tie Gala, which was held on August 14th. This year's honoree was the late Dan Dykstra. Guests…