Palatable Pursuit: Pizza And Negronis
Jessica James recently joined the staff of The Independent as a contributing writer. She is looking forward to sharing her passion for great food and restaurants with readers. Jessica attended culinary school at Johnson County Community College. She worked in fine dining as the sous-chef at EBT Restaurant and as the executive chef at Ophelia's in Independence, Missouri. Jessica's next move was to the corporate world, where she spent 10 years supporting innovation for Applebee's and was subsequently hired by AMC Theatres to lead the food and beverage innovation for 650 domestic theatres. She lives in Our Town with her husband and their two children.
---
A few years ago, while traveling in New York City, I stumbled upon the unexpected duo of pizza and Negronis. There is something about an Italian-style pizza (light, minimal toppings, bubbly crust) that pairs well with the earthy-sweetness of this classic Italian cocktail. Made entirely of alcohol, the Negroni is not for the faint of heart. There are numerous riffs on the classic, but purists will combine equal parts of gin, Campari, and sweet vermouth in a shaker, with a generous amount of ice, shake to combine and pour over "clean" ice in a rocks glass. I ventured into some of my favorite Kansas City neighborhood restaurants to rediscover this culinary pairing.
Il Lazzarone – River Market
This River Market neighborhood spot is known for authentic Neopolitan-style pizza made with only the best ingredients.
One Friday evening this summer, I brought my six-year old daughter along to meet some friends for dinner. With two kids in tow, we scored the large table right inside the front door… great for people watching and games of  I spy. The place was hopping with nearly every red metal chair taken. The space was loud, with exposed brick walls, which made it the perfect place to mingle with kids and friends.
Our server was a young woman with a big smile. She took our drink order and shared apologetically that she was new when I asked if they were serving their famous frozen Negronis. They were not (bummer, but always ask!), so I opted for their House Negroni, which was made with Cappelletti, Hayman's Royal Dock Gin, and Dolin Rouge. It was served in a small, chilled rocks glass, with two red cocktail straws and lots of ice. All of the ratios were spot on… not too sweet, not too astringent, and plenty of ice to cut all the booze.
I paired my Negroni with the Margarita Mascarpone pizza – San Marzano tomatoes, mascarpone cheese, prosciutto, basil, extra virgin olive oil, and sea salt. It was served on a large white plate, barely cut into what appeared to be four large slices. The crust was beautiful with charred spots all around the edges. Thin slices of room-temperature prosciutto were laced across the top. The cheese was faint and faded into the saucy, perfectly cooked crust. This pizza was a masterpiece! I tore into it with my hands along the cut lines, stuffed it into my face, and washed it down with my very cold, watered-down Negroni. There were no leftovers.
Extra Virgin – The Crossroads
Chef Michael Smith has been synonymous with the Kansas City restaurant scene for nearly 30 years. His Crossroads restaurant was a bellwether to the neighborhood at a time when it was mostly an attraction for First Fridays art crowds. Today, The Crossroads is home to numerous restaurants, boutique hotels, and high-rise apartments and condos.
I grabbed a quick dinner with my son early one evening. The patio was under construction, so we sat inside at a low table against a red wall. The restaurant was quiet, with light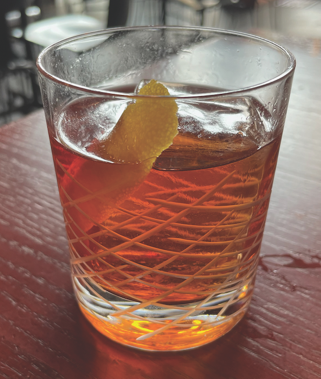 music throughout, and the bustle of servers were setting up for a busy evening. It was a Monday and it was Happy Hour, which meant that all of the drinks were two dollars off, and they featured their Monday night pizza special.
The pizza of the evening was a white pizza, composed of mornay sauce, mozzarella, and provolone and finished with arugula, pine nuts, and Calabrian chili vinaigrette. We ordered the pizza, and I ordered the Barrel Aged Negroni listed under Classic Cocktails on the menu. Our server, Fria, delivered the Negroni in a beautiful, etched rocks glass. One giant ice cube and a fragrant orange twist broke the surface of the mixture of Citadelle Gin, Aperol, Dolin, and Antica Carpano. It was strong and delicious and only became colder and more balanced the longer I nursed it.
Our pizza was presented on a large plate that was reminiscent of a crosscut of wood. The crust was bubbly and charred, and it smelled amazing. The Calabrian chili vinaigrette was a vivid orange against the stark white of the mornay and white cheeses. The arugula and pine nuts added color and texture without feeling like there was a salad on top of our pizza. It was cut into eight slices, perfect for sharing. I folded my slice in half in an attempt to keep the molten cheese from sliding off. It was heaven. The crust was crisp and light, and the richness of the cheese sauce and melted cheeses was cut by the bitter from the greens and the smoky-sweet of the vinaigrette. It paired perfectly with my Negroni, almost like they were meant to be enjoyed together.
Trezo Mare – Briarcliff
This Northland mainstay is always on Kansas City's list of best patios. With ample outdoor seating to accommodate small and large groups and scenic views of Downtown Kansas City, Trezo Mare's patio is a great spot for date night, girls' night, dinner with the family, or, in my case, pizza for one.
The restaurant has held this prime location in the Shops at Briarcliff for as long as I can remember and is consistently busy throughout the day. Despite living within walking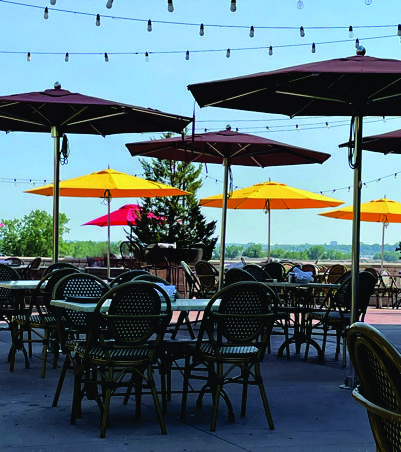 distance of the restaurant, I don't frequent it often, but I do enjoy their pizzas and a glass of wine on occasion.
On a hot and sunny Sunday afternoon, I found myself seated at one of the faux marble tables near an outdoor speaker. Top 20 music played, and I was greeted by Maya, one of the smartly-dressed servers who was working the patio. She was friendly, and when I inquired about ordering a Negroni that was not on the cocktail menu, she bounced back with a delightful "absolutely!"
The Negroni was strong and syrupy and heavy on the Campari. It was served in a sturdy rocks glass and light on the ice. I had to drink it fast before the ice melted on that 90-plus degree day.
I ordered the Margherita pizza, one of my favorite items on the menu. It was topped with house made mozzarella cheese, heirloom tomatoes, roasted garlic, and fresh basil. I paired it with a green salad, a mix of greens, orange vinaigrette, shredded mozzarella, fresh tomatoes, and cucumbers.
Maya delivered the green salad first. The plate was ice cold, which I appreciated on such a hot day. It was simple and perfectly fresh. Not far behind my salad came the pizza. It was served piping hot on a large white plate and was cut into eight manageable slices. The crust was golden brown and crisp around the edges with just the right amount of salt. There was a light drizzle of olive oil across the top and a few cracks of fresh pepper. As I bit into it, I immediately noticed the roasted garlic. It was a nice balance to the richness of the fresh mozzarella and the acidic pop of the fresh tomatoes and basil. The crust was focaccia-like – thinner than focaccia, but bubbly and more bread-like than crusty. As the pizza sat, it got a bit wet in the center, leaving traces of tomato juice and olive oil on the plate… which were perfect for mopping up with the crust. I drank my Negroni quickly in the heat, so I opted for ice water to quench my thirst.
Bella Napoli – Brookside
When I lived in Brookside more than 10 years ago, Bella Napoli was a neighborhood favorite of mine. Within walking distance, I almost always ran into someone I knew. Years later, it still gives off those same familiar vibes. The dining room is casual and spreads across three different rooms – one near the kitchen, one near the deli counter, and the third, adjacent to the bar.
I was solo on this visit, grabbing an early dinner. It was a brutally hot July evening, so I opted for a table indoors. I was seated in the upper dining room with the bar right next to me, which I soon realized, worked in my favor! The dining room was a mix of families, couples, and friends. The servers were casual, wearing jeans and Bella Napoli t-shirts in shades of black and burgundy. Everyone seemed like they knew each other, which made me reminisce about my Brookside days.
I was greeted by my server, Brianne, who had just recounted the usual wine, appetizer, and food orders of the large family next to me. The kids were giddy as she remembered their choices of pasta and pizza and one's affinity for the meat sauce. When it was my turn, I ordered a Negroni from the cocktail menu. Brianne had just stepped away when the bartender, having overheard my order, delivered my drink. It was a nice touch.
The Negroni was a mix of Contratto bitters, Tom's Town Gin, and Contratto Vermouth Rosso (sweet vermouth). It was served in a chilled rocks glass over "standard ice" with a big, juicy orange wedge on the rim. It was perfectly balanced and light on the Campari, which I prefer.
I ordered the Casa Salad to start. It is a simple salad with greens, balsamic vinegar, kalamata olives, fresh tomatoes, and extra virgin olive oil. A giant salad served in a large, chilled bowl, it was lightly dressed and served as a palette cleanser for my Diabola pizza that was on the way. 
The Diabola was on the spicier side, with calabrese salami, spicy tomato sauce, mozzarella, and a drizzle of olive oil. Brianne delivered it piping hot on a large plate and offered cheese and peppers before making her rounds in the dining room. The crust was crispy and charred in spots, the mark of a very hot pizza oven. It was sauced generously with light mozzarella. The thinly sliced calabrese left little puddles of salami grease on top that were quickly mitigated with a generous dusting of grated Parmesan cheese. I devoured the six slices, savoring every bite with zero regret, and sipped on my Negroni in between slices.
I skipped dessert and opted for a glass of Gruner Veltliner instead. As if my dinner wasn't perfect enough, the wine was a generous pour… the perfect end to this adventure. 
---
Featured in the September 3, 2022 issue of The Independent.
By Jessica James
Photo Credit: Tom Styrkowicz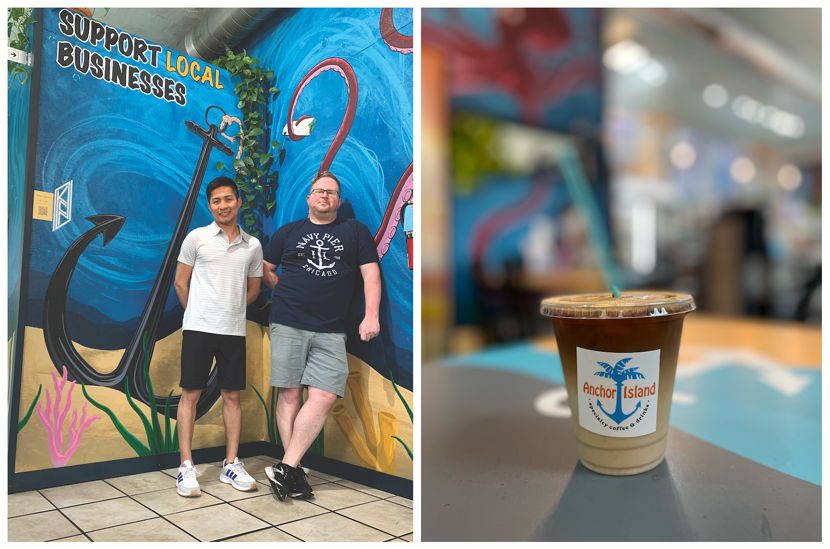 Anchor Island Coffee is located on the southeast corner of 41st and Troost. Serving specialty coffees and drinks, its menu is eclectic and there is something for everyone. One of…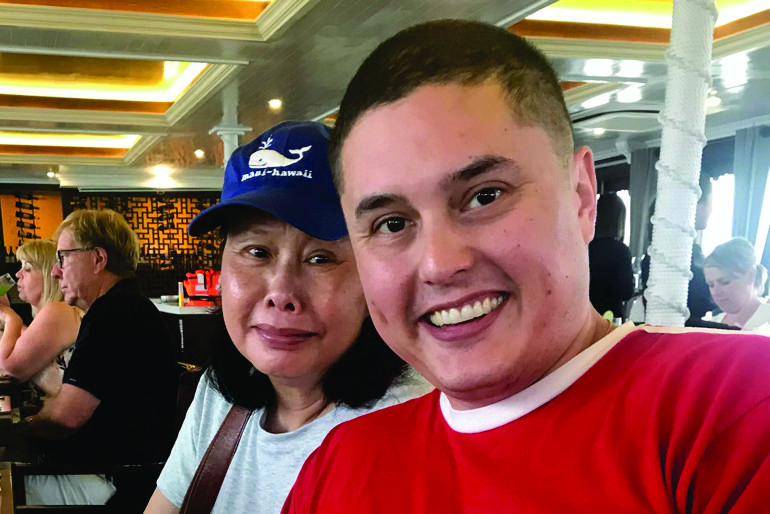 One of my favorite people in Kansas City is David Bandy. If you know Bandy, then you know who I am talking about. He is genuine, funny, cool, thoughtful, a…
Located in Independence, Missouri, the historic Independence Square has experienced an evolution during the last 25 years. A once burgeoning town square, made famous by President Harry S. Truman, it…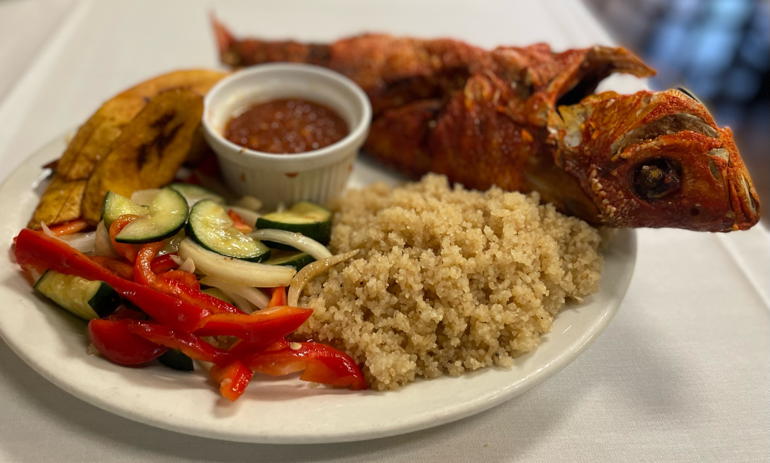 The country's culinary scene is marked by fresh fish, rice, heavy spices, plantains, bananas, casava, yams, and hearty, eclectic soups and stews. Liberian cooks implement a "snout to tail" mentality…