REVIEW: Lyric Opera's Jobs opera is fascinating, frustrating, and fun
Because Steve Jobs brought us the iPhone, the iPad, iTunes, the Mac, and a host of other indispensable devices, there are always going to be retellings of his life. One of the more intriguing, if perhaps frustratingly incomplete, is that of The (R)evolution of Steve Jobs, the celebrated 2017 opera by composer Mason Bates and librettist Mark Campbell that had its Lyric Opera of Kansas City premiere this March 11th through the 13th.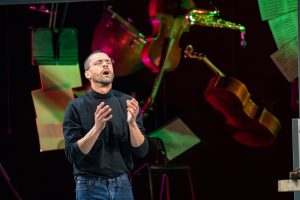 Less a "recounting" of Steve Jobs' life than a reflection on several critical moments, this 95-minute opera is hip, upbeat, unerringly inventive and extraordinarily well-orchestrated. Its sound-world includes not only a full orchestra but also electronic buzzes and beeps and clicks intended to replicate sounds of the original Mac, among other things.
It tries harder than many contemporary operas to be musical drama: It has "arias," recitatives, vocal ensembles, rhythmically adventurous choruses, and dense orchestral interludes that provide us moments to think about what we've just seen.
Its creators believe so strongly in this piece, first performed at Santa Fe Opera and subsequently in San Francisco and Seattle, that they have enacted an entirely new production, directed by Tomer Zvulun and featuring a mostly new design team. This smaller-scale version began at Austin Opera, and after Kansas City it travels to Atlanta Opera and will no doubt make the rounds of a number of medium-sized companies around the world.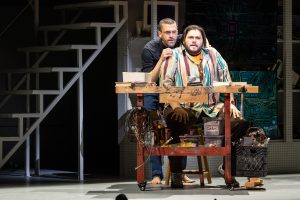 The new production is a delight to watch, thanks to an A-list of designers: sets and costumes by Jacob A. Climer, lighting by Robert Wierzel, projections by S. Katy Tucker, and sound design by Rick Jacobsohn. The stage is filled with screens, screens, and more screens, which show everything from tranquil natural settings to endless strings of DOS programming code; from abstract swirls to a collage of the gazillion images available on your phone's browser. The principal cast is onstage much of the time, including those who are not ostensibly in a given scene: The latter sit quietly in chairs placed around the two-level set, waiting for their turns to sing.
Yet for all the visual "noise," we are able to focus on the major characters at key moments, which are presented in a non-chronological sequence of abstractly conceptualized events. The opera opens with Paul Jobs, Steve's adoptive father (Tim Scott), genially presenting the 10-year-old Steve with his first homemade "workbench."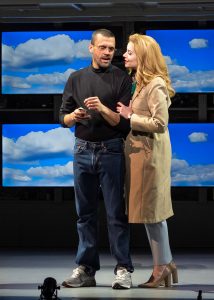 Then we see the adult Steve (John Moore), presenting the iPhone to the world in 2007: "Never trust a computer you can't fit into your pocket," he says, as a propulsive chorus expresses excitement and skepticism. Eventually this chorus holds up a dozen placards to create a sort of "screen," on which is projected the Zen-inspired "enso" circle, representing the wholeness of life.
Real life interrupts, abruptly: Steve's eventual wife, Laurene Powell Jobs (Sarah Larsen), tells him he needs to slow down and come home now and then: His kids are getting older and hardly ever see him. Meanwhile his mentor, Kōbun Chino Otogawa (Wei Wu), appears to the sound of gongs, Tibetan bells, and prayer bowls: "You're dying, Steve," he says. "I know," the protagonist replies.
With little fanfare, the scene shifts back to the 1970s: Steve and his buddy, Steve Wozniak (Bille Bruley) are creating modest electronic innovations ("Ma Bell was taken down!" they exclaim, of a device that allows them to make free long-distance calls).
Suddenly it's 1974 and Steve is having a romantic moment with his high school girlfriend, Chrisann Brennan (Madison Leonard), and in the midst of a drug trip Steve imagines he hears sounds, music. Panels upstage open to reveal a forest of musical instruments suspended in air, which will later represent Steve's conviction that he wants to create a device that "you can play," like a musical instrument.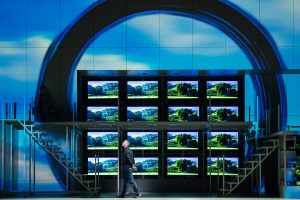 During one dizzying scene, a factory of choristers is producing Apple products "faster better lighter darker cheaper," and we are treated to a visual and musical feast of rapid-fire images and driving rhythms.
It's at this point that one realizes that the non-chronological aspect of the storytelling, while expressing perhaps the sense of a "circle" in which all moments of a life are connected to all other moments, is also working against the opera's idea of "evolution." The Steve that we see at the outset, who denies paternity of Chrisann's baby and neglects family and friends for work as corporate pressures increase, barely has time to "evolve" and achieve spiritual transformation in an hour and a half.
By the end of the opera, in fact, we are not at all convinced that Steve is any less of a jerk than he was in the early scene in which he tells Chrisann to "get rid of" their child: this despite his gestures of remorse in the final scenes, as he paces back and forth during his own funeral service.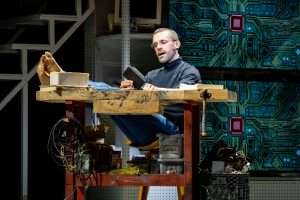 Still, the delights along the way keep us engaged throughout the piece. There are several fine vocal numbers, including a wistful moment for Kōbun (which Wei Wu sings with a richly textured bass) and an urgent passage for Laurene ("When will you see … humans are messy, awkward and cluttered?").
John Moore, too, gives hints of the glories of his world-renowned baritone voice ("When we think of music, we think of God, we think of sunsets…"). But the most effective solo moment belongs to Wozniak, as he is telling Jobs that he has "become one the people we hated: a Goliath." This is a genuine operatic aria ("Whatever you had before, whatever you were before … gone, gone"), with structure and a beautifully arching flow that takes us from one phrase to another toward a logical and highly emotional climax.
It is gorgeous, and it offers a glimpse of how contemporary opera can indeed thrive in the same world as Tosca and Bohème.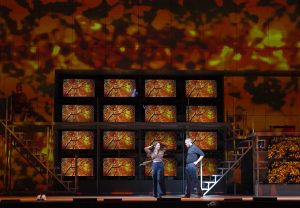 Tomer's direction is impeccable, as he and his creative/technical team negotiate enormous complexities of sound, light, and image. The Kansas City Symphony in the pit played with exceptionally rich hues, led by conductor Michael Christie, who steered the world premiere and the live recording that won the 2019 Grammy Award for Best Opera Recording.
In the end, the opera does not purport to present a whole picture of Steve Jobs, and perhaps that's okay. "Both a brilliant man, and a freak, and you were never easy," Laurene describes him. "But once you found your way, discovered you were 'human,' we found a way to connect. … You were only a man, and I loved you." (Why does this suddenly sound like a Tammy Wynette song?)
Laurene finally proclaims ("Look up, look out, look around") that version 2.0 of Steve would not have wanted us to be staring at our screens all day. I, for one, am not convinced that's true.
—By Paul Horsley
For tickets to upcoming Lyric Opera performances, including the season-finale production of Tosca, call 816-471-7344 or to go kcopera.org.
To reach Paul Horsley, performing arts editor; send an email to paul@kcindependent.com or find him on Facebook (paul.horsley.501) or Twitter/Instagram (@phorsleycritic).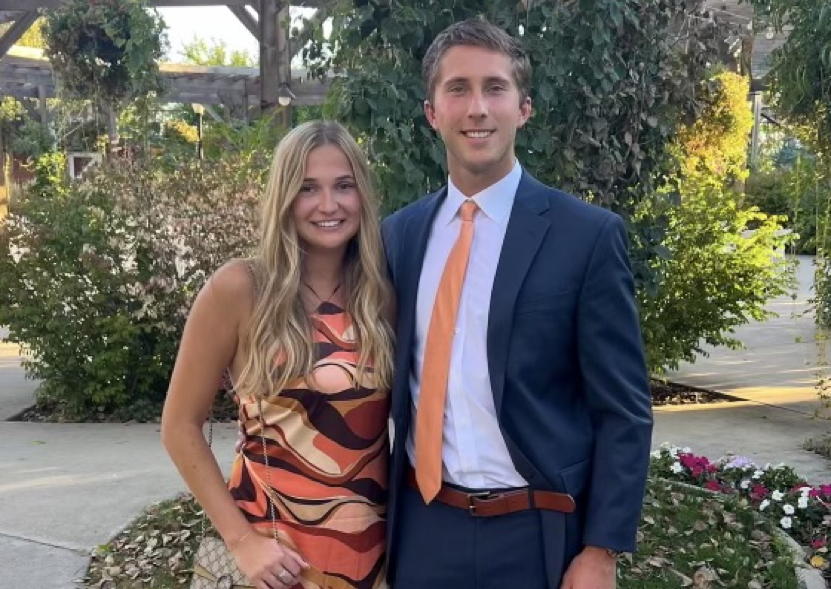 The Loop KC brings together similar yet unique minds to create genuine friendships and ignite the next generation of business leaders in Kansas City. Members of The Loop KC are…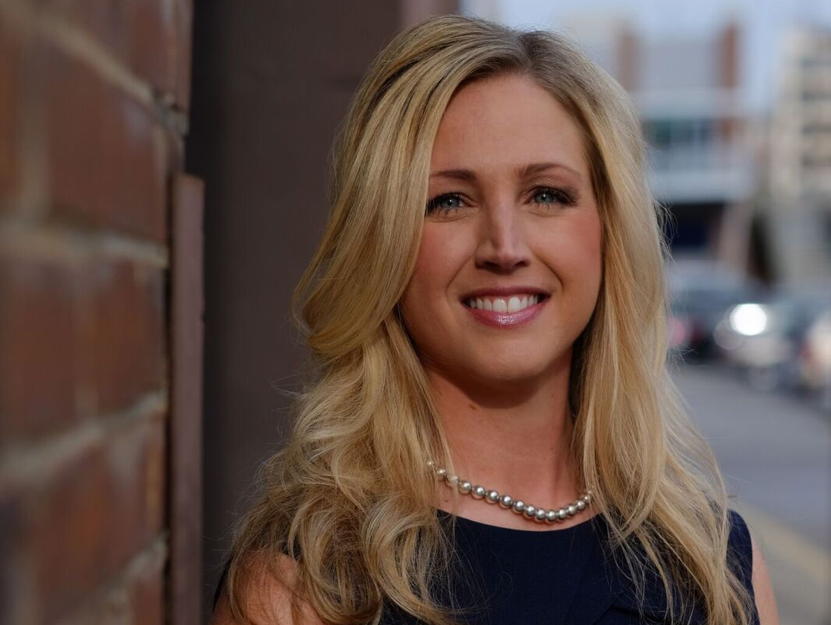 To learn more about becoming a member of the Association of Fundraising Professionals, Greater Kansas City Chapter, please visit afpkc.org. The Independent is proud to be the exclusive media partner of AFPKC.…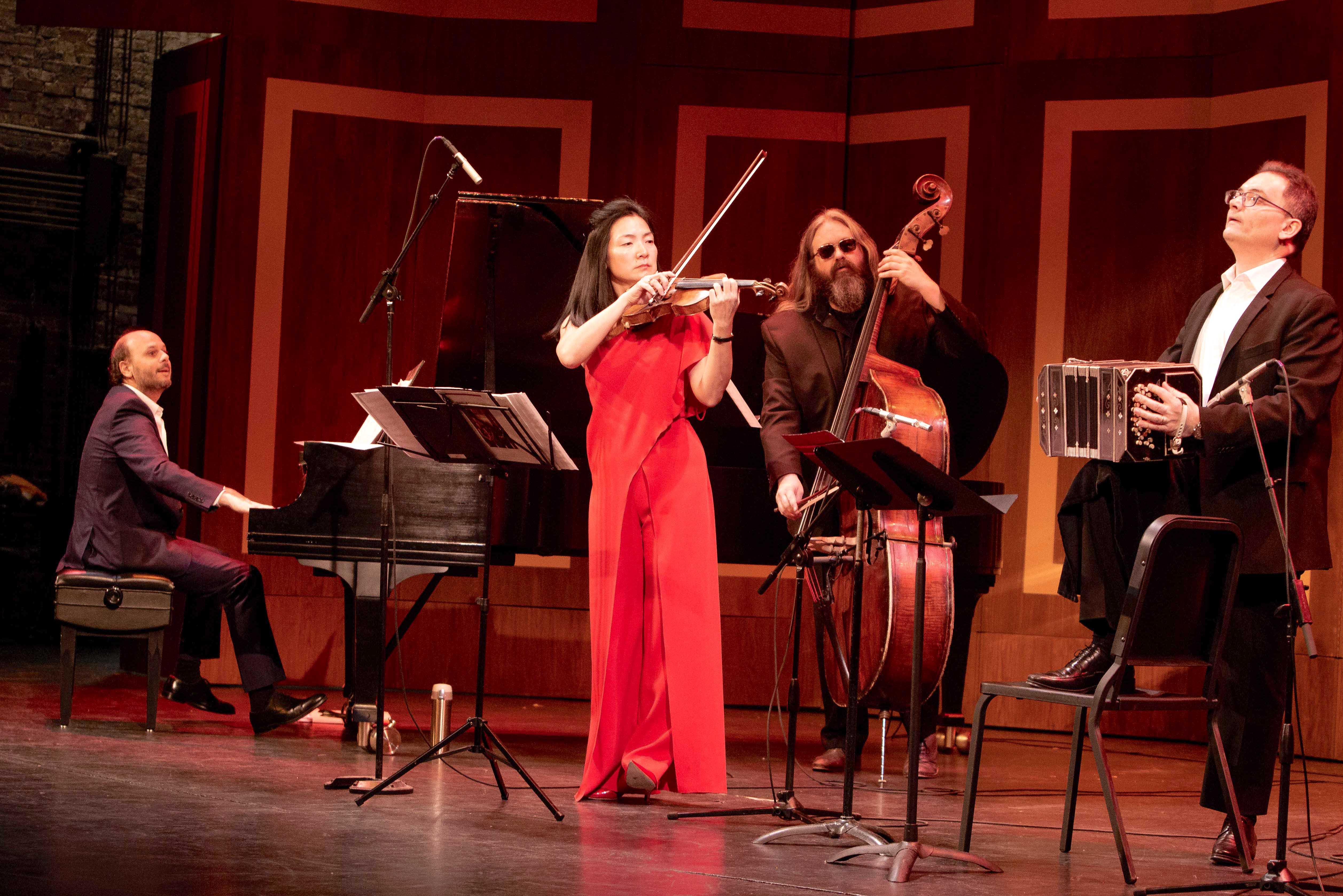 If music is a universal language, then why have its institutions historically been run almost entirely by men? Women account for roughly half of the audience for classical music, yet…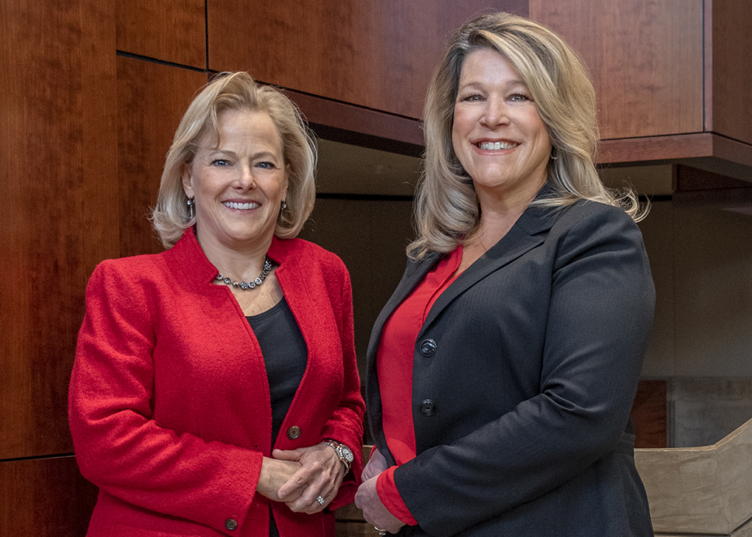 Ann Abercrombie and Kristin Tyson are serving as the honorary co-chairmen of the 28th Annual Community Luncheon, a benefit for Metropolitan Organization to Counter Sexual Assault (MOCSA). The event will…