The Dish With Ann – Dos de Oros Restaurant
When I was looking for a restaurant I hadn't visited, my friend, Lynne, said, 'Have you considered one of my family's favorite Mexican restaurants, Dos de Oros?" I hadn't. But since I've been there, I'll be returning soon, for sure.
With its low ceilings, weathered driftwood walls festooned with sombreros, the restaurant's casual vibe belies the breadth and depth of its menu. Owner Miguel Cervantes, who is originally from Zacatecas and Guadalajara, Mexico, developed the recipes from his parents, who owned restaurants, a bakery, and a grocery store. Miguel helped out his mother and father in their various businesses, and they cooked together as a family.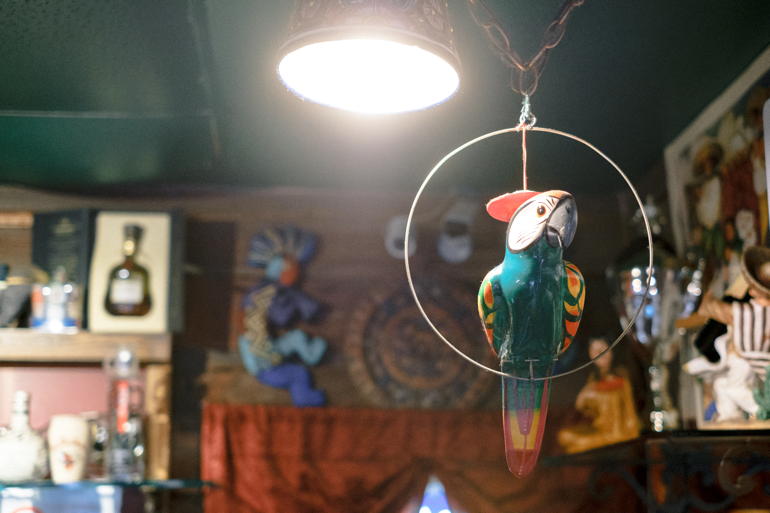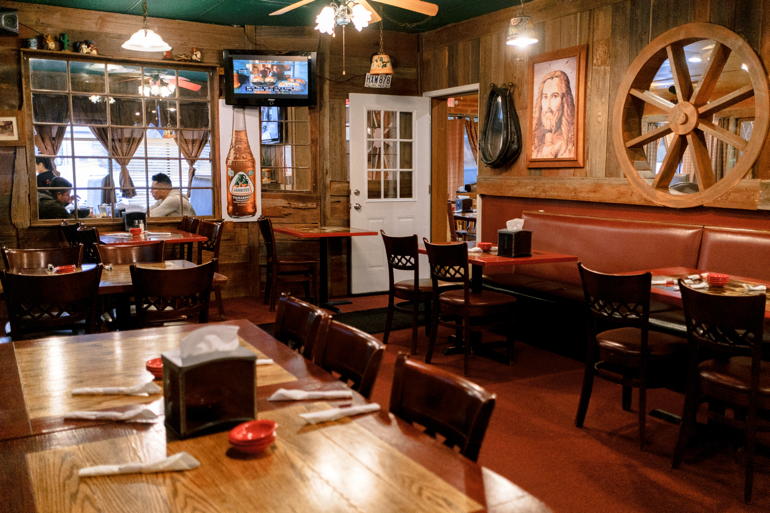 More than 20 years ago, he first moved to Kansas City to work at a large chain restaurant. Two years later, he opened Chelly's Café, also a Mexican restaurant, in Grandview, which has relocated to 85th and Wornall and is operated by his sister and brother-in-law.
In 2005, Miguel opened Dos de Oros in Martin City. The translation of the restaurant's name is two of coins, which refers to a card in a Spanish deck of playing cards. "The menus for Chelly's Café and Dos de Oros are completely different," said Manuel. His wife, Maria, whom he met when they worked together at The Cheesecake Factory, runs the front of house. They have two teenage children. Manuel also has a Dos de Oros Taqueria, which he opened in 2011. It is more of a fast food concept. "We even make our own ice cream there," said Miguel. His brother, Jose Cervantes, is the head cook at Dos de Oros.
What makes this restaurant special is the freshness of the ingredients. "We use a lot of salads which makes a difference. It's not all rice and beans. We also incorporate a lot of shrimp and seafood as well as steak and chicken."
Close to 60 to 70 percent of the customers at Dos de Oros are regulars. "This is like a second home to many of our customers. They all know my wife and family."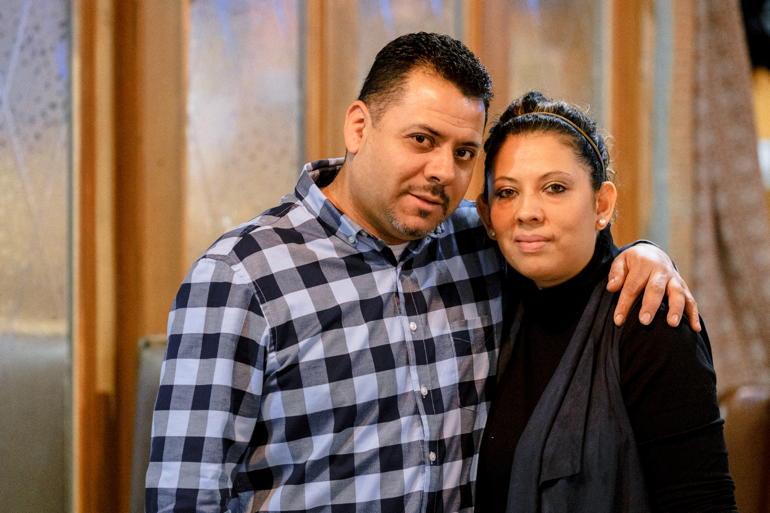 Owner Miguel and Maria Cervantes
Rather than opening up other locations, Miguel decided to expand his restaurant last year, and it can seat 200 people. "We have about 40 employees now and think it's a great neighborhood addition for our customers. This place is for them. It's now more comfortable. I like it this way because I have a more a hands-on, taking care of business approach to running my restaurant."
Dos de Oros is also open for brunch, with a range of choices from French toast to huevos rancheros. Get there early, according to a friend. Usually the place is packed, and parking can be tricky.
Our group of Mexican food enthusiasts couldn't wait to dig into the chips, which were just the right amount of salt and crunch. The salsa was robust and tasty without being too spicy. And, of course, we had to order guacamole, which was incredibly creamy and fresh.
One of our foodie friends decided she wanted ceviche, consisting of marinated raw seafood in lime juice, onions, cilantro, jalapeno, tomatoes, and avocado. She said it had just the right amount of tang, and claimed it was the best ceviche she had tasted in Kansas City.
Of course we ordered more. A lot more. We ordered the number seven, which were the three soft tacos – one pork, one steak, and one chicken. All delicious. The number 12 was a vegetarian combo, probably the group's favorite, which consisted of one cheese and onion enchilada, and one grilled vegetable quesadilla served with a small salad. The enchilada was gooey, cheesy, and divine, and we simply couldn't get enough of the quesadilla. One of us had heard that the carnita pork tacos were a must have, and they were served on three soft corn tortillas, filled cilantro and onion, accompanied with rice and beans. We savored every bite. And the service was so quick and hospitable.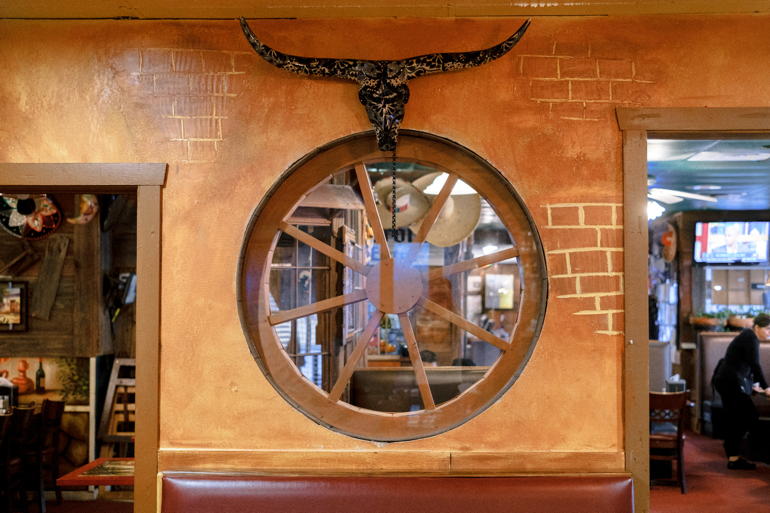 The menu is vast. So even if you don't like Mexican food, Dos de Oros offers hamburgers and pasta. That's right. A great spot for kids or picky palates or say, for a large party that is evenly divided between Mexican and more mainstream fare. Miguel learned a lot from his experience at chain restaurants. And since every booth was full, there seemed to be something for everyone.
Dos de Oros is friendly, down to earth, and an obvious local favorite. It's truly a hidden gem in a town full of quality eateries.
 Guacamole Dos de Oros
Three avocados
Two tablespoons red onion
One tablespoon cilantro
½ tablespoon salt
¼ tablespoon pepper
Two teaspoons fresh jalapeno
Two fresh limes
Two tablespoons Roma tomatoes
Also featured in the March 7, 2020 issue of The Independent
Photo credit: Bailey Pianalto Photography
Dos de Oros Restaurant
13029 Holmes Road
Kansas City, Missouri 64145
816-942-0020
dosdeoroskc.com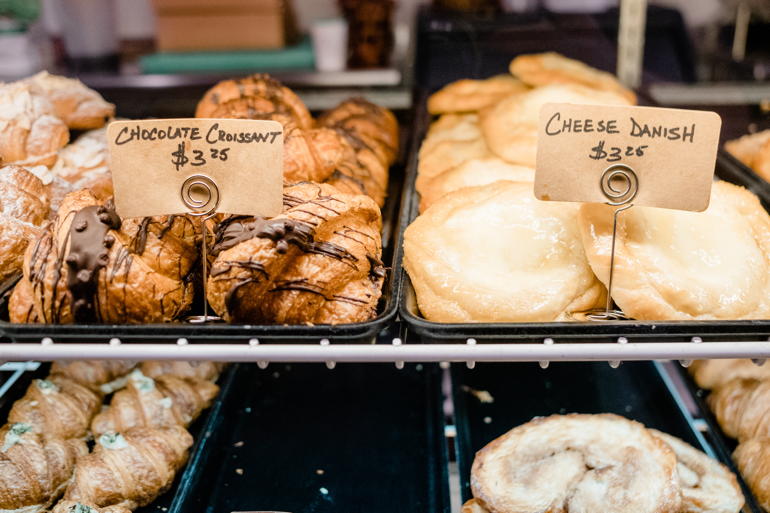 Since Chef/Owner Jason Provo opened up Blackhole Bakery in midtown on April 1st, lines have been around the block, and his baked goods have frequently sold out by 11 a.m.…
One of Kansas City's most celebrated chefs, Michael Corvino, co-owner, along with his wife, Christina, of Corvino Supper Club & Tasting Room, was nominated as a finalist for the 2020…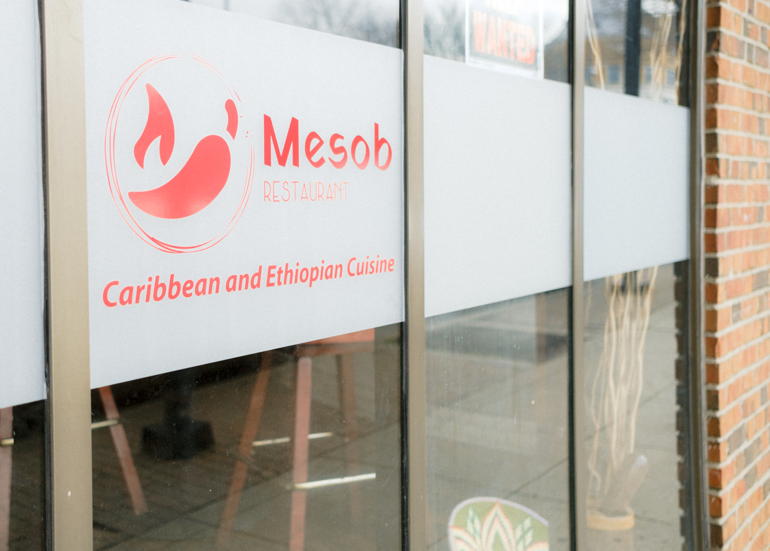 When I first asked Chef Cherven Desauguste where he was from, he said, "Planet Earth." This exemplifies his sense of humor and joie de vivre in terms of cooking and…
In this age of coronavirus, there is only so much cooking a person can bear. Yes, baking can be soothing when you're feeling anxious and cooped up. But let's face…