The Dish With Ann – Food Trucks
In this age of coronavirus, there is only so much cooking a person can bear. Yes, baking can be soothing when you're feeling anxious and cooped up. But let's face it, we are all craving a bit of fresh air and a safe adventure. Ordering your next lunch or dinner from a food truck may be a good stress-busting outing with your loved ones or even by yourself.
Here are some food truck options for you as well as the stories behind the people who run them. Be sure to check the websites for hours and locations as they may vary.
Chef Baldee's Pizza
Chef Chuck Baldee provides pizza by appointment. "My food truck is a little like a speakeasy. You've got to come find me, and I'm only in one location."
Chuck's inspiration for his signature pizza sauce came from his mother. "It was 1963, the same year President Kennedy was shot. My mother found a recipe in the Kansas City Star for meatballs, which were made from sausage, raisins, and burgundy wine, the perfect combination of sweet and savory. As a kid, if I was feeling sick, she would make the meatballs along with spaghetti to make me feel better."
When Chuck was 15, he had a bunch of his friends over and begged his mother to make her famous spaghetti and meatballs for them. "She was too dog tired from work and handed me the recipe and said, 'Make it yourself.'"
Fast forward many years later, Chuck was a stay-at-home father, watching the Cooking Channel and trying to perfect his pizza dough. "In 2010, I had a pizza party for my neighbors, and the sweet and spicy sauce, based on my mother's meatball recipe, put me on the map."
In 2012, Chuck purchased a mobile pizza kitchen and has been based in Kansas City, Kansas, for the last three years. He specializes in thin, New York style pizza. "I only make 17" pizzas in small batches and maintain the utmost in cleanliness. I am constantly wiping everything down, and that goes for handling cash and credit cards."
Chuck's secret to his success is his personal relationships with customers. "It's best to hit me up on Facebook or you can call in or text your order. On many Tuesday evenings, I will meet my loyal customers in Johnson County at a specific location if they don't want to come to me."
Chef Baldee's Pizza
913-605-0988
facebook.com/chefchuckbaldeespizza
Beauty of the Bistro
Sidney Fish is from Stilwell, Kansas, where her parents had a massive garden. "Growing up, we always ate fresh produce, nothing out of a can. For the winter, we canned and froze vegetables and made jams and jellies. Living just south of Overland Park, I felt like I lived in the best of both worlds."
Sidney studied interior design and worked in that field for 15 years, eight of them at the Kansas City Gift Mart. "Before my husband and I got our food truck, I would help out a friend with her catering business. There is a lot of crossover in creativity and presentation with food and interior design. My husband, Ron, and I have had our food truck since 2012. He does the repairs; I do everything else from the shopping and cooking to the bookkeeping.
Eighty percent of Beauty of the Bistro's business is from private events, which include weddings, corporate events, and graduations. "We are so grateful to the relationships that we have built over the past eight years. Their support at this time has been phenomenal."
Food offerings range from a mouth-watering variety of burgers to sandwiches such as the SOHO pastrami wrap with Gruyere, sauerkraut, and Dijon mustard, to skillet meals, which rotate seasonally. "In addition, I tend to be very careful about cleanliness. I scrub top to bottom after every serving and am changing gloves constantly. I have one person who only handles money and credit cards, and I encourage people to order online."
For lunch on Wednesdays, you can find Beauty of the Bistro at 199th and Metcalf. On occasion, Sidney will add a Wednesday dinner but check the website first.
Beauty of the Bistro's Buffalo Chicken Grilled Cheese Sandwich
1/4 cup cooked shredded chicken, warm
1 tablespoon hot sauce
1 tablespoon celery, sliced
1 tablespoon green onion, sliced
1 tablespoon cream cheese, room temperature
1/2 cup cheddar cheese, room temperature, grated
2 slices bread
1 tablespoon butter, room temperature
Blue Cheese Dip
1/4 cup blue cheese ( gorgonzola dolce, crumbled)
1/2 cup mayonnaise
1/2 cup sour cream
1 splash lemon juice
Salt and pepper to taste
1 tablespoon dill (or other herb, chopped, optional)
Beauty of the Bistro
913-406-1571
beautyofthebistro.com
The Casual Foodie
For seven years, Corey Schelp worked at Yard House, a high-end, casual dining establishment located at the Legends and Power & Light. He started out as a line cook and worked his way up to manager and executive kitchen manager. Corey eventually met Madelyn Bliss, a native of Virginia Beach, who was training food runners and expediters at Yard House. "After Madelyn moved here, and we got married, we knew we wanted our own business but didn't know it was going to be a food truck," Corey said. Four years ago, they saw a food truck located in Pittsburgh, Kansas, on Facebook Market Place, so they packed up their nine-month-old to pick it up.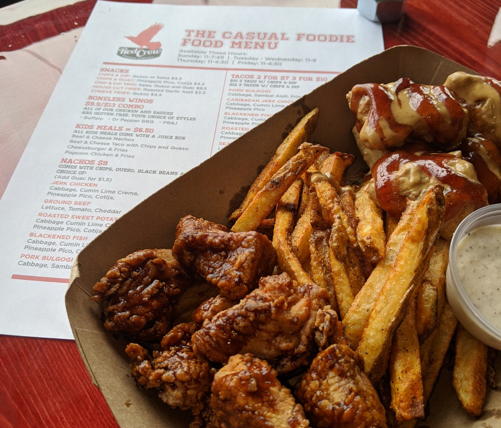 Recently, Corey had his truck parked at Red Crow Brewing Company, which is a local, family-owned brewery, when his engine fortuitously blew up. "We decided to just stay put at Red Crow. It's been a great, symbiotic relationship. Since the sheltering-in-place order, we could still offer takeout food and canned beer." The Casual Foodie offers American fusion eats, including boneless, gluten-free wings and pork bulgogi nachos. "All of our sauces and marinades are homemade," said Corey.
He also is mindful of being safe and sanitary. "We use many Clorox wipes, spray everything with Lysol, and encourage everyone to order online. While Madelyn answers emails, Facebook, and Instagram messages, Corey is cooking and changing the menu to keep things interesting and fresh.
The Casual Foodie Truck
913-608-7727
casualfoodietruck.com
redcrowbrew.com
The Hungry Hatch
Angie Maciel was working in the Weston, Missouri, school district instructing teachers how to use technology. "Since Weston is such a small school district, I eventually trained all the teachers," Angie said, laughing. "My husband, Cristian, whom I met online in 2015 and married in 2017, runs the Taste of Brazil food truck, and during the summers I would help him, and I had such a blast. I love being around people. But I couldn't find a food truck that had healthy food. Everything's fried."
A couple of years ago, Angie saw a food truck in New Mexico advertised on Facebook. "It was manufactured in 1985 and when Cristian and I drove it back, I prayed that it would make it home. But I had this feeling that it was meant to be mine."
She spent part of 2018 working on menus. "I'm not a chef, and I wasn't sure how popular healthy food would be." By 2019, thanks to Cristian's connections in the restaurant business, The Hungry Hatch was up and running. "We were at Celebration at the Station, and it was a non-stop line. Many people are ready for healthier diets such as gluten-free, Keto, Paleo, Mediterranean, Whole 30, vegetarian, and vegan."
Angie has recently taken The Hungry Hatch to various neighborhoods in Grain Valley, Liberty, North Kansas City, and Parkville. (Check the website for her schedule.) "For safety's sake, we only offer online orders, and everything is made ahead of time. It's like a curbside restaurant. No waiting. All menu selections can be served in a bowl, a wrap, or a salad, like at a Chipotle. Everything is simple and delicious."
The Hungry Hatch
816-343-4684
thehungryhatch.com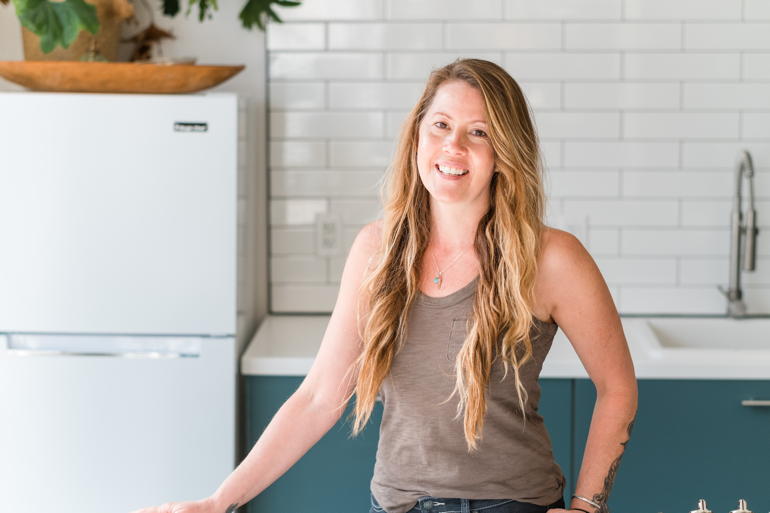 Billie's Grocery is, in Ernest Hemingway's inimitable words, the epitome of a 'clean, well-lighted place.' (Think Meryl Streep's soaring, white restaurant in the movie It's Complicated.) Located in a turn-of-the-century…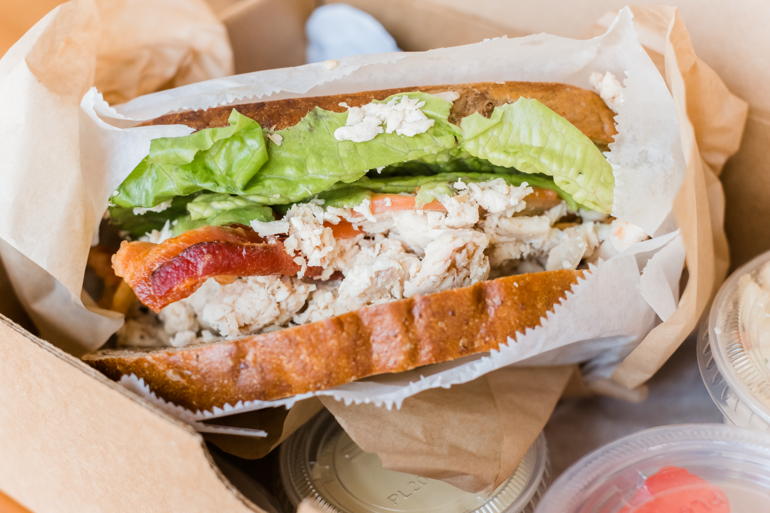 The guiding principles of Thelma's Kitchen are dignity, community, and advocacy, according to Kyle Smith, social innovations and marketing director. It is a non profit and was inspired by Thelma…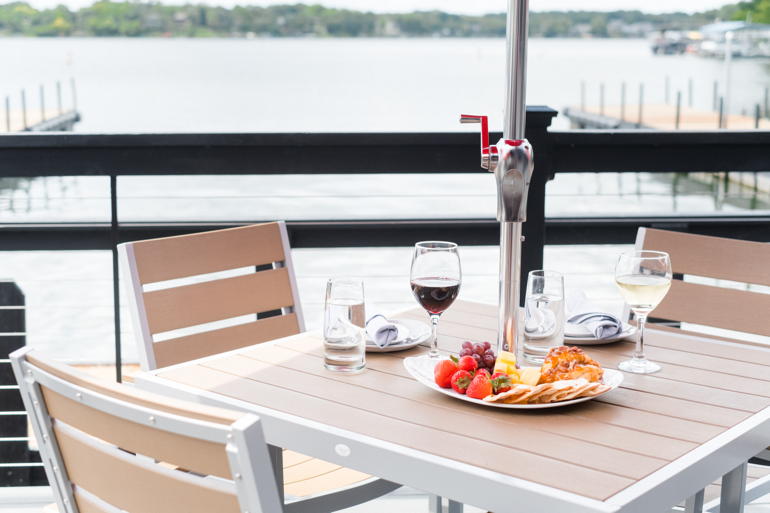 All of us out at Lake Lotawana have been watching with anticipation the transformation of longtime lakeside eatery, Marina Grog and Galley, into the stunning new Marina 27 Steak &…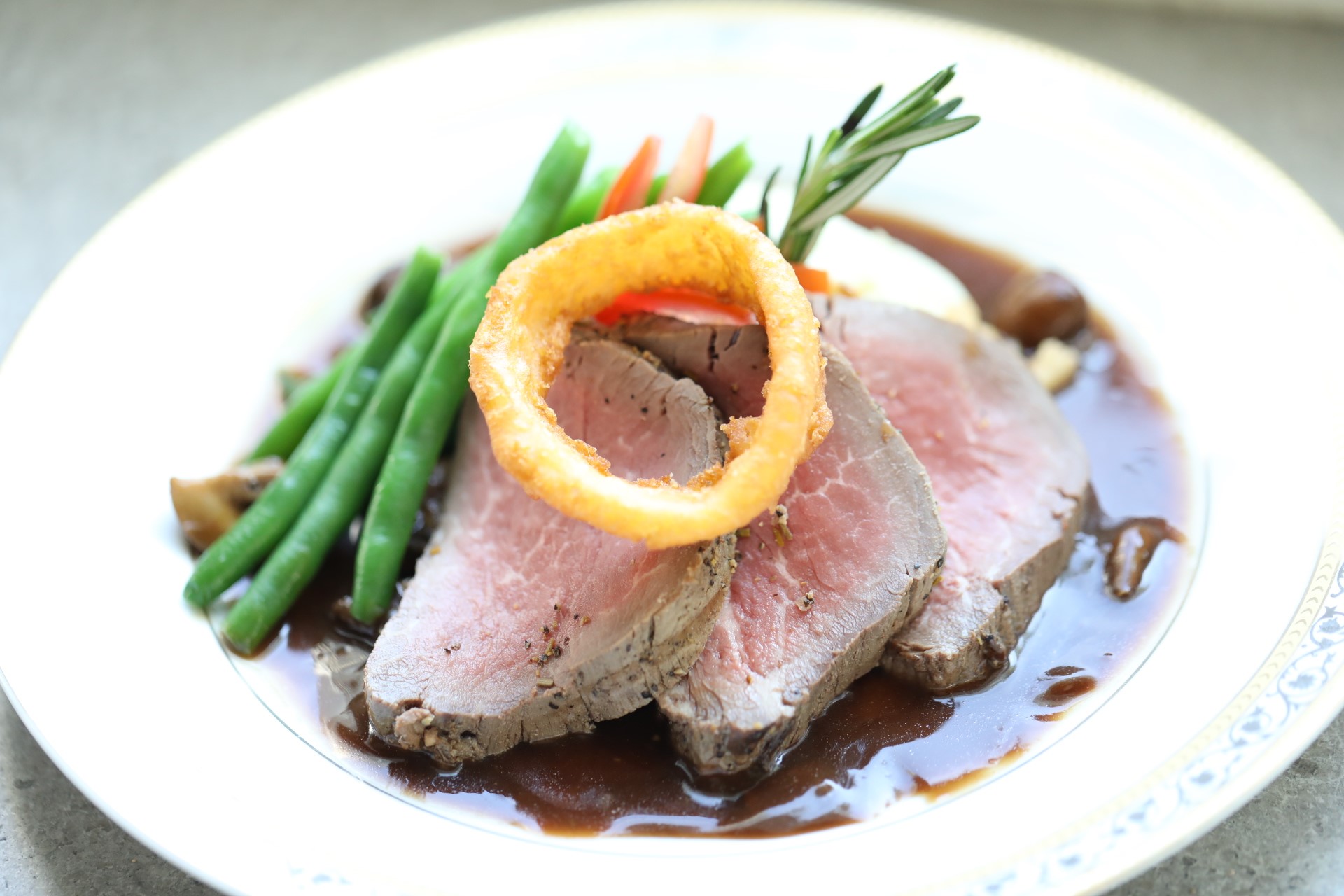 No matter what size or style your upcoming rehearsal dinner and wedding reception is, everyone has to eat. Right? So what are some of the food trends wedding planners, restaurants,…