Toast To Olde Tymes – Virginia Page Hart
Virginia Page was born on October 27, 1909. She was the daughter of Louise J. Page and Henry Clay Page. Her father was a lawyer. He was serving as the public administrator when he died
unexpectedly at the age of 47 in 1922. Virginia graduated from Sunset Hill School in 1927. She attended Radcliffe College.
On September 9, 1930, Virginia wed Creighton Carlton Hart at Westminster Congregational Church. Our scribe noted that she "made a dainty Dresden-like bride, in a princess gown of ivory satin, floor-length with long train, the close-fitting bodice being embellished with a deep yoke of rare old rose point lace. Her full-length veil of antique net was edged with Venetian lace and fell from a band of rose point lace which framed the face. Her bouquet was of gardenias and lilies of the valley." Prior to the couple's departure for the White Mountains, the bride changed to an outfit described as "particularly chic" by The Independent's correspondent: "Her black suit, with eggshell crêpe blouse and close fitting black hat, was completed by a shoulder spray of gardenias." No doubt about it, young Mrs. Hart had style.
Within a few years, the Harts became the parents of two boys, Creighton Newhall Hart and John Henderson Hart. Virginia also found time for volunteer activities. She was active in the Junior League, as well as Children's Relief Association, the Nettleton Home, Family Services, and the Friends of Art.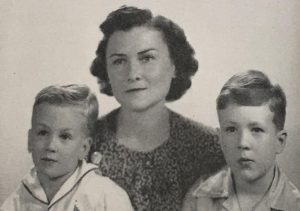 In 1957, Virginia served as president of the Westport Garden Club. That year, The Festival of Flowers was held on April 25th at The Nelson Gallery (now The Nelson-Atkins Museum of Art). The event featured both afternoon and evening viewings. Committee members donated their time and talents to give Rozzelle Court (then an open courtyard) a "New Look," to borrow antique silver and cherished porcelain – "exquisite Meissen and Sevres and examples of modern Doughty birds" – from private collectors, to create table settings, and to make flower arrangements. "Among the many handsome displays backgrounded by the incomparable works of art, will be an exotic orchid exhibit, by the Kansas City Orchid Society, which will be dramatically emphasized against the black marble columns of Kirkwood Hall," our readers were informed in the April 20th issue, during the countdown to the big day.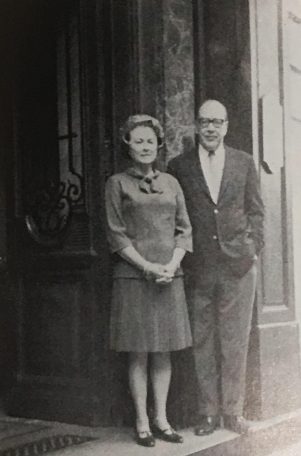 The following winter, Virginia and Creighton could be found (and were, by an intrepid photographer) "on the links" at Lakewood Golf Club at Grand Hotel in Point Clear, Alabama. They were part of a group of Kansas Citians who journeyed southeast for a vacation that also featured dancing. (There had recently been a rage for dancing classes at The Kansas City Country Club.) A contemporary account states, "The first of the golfing party to arrive whimsically arranged driftwood, shells, etc., into beautiful designs for each of the rooms and left cards reading: 'The Grand Hotel is pleased to announce the flower arrangements are by the courtesy of the Westport Garden Club.'" (Was Virginia responsible? We don't know. The travelers included Peggy Sue Neal, Mr. and Mrs. C. Humbert Tinsman, Mr. and Mrs. Webster W. Townley, Mr. and Mrs. Samuel E. Giles, Jrs. – and he was spotted collecting the pine cones – Mr. and Mrs. G. Guyton Carkener, Mr. and Mrs. F. Forsha Russell and John C. Bragg.)
June 1959 saw Virginia in the role of chairman of The Jewel Ball, with the debutantes bowing to her. For the occasion, she donned a gown of pale blue silk brocade, "bowed and handsomely draped with pouf at hipline." Emerald green was the dominant color for the event, with a nod to the Regency era. "After the presentations, the guests in glamorous raiment moved en masse to South Terrace and its multiple small cafe tables, green clad and candlelit, for an evening of dancing to the superlative Lester Lanin music."
Virginia and Eda Marie Peck Luger (Mrs. Charles Russell Luger) joined forces in 1961 to create Au Marché, an antique shop on the Country Club Plaza. It started as a lark – the two were gathering items for a sale for the Westport Garden Club, and began kidding around about going into business. Then they became serious and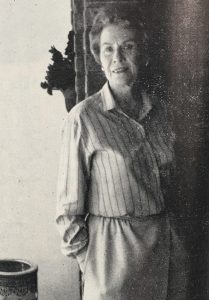 made a plan. The store shared space with Lucy Drage's interior decorating firm, which had been located at 320 Ward Parkway for many years. Virginia told The Independent, "I saw the need for a shop offering fine antiques when my husband and I began collecting." There was already a store specializing in American antiques, but the Harts were interested in 18th century English items. Finding those required travel to bigger cities – or to Europe. Mrs. Luger remained in the business for two years, then left. Virginia soldiered on, and the Harts were in the Cotswolds when they learned of the Plaza flood in September 1977. As The Independent recorded, "Au Marché was devastated. A car was in the main front room, all the furniture was destroyed, the building filled with rubble."
As Virginia recalled, "We stayed in England for eight days and purchased enough to begin again. We saved nothing. Every single thing on display was newlypurchased when we reopened in November of 1977."
At that time, Virginia was also a member of the board of the Plaza Bank, a position she held for several years. In 1984, she sold Au Marché. Virginia Page Hart was predeceased by her husband in 1993. She died in July 1998.
Also featured in the May 2, 2020 issue of The Independent
When Martha Deardorff Shields and Edwin W. Shields began building Oaklands, they had been married for more than a dozen years and were the parents of a daughter and a…
Who remembers Alexander Woollcott? For some, what comes to mind is that he was a member of the Algonquin Round Table and a writer for The New Yorker magazine during…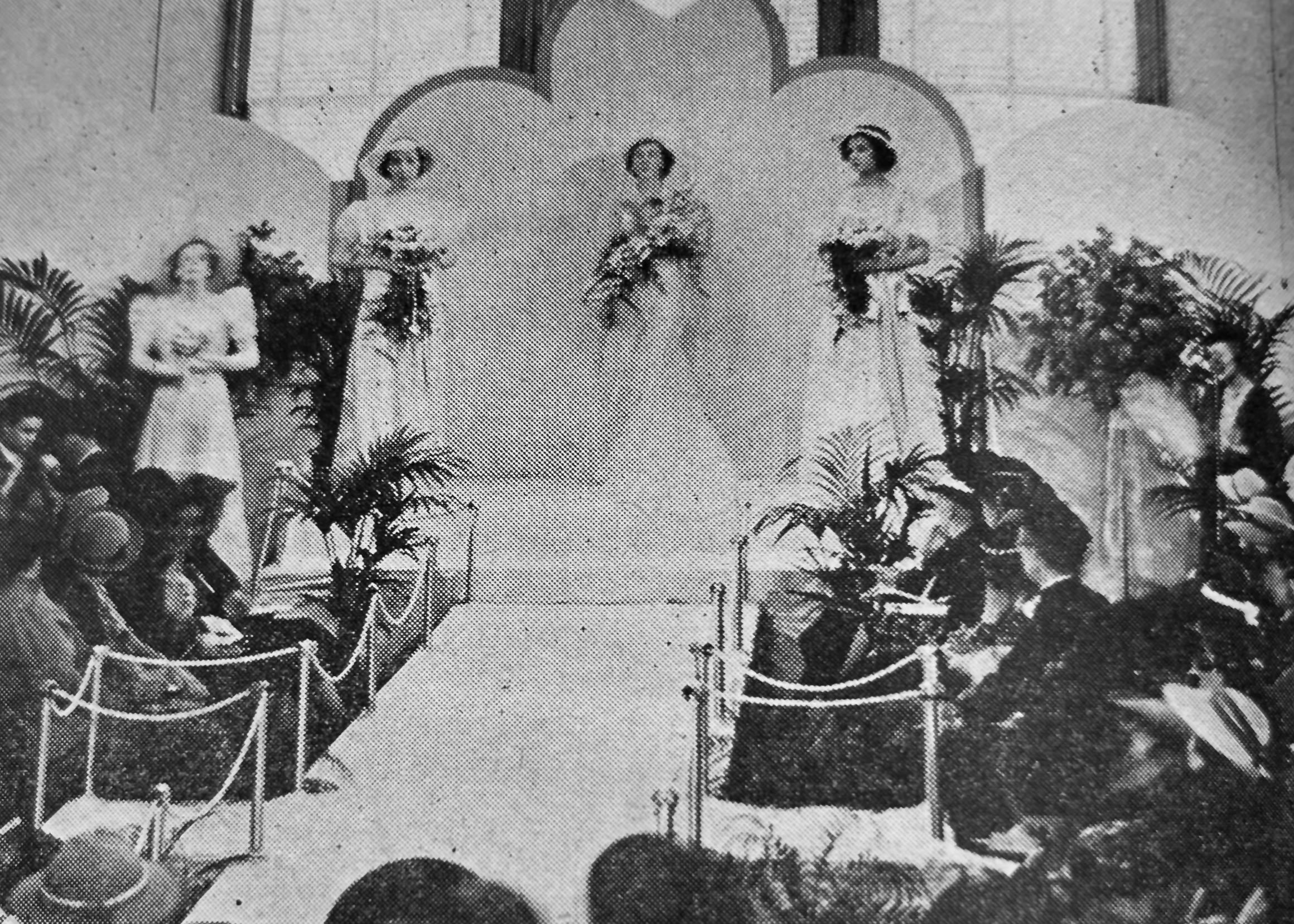 The third floor of Emery, Bird, Thayer was the site for a May 1937 fashion show featuring everything from beach togs to gardening overalls to bridal dresses, as they were…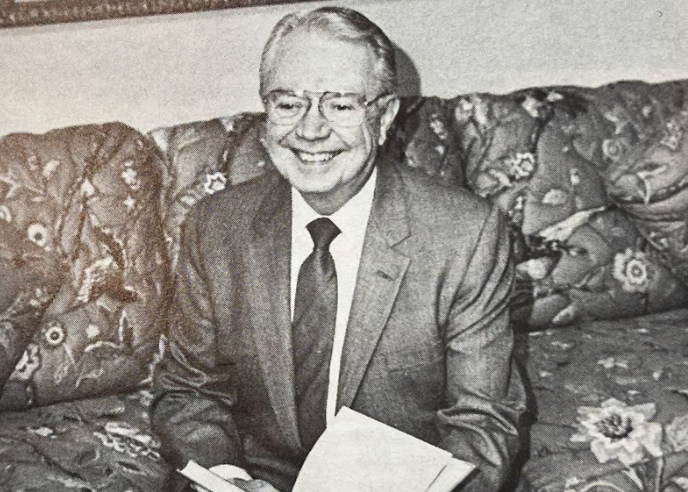 Harold D. Rice learned about community service at an early age. The son of Atha C. Dewees Rice and O. Lee Rice grew up at 4735 Virginia Avenue, in a…