The Dish With Ann – Marina 27 Steak & Seafood
All of us out at Lake Lotawana have been watching with anticipation the transformation of longtime lakeside eatery, Marina Grog and Galley, into the stunning new Marina 27 Steak & Seafood. (The number 27 stands for how many miles of shoreline are at Lake Lotawana.)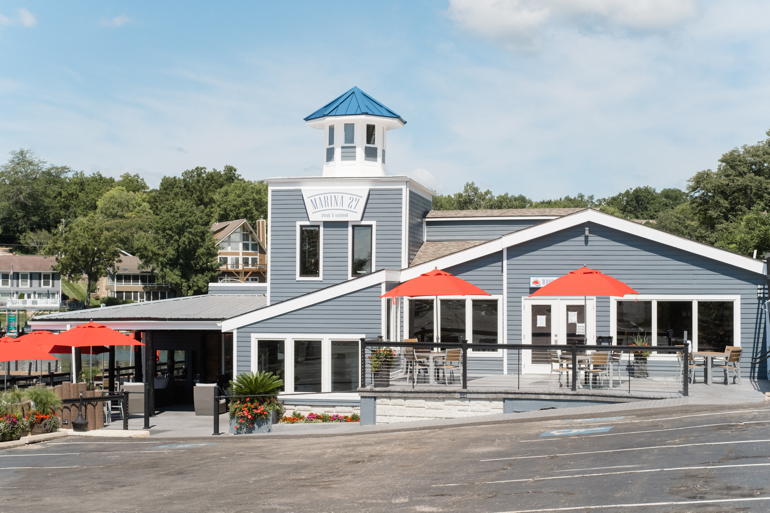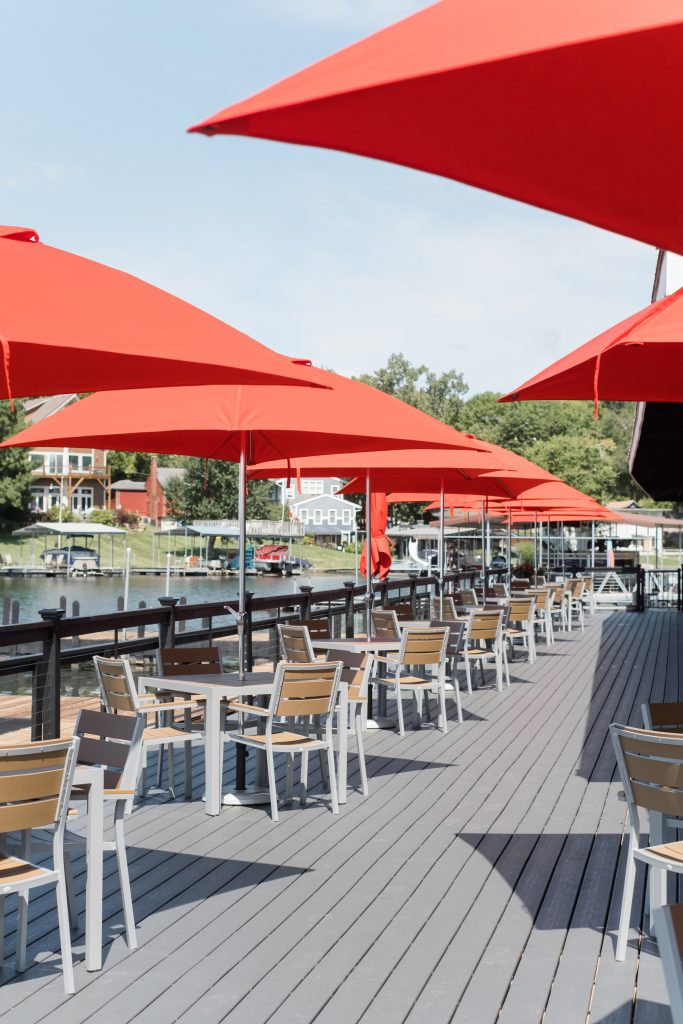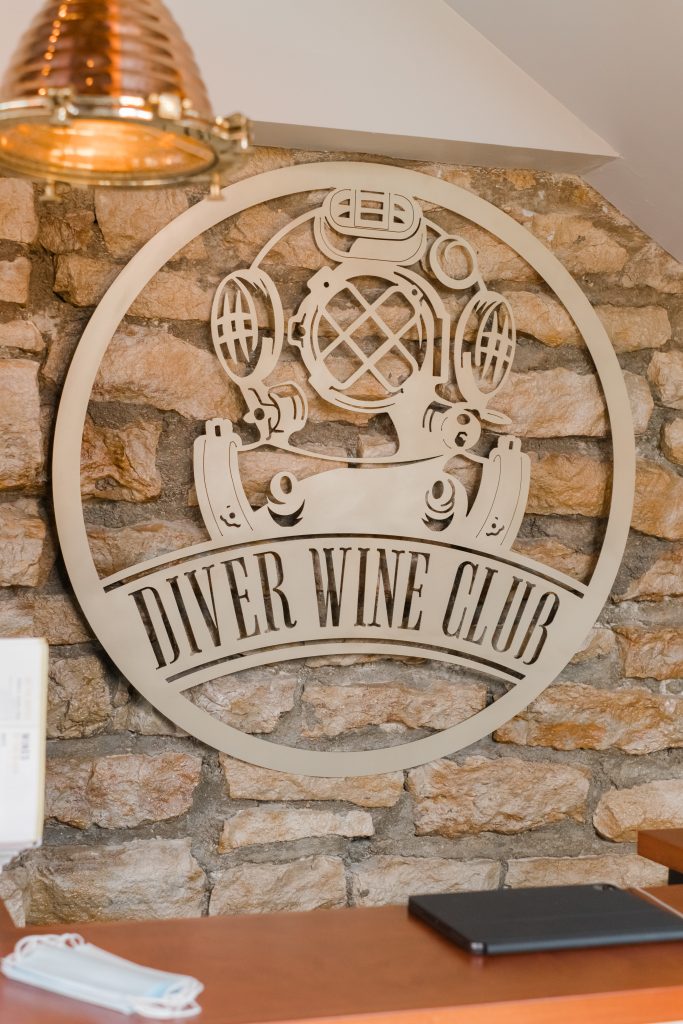 Jack Schwindler, who had been a lake resident since his infancy and had started out in the food distribution business, formerly owned Marina Grog and Galley. The original 1934 marina had been transformed into a casual bar and grill when Jack purchased it in 1992. Jack made the restaurant a favorite among lake residents and folks from all over the region came to dine and enjoy the gorgeous lake view.
On New Year's Eve of 2019, the doors of Marina Grog and Galley closed. Longtime customer and lake resident Roger Accurso, who had sold his food distribution business, American Food Service, had been in talks with fellow lake resident and Executive Chef Lance McFarland, a UMKC graduate with a business degree, who had been cooking at Marina Grog and Galley since 2005. Said Lance: "We had been discussing the future of this restaurant for a while and how much we would love to do something together. At this moment, the right things were in place."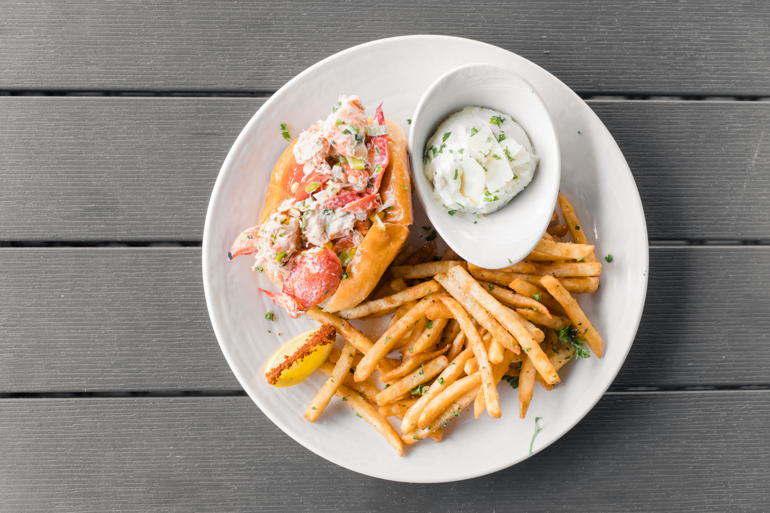 So, the partnership began with Roger as the owner and Lance as managing partner and executive chef. They hired Rich Hoffman from Precision Roofing to transform the building and docks. "Rich took the building down to the studs and brought it back to life," said Roger. The clean, modern yet comfortable décor, in varying hues of black and grey with pops of red, was a family affair with Roger's wife and daughter serving as interior designers. Thick ropes wrapping around the supporting floor to ceiling poles reflect the nautical theme. The vintage pendant lamps and tripods are by lake resident Larry Jones. (Proceeds from his lights go to the Tyler Jones Memorial Scholarship, which funds students' tuitions at St. Michael the Archangel Catholic High School.) MFCaseworks created the striking upstairs bar and hostess stand, which resemble classic wooden boats.  Fabulous finishing touches are an upside down handmade rowboat dangling from the ceiling and an old iceboat hanging on the upstairs wall. Even the original 1934 marina crane that pulled boats out of the lake has been lovingly restored and transformed in this newest iteration. The restaurant seats 110 outside, 140 inside, and 50 upstairs. 
"Marina 27 is fine dining with a casual twist. We are trying to have something for everyone, whether it's bar bites, hors d'oeuvres, or an entrée while eating outside, or a three-course, special occasion meal inside. It's really two concepts in one," said Lance.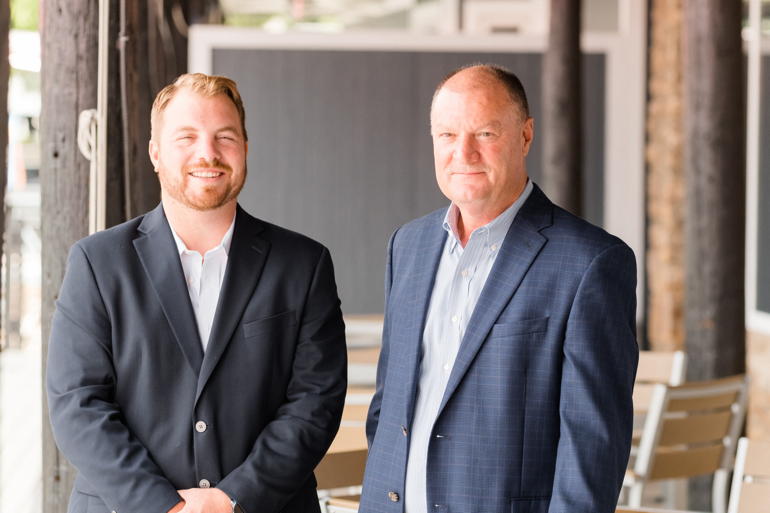 ---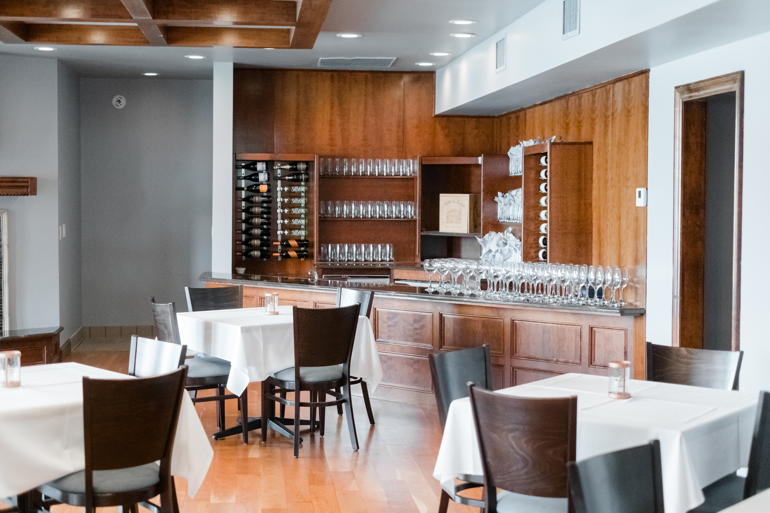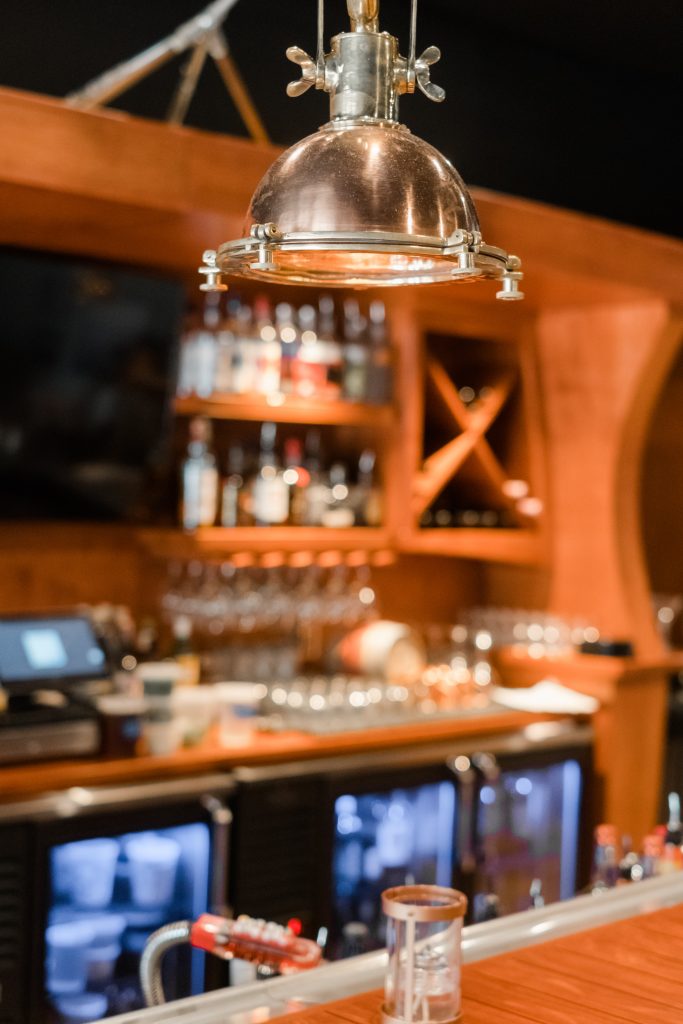 Added Roger: "Lake Lotawana has a unique lifestyle. People come here in golf carts and by boat. When we first started discussing our menu selections, many of our longtime customers kept saying, 'Well, you can't take that off the menu.' So, we kept many of Marina Grog and Galley's items, in addition to our new bar bites menu. Since we opened, we've been incredibly busy and have had overwhelmingly positive feedback. We are so flattered."
Marina 27 has the Starboard Tasting Room, which has reclaimed sliding doors from Lead Bank on Highway 7. It also will have 65 wine lockers available to customers. Other terrific additions are brunch on the weekends, an outside bar, and curbside and dockside food to go.
Due to seating restrictions for social distancing purposes, it's important to make a reservation for outside or inside dining, either online or by phone. Said Roger, "Once this pandemic is over, we can hopefully be more flexible in terms of walk-ins."
My group of diners, which consisted of neighbors who have lived at Lake Lotawana a good portion of their lives, was eager to hop on a pontoon and dock in front of Marina 27 on a cool August evening.
The cocktail offerings did not disappoint. We especially savored the Bees Knees, which was like a Cosmo but so much better, the Barrel-Aged Black Manhattan, and the '27' Old Fashioned.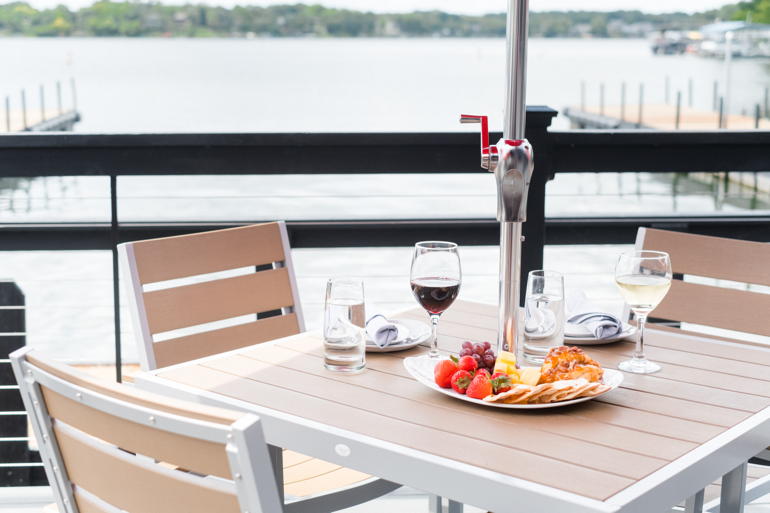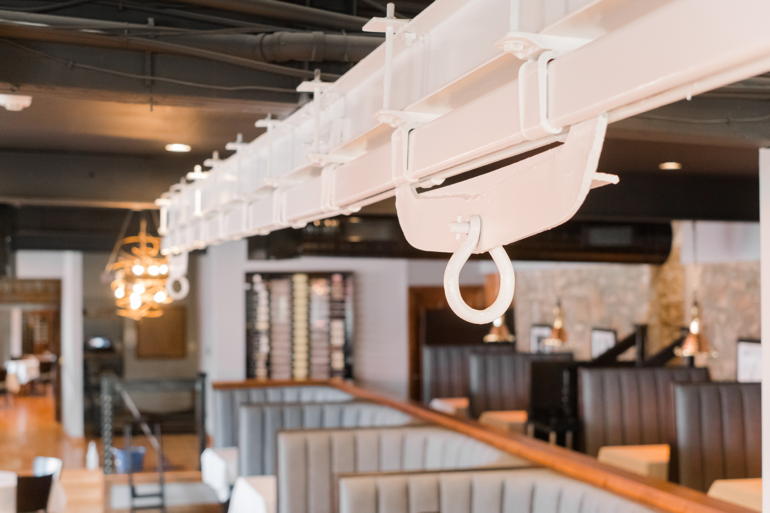 We had to admit we were excited to see some of our long-time favorites on the appetizer menu, and we started off with a large array. The bacon wrapped scallops had a delectable smoky taste, a perfect balance between sweet and savory. The herb ricotta spread, prepared with fresh herbs and grilled rosemary bread, had us begging our server for more bread so we could scrape every last morsel. The blue crab cakes with a dill caper sauce had a ton of luscious crabmeat and were not overly breaded. We have always loved the duck wings, deep-fried, then grilled with a sweet chili glaze and toasted sesame seeds. They were wonderfully sticky and delicious. One of the standouts was the peppadews, which had shrimp, smoked bacon, and bleu cheese crumbles with a balsamic reduction, and we agreed they had a nice kick of flavor. 
Everything was so tasty that we just had to order more.  The baby back ribs were incredibly thick and meaty. We then asked our server for a bar bites menu, and we split the lobster roll, which had a generous portion of well-seasoned lobster. The accompanying fries were light and crispy, cooked to perfection. And for dessert, we had the baked Brie with brown sugar, pecans, and seasonal fruit, which had lovely hints of honey and apricot.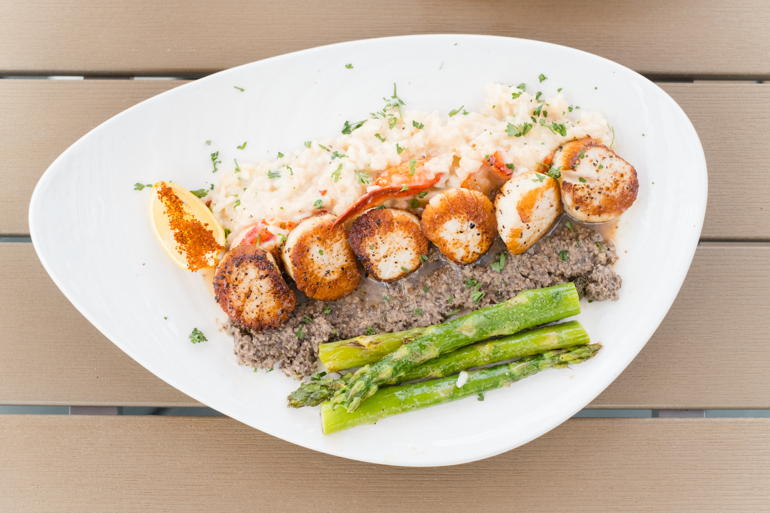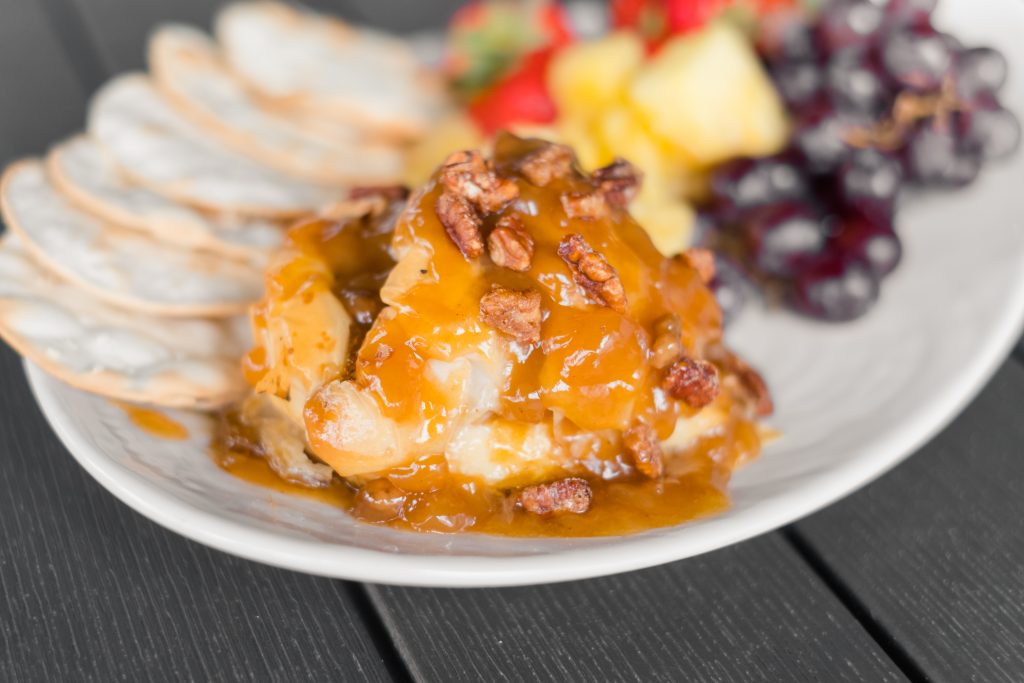 Yes, we couldn't resist ordering many familiar dishes, but we truly thought everything tasted better and was elevated in terms of presentation and sophistication. When I asked the group to pick favorites, no one could decide. They were all that good. 
Both Lance and Roger are eager to please old and new customers alike and are striving to give them a great, consistent dining experience. Said Roger: "We really care about the people on the lake. All we want to say is 'yes.'"
Dill Caper Sauce
½ cup mayonnaise
1 tablespoon fresh dill
2 tablespoons capers
½ cup sour cream
¼ cup yellow onion, pureed
1 teaspoon Worcestershire sauce
1 teaspoon sugar
Salt and pepper to taste
Chop onions together with capers and then add to the mix.
Marina 27 Steak & Seafood
22 A Street
Lake Lotawana, MO 64086
816-578-4400 * marina27.com
Also featured in the September 5, 2020 issue of The Independent
Photo credit: Bailey Pianalto Photography
By Ann Slegman
Want it spicy? Want it mild, want it fresh, want variety? Want original? Want a personality larger than life to recommend what is best? Want true Mexican fare with four…
An increasingly high demand for quality Thai food has brought about a third location for Penny and Doug Mufuka to Our Town. Also the proud owners of the Thai House…
Contemporary comfort food with a creative flair, convenience in Prairie Village, and local owners – what's not to love? Scratch Gourmet Express and Catering is the newest, and possibly most…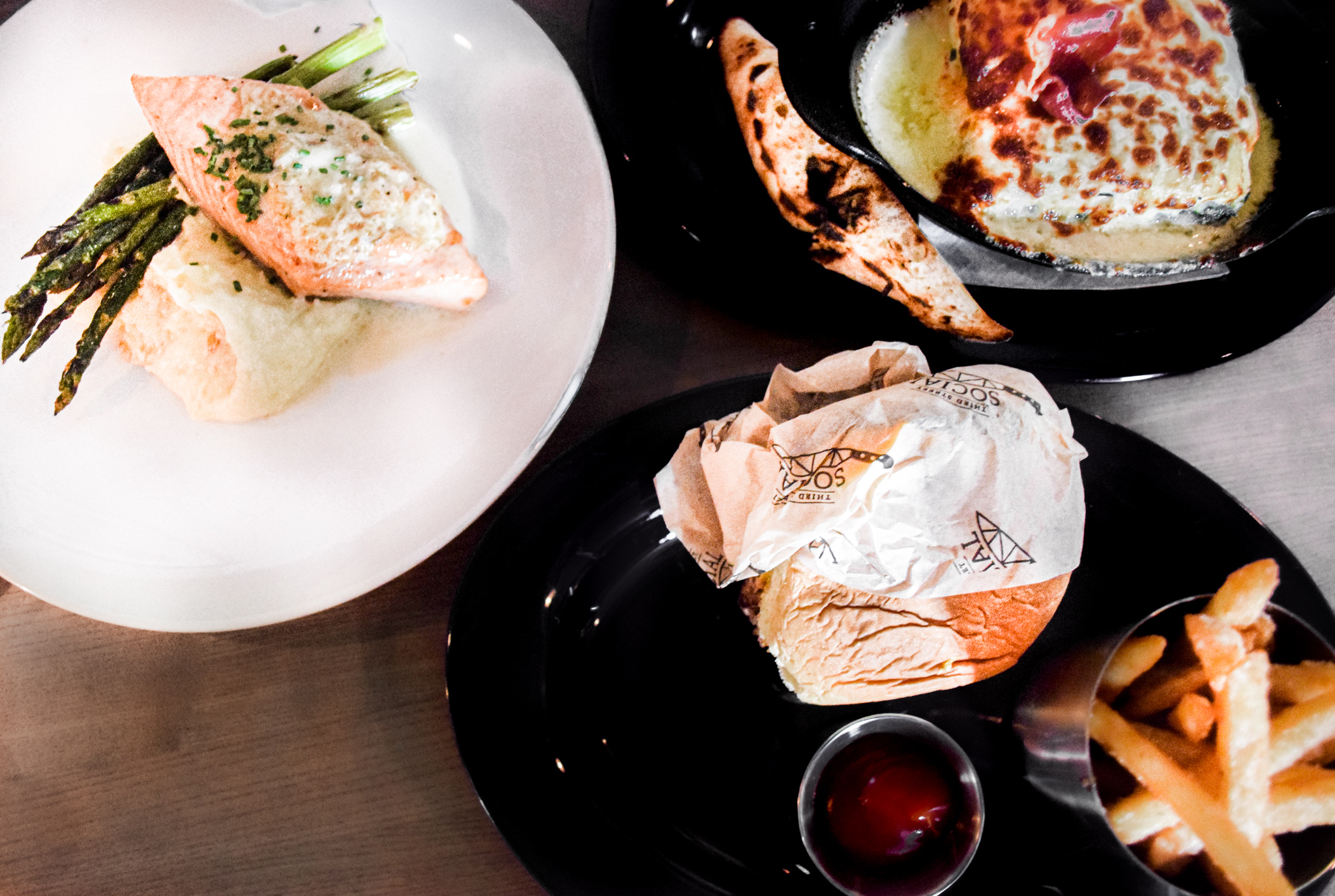 A nice drive to Lee's Summit would have been required until recently to access some of the most amazing comfort food – chicken and waffles – but not anymore! Andy…