The Dish With Ann – Tie The Knot 2020
No matter what size or style your upcoming rehearsal dinner and wedding reception is, everyone has to eat. Right? So what are some of the food trends wedding planners, restaurants, and caterers are seeing?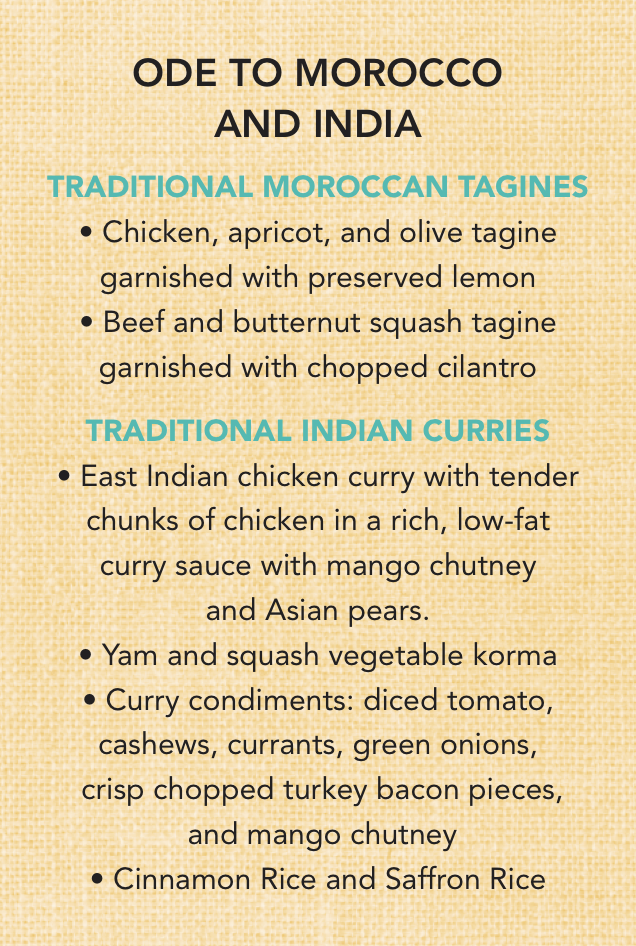 Wedding Planner Sarah Quinlivan of Quintessential Events said, "People want food that matters to them, whether it's an homage to their childhood or as a couple. At our first meeting, I will interview the couple and ask them where they grew up and what they like to do as a couple or separately. For instance, one groom was from St. Louis and we served fried ravioli. Then we brought in Ted Drewes frozen custard as a snack. It not only provided an experience for the wedding guests, but it helped to tell the couple's story. In 2021, one bride is Lebanese, and we are going to have a food station with Lebanese food. At another wedding, we had key lime flavored cotton candy because the bride went to school in Miami."
Plated meals are becoming more popular. "People like the formality of a plated dinner and how it looks. And, honestly, a plated dinner works better with the time line of a wedding in terms of toasts and dancing. A buffet line takes up a lot of time."
A trend that Wedding Planner Kindra Browne of Simple Elegance is seeing are small rehearsal dinners at local venues such as J. Rieger, Boulevard Brewery, and Tom's Town. "The most popular food that is served at rehearsal dinners is barbeque, without a doubt," said Kindra. But after the rehearsal dinner, she is seeing a Welcome Party for local and/or out-of-towners that lasts from about 8:30 to 10:30 p.m. "Sometimes it will be at the same venue or at a hotel rooftop. We will serve a few savory and sweet bites, cocktails, and coffee."
The majority of weddings Kindra is doing are sit-down dinners. "Grazing tables are going away, but I think we can still do stations, as long as a chef or someone is serving the food. Last year, we had a taco station, an American station with sliders and tater tots, and an Italian station with pasta served with red or white sauce and cups of Caesar salad."
Kindra said that passing food and self-serve buffets are not going to trend in 2021. "I am seeing the guest count going down at weddings, but the food budgets are going up. For instance, a plated meal might be surf and turf instead of chicken. People are enjoying dinner and talking to people more. There is more importance placed on food, and the weddings tend to have a more intimate feel."
Many weddings are being held outside now. "They have had a more laid-back feel with more casual food. We have had champagne trailers and a Betty Rae's ice cream truck. At one wedding, we served Casey's breakfast pizzas for a late night snack, and the guests went out of their minds," Kindra said.
In its stylishly-designed urban rustic space, Q39 offers an intimate private room and a semi-private setting to host a rehearsal dinner. It offers award-winning barbeque with a chef driven menu. From the tender slow-smoked meats to the sweet cole slaw, baked beans, and desserts made with love, there's just something special about a hometown meal. Some of Q39's most popular items you can't miss are the hickory-smoked brisket and burnt ends. Its delightful, herb-smoked turkey is something you can only get from its catering menu. Q39 is perfect for couples looking to flaunt hometown pride or give their guests a taste of true Kansas City barbeque.
Loose Mansion provides an ambiance and history for weddings from an era of romance and sophistication, unmatched by other venues in Kansas City, according to Abbey Chingren, director of sales and marketing. "We have an in-house culinary team of experienced chefs who create exceptional cuisine on-site for wedding receptions, using the freshest ingredients," said Abbey. A few examples of favorites include a funnel cake station, house made bacon maple donuts, bacon wrapped burnt ends, a flambé station featuring cherries Jubilee, bananas foster or Georgia peaches, and chicken and waffles. A popular trend that our chef enjoys doing is to help couples share food items unique to their own history together or representative of their family's favorite or culture."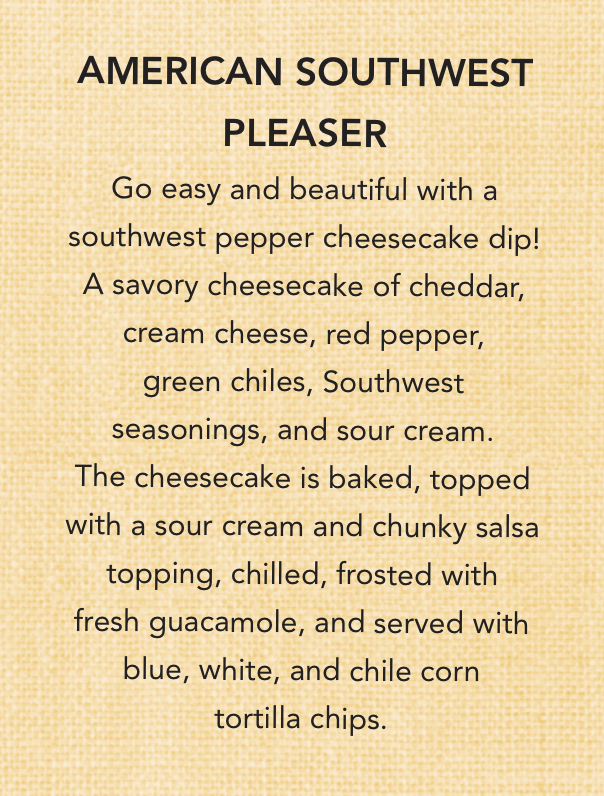 Abbey loves it when couples personalize their event, and food is a great way to do this. "We've tailored appetizers, dinner, menus, desserts, and late-night surprises to specific themes and family traditions. Some of them have been based on world traveling, the Clue game, various Disney and popular television shows, movies, books and historical themes such as The Roaring Twenties or the Victorian age. Recently, we helped a couple recreate the ambiance of Paris where they got engaged, and it included a meal of beef Bourguignon, ratatouille, and assorted macarons."
Plated meals at Loose Mansion have always been popular, and a few favorites include Mansion Steak Oscar, spice rubbed barbeque short ribs, Boursin stuffed chicken breast, molasses and honey sage grilled center cut pork chops, and potato crusted salmon.
Michael Wyatt of Wyatt Catering likes to serve dinners in a glass. He said, "I have been preparing menu items like this from gumbo to shots of gazpacho. In a martini glass, I'll first put in roasted garlic mashed potatoes, then either smoked salmon with dill sauce or grilled tenderloin  with horseradish sauce and top it off with roasted vegetables. For dessert, I'll do a white chocolate lemon mousse with a raspberry sauce in a glass. Another option is skewers, such as a Mediterranean one with marinated artichoke, zucchini, kalamata olives, summer sausage, and diced cheese. I can do lamb, chicken, vegetarian, and fruit kabobs, too."
There are lots of creative and delicious ways for families and friends to eat at rehearsal dinners and receptions and for brides and grooms to have the weddings of their dreams.
Also featured in the Tie The Knot Signature Issue – August 8, 2020
By Ann Slegman
Want it spicy? Want it mild, want it fresh, want variety? Want original? Want a personality larger than life to recommend what is best? Want true Mexican fare with four…
An increasingly high demand for quality Thai food has brought about a third location for Penny and Doug Mufuka to Our Town. Also the proud owners of the Thai House…
Contemporary comfort food with a creative flair, convenience in Prairie Village, and local owners – what's not to love? Scratch Gourmet Express and Catering is the newest, and possibly most…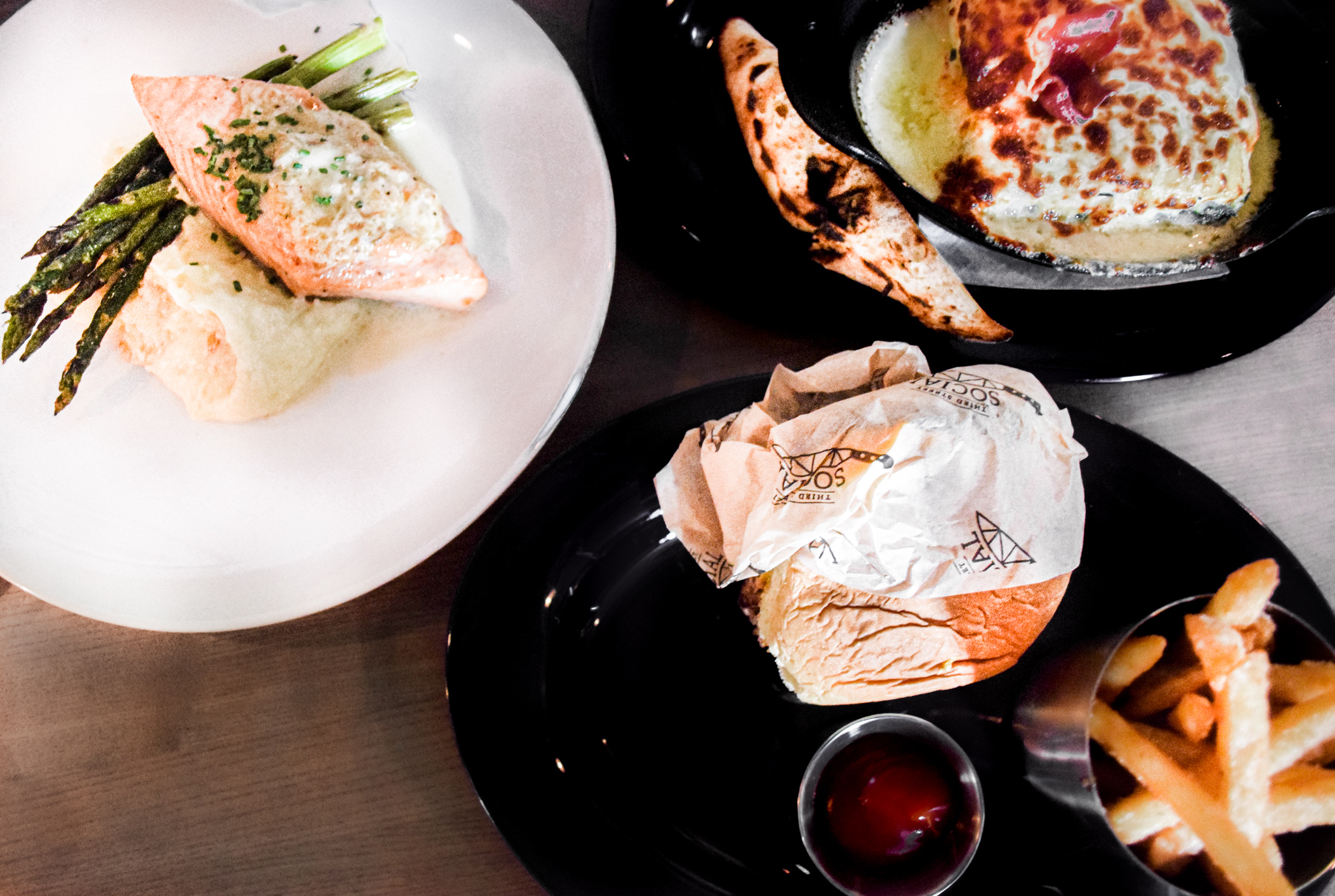 A nice drive to Lee's Summit would have been required until recently to access some of the most amazing comfort food – chicken and waffles – but not anymore! Andy…