The Independent's 2021 Class of Rising Stars
Luke Deets,
Vice President,
McCownGordon Construction

As the leader of McCownGordon Construction's K-12 market sector, Luke Deets provides client, design, and student-focused solutions for pre-construction and construction services. Luke exemplifies the McCownGordon core values of integrity, relationships, and performance. "Luke is a natural leader, motivator, mentor, and philanthropist," said Sheri Johnson, McCownGordon. "Through his volunteer work, he focuses on the dual goals of preparing young children for fulfilling and financially rewarding careers, including those that don't require a college degree, and creating a strong and vibrant future workforce for the Kansas City Region."
Within his professional role, Luke serves as an advisory board member for the company's Women In Leadership Committee and was named National Employee Owner of the Year by the United States ESOP (Employee Stock Ownership Plan) Association. He has also served for four years on the board of NICE (National Institute for Construction Excellence) and is the past board president. During his time with NICE, he led the first strategic planning initiative and is currently leading a grant writing initiative. Because of his crucial role in constructing tomorrow's schools, Luke is a board member of the Association for Learning Environments, volunteers for Olathe Schools Foundation – being involved with the golf tournament, and most recently has raised funds for the Olathe School District's mental health initiatives. Additionally, Luke serves as a member of the Lawrence Center for Technical Education, where he wants to help create educational opportunities for children seeking careers in professions that don't require college degrees. And, putting the icing on the cake, Luke serves the non profits Cancel Out Cancer, Braden's Hope, and Traveling Turkeys, which provides Thanksgiving meals for deserving families. 
Greg Lever, NICE, stated, "I strongly believe Luke has a passion for the future of Kansas City's children." In addition to helping community children, this married father of four coaches his kids' sporting teams, and is helping his wife, Genia, start a non profit focusing on children's literacy by having kids write letters to veterans, cancer patients, and other groups. Ramin Cherafat, McCownGordon, summed up this Rising Star by saying, "Luke has always been a strong supporter and advocate for all things Kansas City."
---
Deanna DiSalvo,
Senior Project Manager,
H&R Block
"Humbled" is how Deanna DiSalvo responds to her many kudos for philanthropic work in Kansas City. According to Morgan Hicks, The Leukemia & Lymphoma Society (LLS), Deanna is known for her "… positive attitude, work ethic, philanthropic spirit, dedication, and leading by example." This is just the beginning of what her peers have to say about this Rising Star. Chuck Cuda, Opes Charitable Foundation, said of Deanna in her Green Tie Gala leadership role, "Her passion, creativity, proactive thinking, and energy have been an asset." He went on to add, "I have seen many examples of her gracious heart and talents and have been impressed by her character, diligence, and work ethic."
Deanna is, indeed, bringing her "A" game to her philanthropic choices, as well as her career as a senior project manager at H&R Block. While juggling an impressive work life, Deanna has served as Green Tie Gala event coordinator, participated in LLS' 2020 Man & Woman of the Year campaign, raising the second highest amount of money, served as president for two years for Ronald McDonald House Charities' Red Shoe Society, served on the H&R Block Young Professionals board, and was a Big Brother Big Sisters Kansas City's Most Wanted Honoree. 
In the awards category, she has already garnered the 2017 Tony DiPardo Spirit Leader Award, the 2020 Citizenship Award for Volunteerism from LLS, and was named LLS' 2020 Woman of the Year runner-up. In addition, Deanna has run numerous half and full marathons to raise funds for charity, including the Chicago Marathon in 2018. Mackenzie Lutz, Ronald McDonald House Charities, trained for that marathon with Deanna and had this to say about her, "… she is a natural leader, has immense passion, and is someone we want representing our community." Mackenzie added, "It was during those many Saturdays spent running long distances together that I truly got to know her passion for Kansas City, and eventually saw her as my own role model." 
---
Jessica James,
Principal,
Clean Plate Consulting
In 2016, the East Patrol Division of the Kansas City Police Department came up with the idea of providing Christmas gifts and dinners to members of their community who might not be able to experience those things otherwise. According to Major Ryan Mills, "Jessica James stepped up, and through her network she arranged for home-cooked meals for each family, along with gifts from the wish lists provided by the families. On the day of delivery, she went door-to-door speaking with each family – side by side with Patrol members." A handwritten thank you note was received at the East Patrol Division, in which the Patrol members and Jessica were told that "their fingerprints don't fade from the lives they touched." Major Mills respectfully added, "her impact has been astounding… and it reminds members of the Police Department who we serve."
Jessica James lives her philanthropic life authentically. The Rising Star has been named a 2014 Big Brothers Big Sisters Kansas City Most Wanted Honoree; served on the 2014-15 ArtsKC Aperitif planning committee; was a Kansas City board member for No Kid Hungry in 2015 and 2016; joined the Centurions Leadership Program from 2018 through 2020; is leading the Notre Dame de Sion Grade School's Alliance as president of the parent organization; and is serving on the advisory board of Thelma's Kitchen. Tiffany Stuck, Big Brothers Big Sisters, said of Jessica, "With a culinary background, Jessica has served on the BBBS Empower Breakfast committee, and she served on a panel to help expose Littles in BBBSKC to 'Careers in Culinary.'"
Through the Centurions Leadership Program, Audra Clark, City Year Kansas City, met Jessica and collaborated with her on several projects. "Jessica has an extensive cadre of political, business, and non-profit leaders, and she is willing to activate her network for the greater good," said Audra. "She is a straight shooter, a creative thinker, and follows through – all qualities that make her a strong force for social change." That social change took the shape of a massive effort to register people to vote recently, "…with particular focus on the marginalized and underrepresented communities in Kansas City. I know a lot of people who talk about this… but Jessica mobilizes people and does something about it. It's inspiring," added Audra.  
---
Katasha Kumar,
Global Manager of Sales Operations,
MSTS
"Katasha uses her voice and talents as a tool: a tool to empower, provide, educate, inform, support, and rally … she has the ability to both listen and understand with empathy, which sets her apart and makes her an informed advocate," said Chloe Isaak, Big Health, and Jackie Berra, Dimensional Innovations, where Katasha held a prior position. Chloe and Jackie are enthusiastic about Katasha's work with Big Brothers Big Sisters of Kansas City. Katasha is currently serving as president of the organization's Junior Board, and president of its Big Impact Group. In her roles, she "…brings an incredible amount of energy to the group and motivates them to reach higher and achieve bigger goals," said Zachary Riel, BBBSKC. Not afraid to dig into the work herself, Katasha organized the Big Impact Group to drop off graduation gifts to each and every BBBSKC 2020 graduating senior. Her Little Sister, Ashly, is on the receiving end of some very special mentoring. Kevin Clark, BBBSKC, said, "Katasha 'shows up' for her Little, Ashly, and is a consistent, positive role model, and the perfect fit for Ashly." 
Katasha has also served on the KC Chamber Diverse Business Committee, worked with the Give Something Back Foundation, and volunteered with Boys Grow, the MS Foundation, and Children's Mercy's Red Hot Night event. In addition, Katasha worked with BrandLab to help create two internships at Dimensional Innovations for high school-aged youth. One of Katasha's favorite ways to give back is to Women Leaders in College Sports, where she started as an intern and worked her way up to a full-time position doing the promoting of and advocating for women working in college sports. Greg Valdovino, KC Chamber, characterized Katasha as having "positive energy and a take-charge attitude," as well as an ability to "lend her wide range of skills to make an impact and cause change in an otherwise challenging climate."
In her professional life, Katasha is the Global Manager of Sales Operations for MSTS, a firm with B2B payment expertise. This summer, she will lead the effort on behalf of MSTS to gather teams and raise money for the annual Summer Bowl For Kids' Sake, to benefit BBBSKC. Ann Gaffigan, Dimensional Innovations, said, "Katasha Kumar is like a magnet; her energy and passion are contagious!"
---
Danny Ritz,
Employee Benefits Consultant,
CBIZ
Danny Ritz is a consensus-building Renaissance man. As an employee benefits consultant for CBIZ, "Danny has always elected to spend time nurturing both his professional development and community engagement," stated Polly Thomas, CBIZ. Polly added, "He has been involved in creating our Young Professionals group and is a leader of our Culture Club… these are volunteer positions but require commitment, dedication, and long hours." Not content to be a leader only inside his company, Danny "…turned to the outside of CBIZ to create and found KCCYP (Kansas City Council of Young Professionals), which is made up of the founders and chairs of other company's young professionals," said Pauly Hart, Lead To Read KC.
Actively and routinely involved in three non-profit organizations, Danny's volunteer passions lie with Lead To Read KC, Hope House, and Junior Achievement. He serves as a reading mentor and reads to a student once a week, and, of course, Danny serves on Lead To Read's Young Professionals Board. He also served as chairman of the organization's Readers on the Rooftop event, and assisted with its Feed the Need to Read event. Likewise, at Hope House Danny was on the Emerging Leaders of Hope House Board. According to Anne Aubuchon, Hope House, "His sincerity, insightfulness, and dedication made a major impact." Anne is speaking of two events in which Danny played a big part, the Hope House Hustle sand volleyball tournament and a trivia event hosted by CBIZ and benefiting Hope House. 
As they say, "in his spare time," Danny and his brother Kevin founded and co-host a podcast, State Your Line. Debuting in 2019, the podcast seeks to lend airtime to local entities – professional athletes, entrepreneurs, business owners, and several non profits. These interviews for "The Pod," as it is referred to, have helped raise awareness across all aspects of the metro area. Longtime friend Katherine Lee summed it up by saying of Danny, "He uses his talents and connections to spread awareness, and he is so engaged and such an advocate. He has a heart of gold."
---
Danielle Trabon,
Financial Advisor,
Edward Jones
Not to gloat, but it seems that St. Louis' loss is definitely Kansas City's gain. Prior to moving to Kansas City in 2018, Danielle began her career in St. Louis, where she graduated from Saint Louis University and joined Edward Jones' development program. She was a founding member of the Unleashing Potential Young Professionals Board, served on the steering committee for GenNext of United Way of Greater St. Louis and serving on its board of directors, and volunteered as a translator for Casa de Salud, "…where she helped translate Spanish for foreign-born recipients of healthcare," added Dan Farmer, a former colleague.
Working her way up through Edward Jones' ranks, Danielle has made quite an impression in her short time in Kansas City. According to Mollie Stephens, Edward Jones, "I was struck by her curiosity, enthusiasm, and passion for helping others. She established herself as a powerful voice… for the advancement of diversity and inclusivity." Mollie added, "Her clients are deeply cared for, educated, and empowered."
Danielle's civic and philanthropic engagement has continued with the United Way of Greater Kansas City, as she served as a steering committee member for the Emerging Leaders Society from 2018 to 2020. "She assisted in organizing Holiday With A Purpose, which provided gifts to children in the metro area," related Brendan Carney, United Way. He continued, "Last summer she constructed a virtual Happy Hour to recruit new committee members for Emerging Leaders. Her goal was five new members; she attained 12. Danielle's passion and commitment ensured the success of the event." 
Also sitting on the board of directors of CAPA (Child Abuse Prevention Association), Danielle has "shown great commitment to supporting our mission," according to Rochelle Parker, CAPA. "Danielle has provided unyielding support and expertise to non-profit endeavors in both Kansas City and her native St. Louis. She has taken Kansas City by storm – both professionally and personally," Rochelle added.  
---
Also featured in the February 20, 2021 issue of The Independent
Photo Credit: Tom Styrkowicz
KidsTLC hosted Benefit23, a dreamy evening filled with pajamas and a fun celebration (sounds wonderful!) led by Chairmen Sarah and Ryan Owings. With delightful cocktails from J. Rieger & Co.,…
Teresa Walsh hosted the 11th annual occasion of The Gathering, a benefit for Catholic Charities Foundation of Northeast Kansas and the New Roots program. Missy Kuklenski served as the chairman.…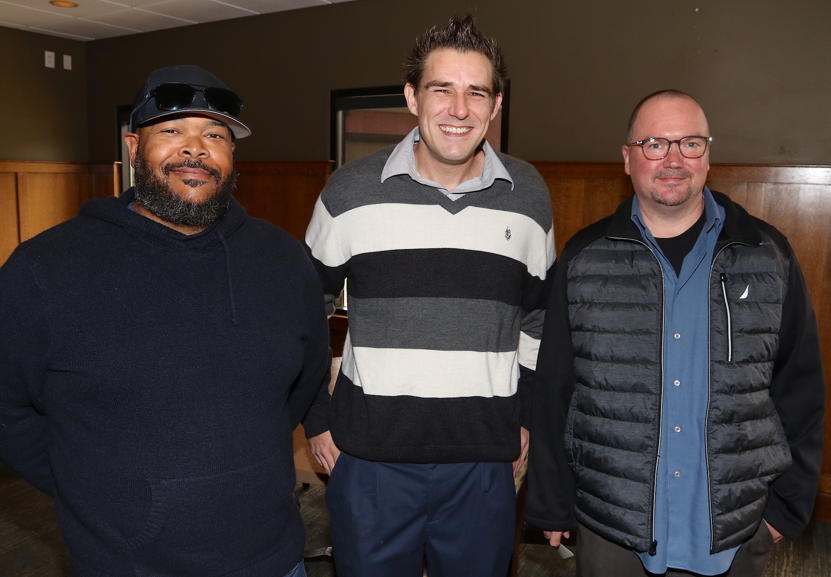 Being fitted for formalwear before the Community Ball and Cotillion on December 2nd should be fun, so the Junior League of Wyandotte and Johnson Counties hosted a Meet and Greet/Icebreaker…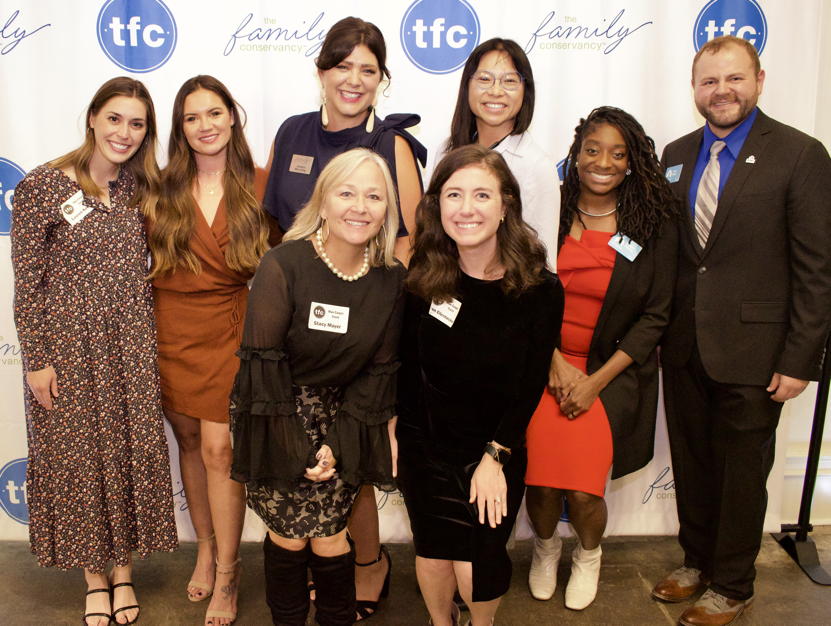 The Family Conservancy's Blue Carpet Event was held on October 13th at The Abbott. Partygoers enjoyed cocktails, dinner, live music, a wine pull, and silent and live auctions. Sly James…