THE ROUND PEG: The alchemy of collaboration continues to attract artists seeking the unexpected
There are reasons why artists find cross-disciplinary collaborations so invigorating. It's a bit like a great chef preparing a meal with no recipe: When performing artists combine music, dance, visuals, or theater toward a common goal, they must rely on instinct and experience to guide them. The outcome is often unknown even to them until it's too late to turn back. And that danger, of course, is half the fun.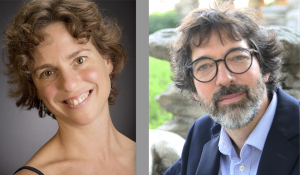 Dancer-choreographer Jennifer Owen is no stranger to complicated collaborations with her husband, Composer Brad Cox, as well as with other members of the Owen/Cox Dance Group team: composers and musicians, set and costume designers, painters and sculptors, actors and stage directors. The company's new project, aRound & aRound, attempts to meld dance, music, and video projections: the latter created by Kansas City-based Artist Nate Fors, a frequent collaborator with the region's most adventurous dance company.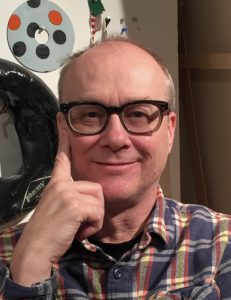 "It is hard for us to imagine how it all is going to come together," said Jennifer, a Seattle native who danced with the Russian State Ballet, Kansas City Ballet, Hong Kong Ballet, and BalletMet before forming her own company with Brad in 2007. "We don't really see the finished product in our minds as we approach working on it, but we know that the process, and our discussions throughout, will guide us."
For this piece, which takes the company to the H&R Block City Stage later this month, Composer Jeffrey Ruckman will serve as dramaturg, "to make sure that the dramatic and theatrical and visual elements are sort of glued together," Jennifer said, "and that there's an overarching line."
The key to unlocking the conceit of aRound & aRound lies in the title itself. The word "round" applies to important elements of all three art forms involved: "We refer to a canon as a round," said Brad of the familiar repetitive musical pattern. Likewise, the round-dance has been fundamental to communal movement since the dawn of humankind, and of course circles form an essential part of all sorts of visual art.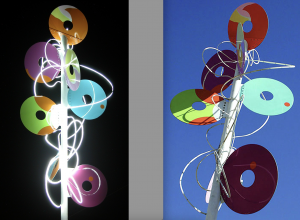 "I've made paintings with circles on and off since the late 1980s" said Nate, a National Endowment for the Arts grantee whose paintings are in the collections of The Nelson-Atkins Museum of Art, the Nerman Museum of Contemporary Art, the Kemper Museum of Art, and the Spencer Museum, among others: and whose striking 40-foot-high lllooppi at the entrance to Leawood Park is one of the most formidable public sculptures in the region.
"And as a stencil for those circles, I have used 12-inch LPs, 45-rpm records, and even CDs. So the connection to music, to discs going around on a turntable, is direct." The idea for aRound & aRound "had a reference to the dance," he added, "and it also seemed apropos to the music."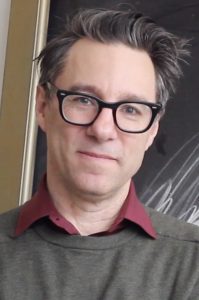 Nate has been a frequent collaborator with Owen/Cox since the company's beginnings. His contribution here is a video that will play on a rear-projection screen upstage. The theme of the imagery is circles: planetary patterns, cycles of life, circles in the environment, "and some imagery from some of my paintings that have circles," the artist said.
Nate became enamored with Owen/Cox in 2007, and he took part in the company's early work, Bottom of the Big Top. "I thought Brad's music was just great," he said, "and the dance was really, really good: and funny, too." Although he had never worked in dance, Nate found himself wanting to take part. "I said to them: I've never done this, but if you're game, I'd love to be the Rauschenberg to your Cage and Cunningham."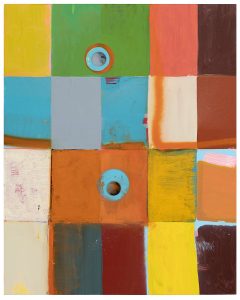 For Owen/Cox, as for most dance companies, collaborations begin with the music. For this work, Brad and fellow Composer Jeff Freling have composed nine songs and connective material, which will be performed live onstage by two singers and an instrumental ensemble that includes keyboards, guitars, bass, and percussion.
The musicians will create a rough recording of the music, which the dancers and the artist will use as a guide. "I trust Brad and Jeff, that they are going to give me music that's going to work well for dance," Jennifer said. "And if I want anything different, I can just ask them for modifications." This rarely happens, though: "Brad and I have worked together so much that he has a really good sense of what will work for dance," she said.
The music-and-dance dynamic flows in both directions, though, and a project is never complete until all the elements have come together. "There are some sections where we're leaving things very open for the choreography to drive the music," said Brad, adding that between songs "the music kind of spirals off into a far more abstract sort of soundscape… which will involve a certain amount of improvisation."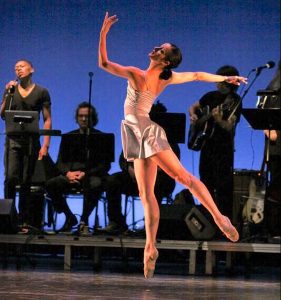 Likewise, Nate's video, which the artist will perform "live" with the dancers, is structured in chapters whose beginnings and ends can be tweaked along the way to keep with the flow of the music and dance. With so many elements happening live "it is impossible to take it all in," Nate said. "You can't even do that when there are just dancers onstage. … And to me that's representative of what being alive is like."
In art as in life, he said, "we capture just the barest minimum of what's going on in the world. … So it's kind of pushing the envelope to have people try to experience all of this on a sensory level." Nevertheless, he added: "It always seems to make sense, it works. I don't think we've ever been afraid that there was going to be something inauthentic about the result."
—By Paul Horsley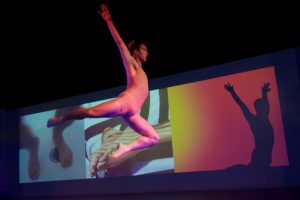 For tickets to aRound & aRound, which runs from March 31st through April 2nd at H&R Block City Stage, see owencoxdance.org or call 816-659-2399.
To reach Paul Horsley, performing arts editor, send an email to paul@kcindependent.com or find him on Facebook (paul.horsley.501) or Twitter/Instagram (@phorsleycritic).
After more than two decades and four deans, it was beginning to look as if the UMKC Conservatory's dream of a new facility would remain just that: a dream. Until…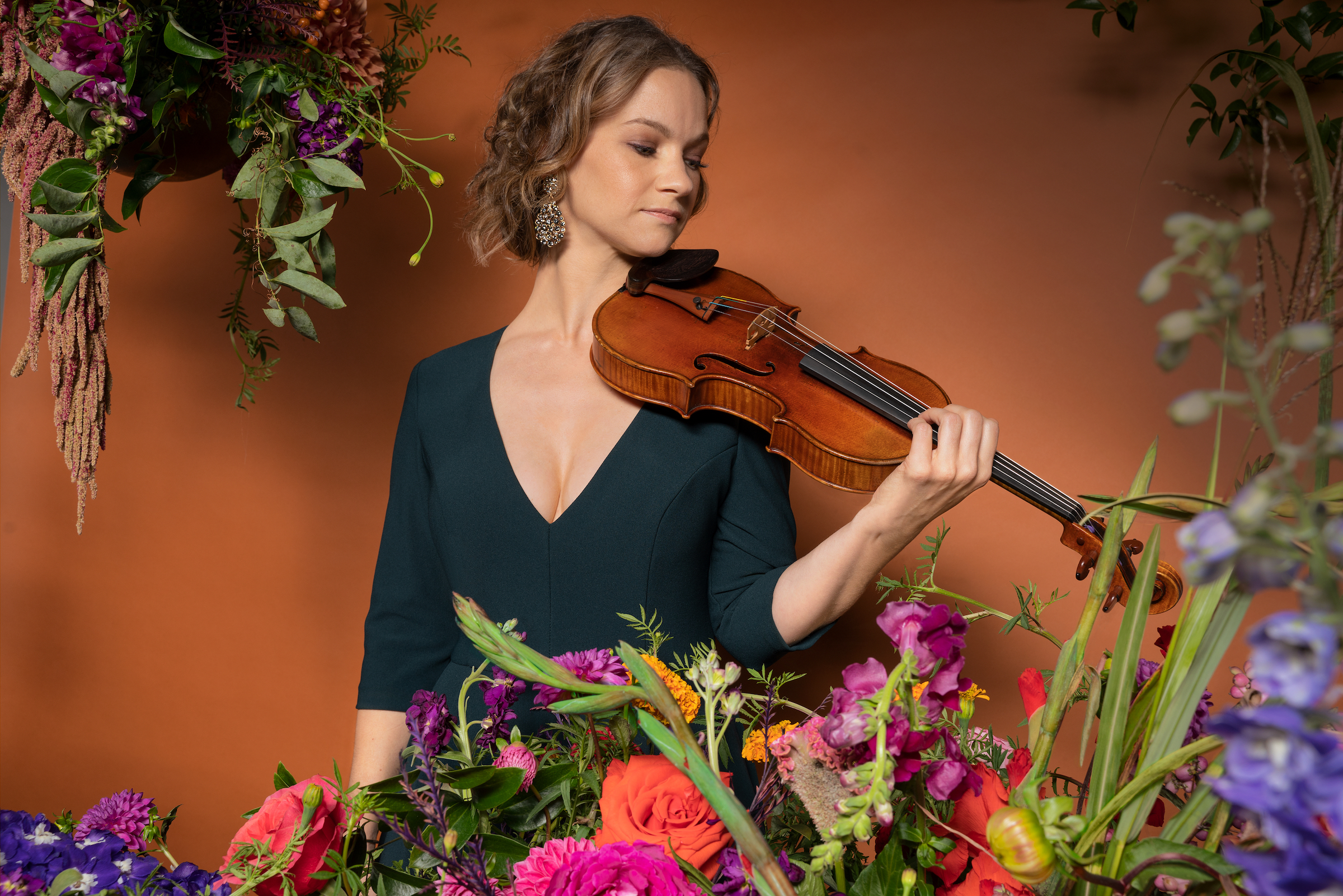 One woman, standing alone onstage. No pianist, no music-stand: Just Hilary Hahn and her violin, creating miracles. That is what Harriman-Jewell Series audiences are likely to experience this October 13th,…
Oh the weather outside is frightful(ly hot). But it won't be for long, so take a close look at this fall's diverse and provocative mix of music, dance, and theater:…
Kansas City Ballet always seems to be building something. For decades, it engaged in refitting existing buildings to meet its day-to-day needs: from the Westport Allen Center to the National…