Toast to Olde Tymes – Blevins Davis
"Local boy makes good" – such stories are traditionally earnest and heartwarming, and, to be frank, often a little on the dull side. The saga of Blevins Davis, however, is anything but predictable. He was born Charles Blevins Davis, the son of Julia Blevins Davis and Charles Ammon Davis, in Osceola, Missouri, in May 1903. His parents lived for many years at 900 South Main Street in Independence, Missouri. Blevins attended school with Fred Wallace, which led to a friendship with Fred's much older sister and her husband, Bess Wallace Truman and Harry S Truman. In "Impresario From Missouri: Blevins Davis and Cold War Cultural Diplomacy," Sharon Bagg noted that, "He often visited the Wallace home where the Trumans also lived, played piano duets with Harry, and teased little Margaret." No one then could have imagined that Harry would someday be president.
As a young adult, Blevins seemed poised for a career as an educator. He attended Kansas City Junior College and then went to Princeton. His studies there were curtailed due to financial hardship. Returning to the Midwest, he graduated from the University of Missouri – Columbia. Blevins spent six years as an English teacher in Independence before becoming the principal of a junior high school. He played the organ at church and enjoyed traveling in the summers, but theatrical productions were his main interest. Blevins was the writer and director of The Clouds of Times, a 1932 celebration of the bicentennial of George Washington's birth. In "Blevins Davis: Creating a Cultural Impresario," Brent Schondelmeyer described A Century of Progress, written and directed by Blevins, which was presented in connection with the dedication of the new courthouse in Independence in September 1933 as having "a cast of 350 players including many of the community's leading citizens." His ticket into international attention was a fellowship at Yale University. According to Sharon Baggs, a chance meeting with William Randolph Hearst, the newspaper publisher, at a luncheon, led to Blevins being hired as a writer. His topic? The upcoming coronation of King George VI. And that was just the beginning…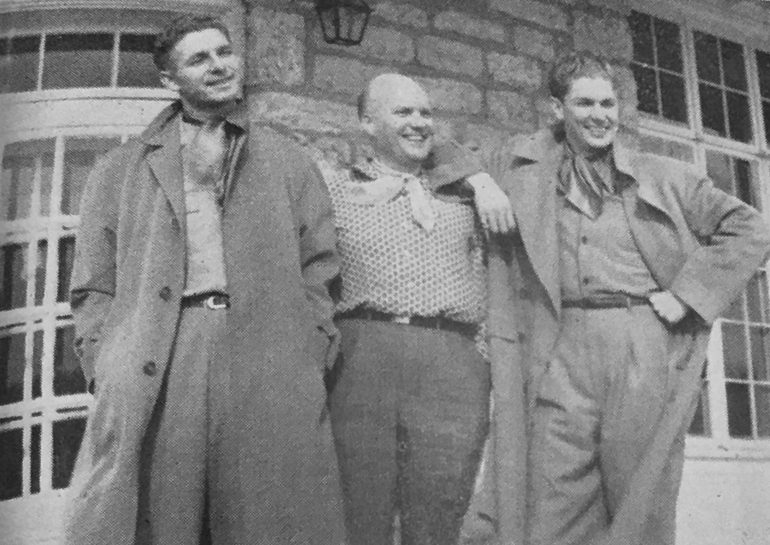 In the April 3, 1937 issue, our scribe wrote:
"Blevins Davis, who is well known socially in Kansas City, jumped into the spotlight of fame last week when he signed a contract with the National Broadcasting Company to serve as "Staff Commentator" for the coronation of His Majesty George VI and Queen Elizabeth. Blevins will sail on April 18 on the "Normandie"… He is doing graduate work in the Department of Drama of Yale University and has collected invaluable information on the coronation service, symbolism of the regalia, and significance of the state processions. His research on the subject represents material which he has accumulated for the past twelve years." Sixty years later, Sharon Bagg cast some light on his archives: "Throughout his life, Davis kept huge reference files and scrapbooks on the third floor of his parents' home… [After meeting William Randolph Hearst] He immediately wired his father to mail the appropriate file."
Think for a moment about this: King Edward VIII served less than a year after his coronation in January 1936 before abdicating to marry Wallis Warfield Simpson. Had he instead remained as monarch, Blevins Davis' files would have had valuable historical information, but nothing related to current events in 1937.
Blevins' work with NBC continued, and he also began directing plays on Broadway in New York. In April 1945, Harry S Truman became the 33rd president of the United States. Blevins was certainly qualified to stage patriotic pageants – and having a connection to the White House also helped. By that point, he was known as a theatrical producer who sometimes squired Margaret Truman.
November 1948 brought orange blossom news. As The Independent recorded, "Blevins Davis's multitude of friends in Independence and Kansas City were not at all surprised when word came that Margaret Sawyer Hill had answered in the affirmative. His bride is the daughter-in-law of the famed founder of the Great Northern Railroad and is a bellwether in New York society where Blevins is not a stranger." The reality was more complicated. Brent Schondelmeyer explicitly states that Blevins was a gay man. Marguerite (sometimes identified as Margaret) was a wealthy widow, at least a decade older than Blevins. It was her fourth marriage.
Marguerite died in March 1948. The couple had been traveling, and they arrived at St. Luke's Hospital only a few hours before her death. According to her death certificate, she was 55. Other sources suggest that she was born in 1879 and that her first marriage took place in 1906. Whether or not it was a love match, Blevins inherited a fortune estimated at five million dollars.
That was more money than one man could spend in a a lifetime – or was it? Blevins didn't forget the folks at home. In the late 1940s, his bright blue Cadillac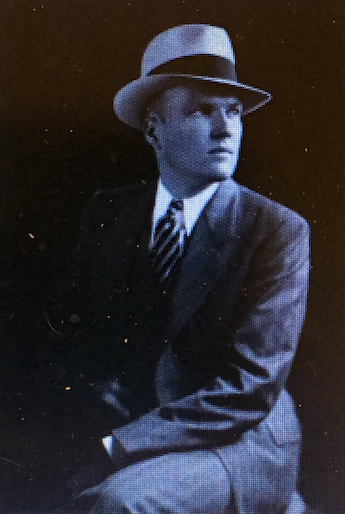 convertible was a familiar sight in Our Town. His home in Independence, Glendale Farm, became a showplace, filled with guests not hitherto seen in these parts. (When the Shah of Iran's brother visited, his host entertained with a dinner at The River Club.) In addition, Blevins purchased an estate in Colorado that he renamed Trianon. He directed a production of Elizabeth and Essex at the University of Kansas City in 1948, and the Coronation Ball for the 1950 American Royal. Blevins also began sending stage productions abroad, with the doting guidance of the First Lady, Bess Truman, and assistance from the State Department. When an all-American version of Hamlet was staged at Elsinore Castle in Denmark, Blevins was responsible, along with Robert Breen, with whom he formed Everyman Opera. The most spectacular feat of Blevins' career was a revival of Porgy and Bess with an African-American cast that spotlighted Leontyne Price, Cab Calloway, and William Warfield. Blevins intended this as both a cultural offering and an opportunity to showcase examples of African-Americans who were successful in the arts, in order to counter views abroad that African-Americans were second-class citizens in the United States. The show was a hit in Europe, ultimately going to Russia in 1955. Truman Capote wrote a book about the Russian tour, The Muses Are Heard.
Blevins Davis wasn't present for the acclaim the show received in Russia. He had run afoul of numerous entities, including the trustee of his wife's estate and several banks. The productions he underwrote helped drain his finances. So did his vast real estate holdings, soon to be other people's property. Pearl Shipp, who had been his housekeeper, and her daughter, Ann Shipp Taylor, managed to retrieve some of his belongings from Glendale Farms, after he was locked out.
During the heady days of the late 1940s and early 1950s, Blevins had been a member of the board of directors of the American National Theatre Association and president of the American Ballet Theater of New York. His uncompleted projects intended plans with Carl Dreyer, director of the 1928 film The Passion of Joan of Arc, to make a film about Jesus Christ.
In later years, Blevins lived in Peru, intending to regain his fortune with investments in molybdenum. Kansas Citians Josephine and Steve Stubbs and Billy Kemper visited him in Lima in early 1971. Blevins was in London, England, on a business trip when he died in July 1971. He is buried with his parents in Woodlawn Cemetery in Independence. As his obituary in The Independent stated, "Blevins Davis… was devoted and loyal to longtime friends and kept up a running correspondence from the many spots on the globe that he called home… No matter how much his personal fortunes fluctuated, he was always enthusiastic… If Blevins Davis had a fault, it was generosity."    
Also featured in the February 22, 2020 issue of The Independent
For further reading:
Bagg, Sharon, "Impresario From Missouri: Blevins Davis and Cold War Cultural Diplomacy." Kawsmouth: A Journal of Regional History. Volume 1. Number 1. Autumn 1998.
Haight, Frank, Jr. "Remembering life at the 'Big House.'" The Independence Examiner. April 12. 2011.
Schondelmeyer, Brent. "Blevins Davis: Creating a Cultural Impresario." Jackson County Historical Society Journal. Winter 2014.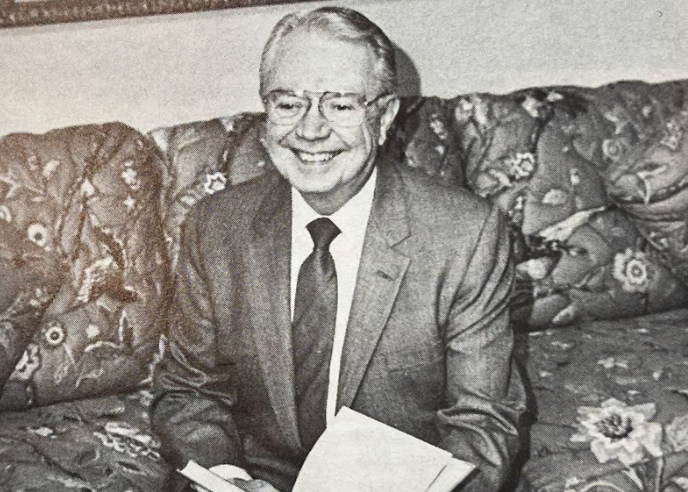 Harold D. Rice learned about community service at an early age. The son of Atha C. Dewees Rice and O. Lee Rice grew up at 4735 Virginia Avenue, in a…
January 1970 saw the launch of a new soap opera on Channel 9, Kansas City's ABC affiliate: All My Children, created by Agnes Nixon. One of its stars was Ruth…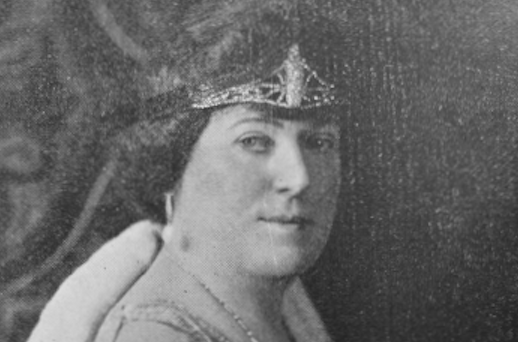 We're familiar with bling and swag. That said, we've never been to a dinner party where the guests received diamonds as souvenirs of the evening. Alas, we were born too…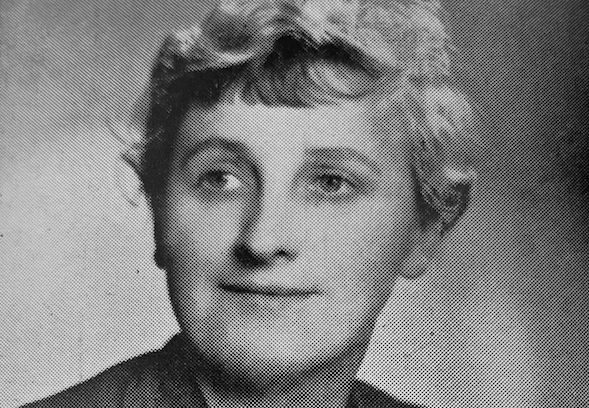 "I work quickly, without trying to put any message into my painting," Gertrude Freyman told the Kansas City Star in 1959. She added, "I don't think too much about what…