Toast To Olde Tymes – Mrs. Theodor von Eltz
Are you as big a fan of Humphrey Bogart as we are? Is The Big Sleep one of your favorite films? In the movie, which is based on the book by Raymond Chandler, the elderly General Sternwood (Charles Waldron) sends for Phillip Marlowe (Humphrey Bogart), a private detective, because he is being blackmailed – again – due to the indiscreet actions of his daughter, Carmen (Martha Vickers). This time the culprit is a bookseller named Arthur Gwynn Geiger (Theodor von Eltz).
There! Did you spot the Kansas City connection? Theodor was the husband of Elizabeth "Liz" Lorimer von Eltz, formerly of Our Town. (As one might imagine, Theodor's name was spelled in a variety of ways in the press. Some columnists also referred to him as Ted or Teddy, usually in breezy comments suggesting they were old buddies. We'll follow their lead.)
Liz was a 1921 graduate of St. Teresa's Academy. She was the daughter of Sallie Funk Lorimer and David C. Lorimer, and she had two brothers, William and Cannon. Sallie died in August 1916 at the age of 48. David, a native of Scotland, was a founder of the Kansas City Livestock Exchange and also dealt in real estate, some of it in Texas. Apparently, he was prosperous: in February 1920, he reported that more than $5,000 worth of clothes and jewelry had been stolen from his home. After Sallie's death, David married again. He died in 1939 at the age of 77. His widow, Florence, lived until 1944.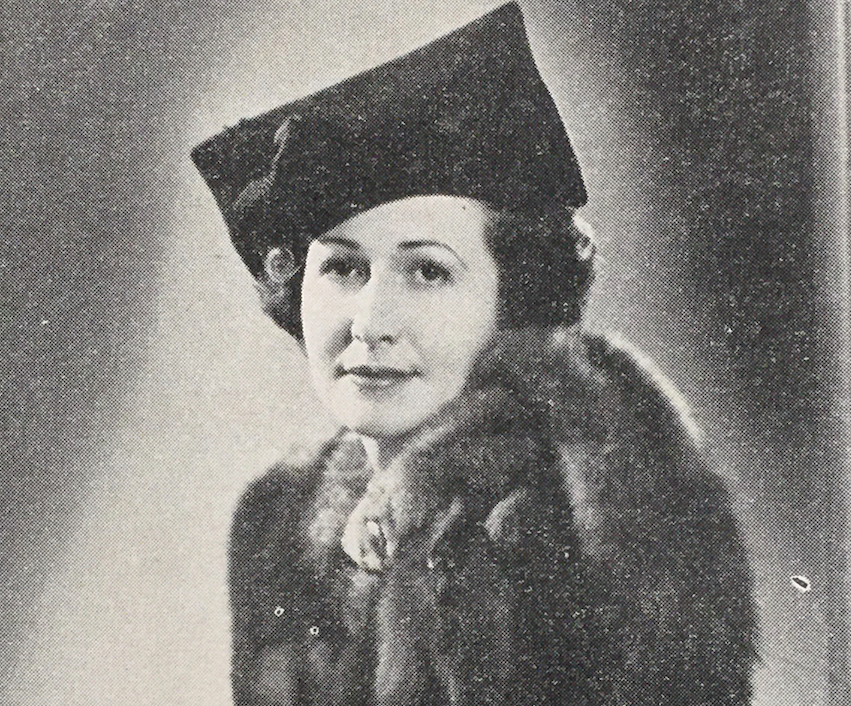 Perhaps the Lorimer siblings shared a distaste for Midwestern weather. Liz spent most of her adult life in California. William moved to Hawaii. As for Cannon, his career was in hotel and club management, notably with the Mark Hopkins in San Francisco, the Royal Hawaiian Hotel in Honolulu, and the Claremont Country Club in Oakland, California. 
"A beauty, she evidenced enormous style as the protege of the late Herbert Woolf at Woolf Brothers," was The Independent's recollection of Liz's youthful days. (Readers who were old enough to shop for clothes prior to the early 1990s may remember Woolf Brothers. Let's just say, it was heaven.) Liz would have a career in fashion, but not in Kansas City. In July 1929, when she was here on a three-week visit from Los Angeles, The Independent predicted, "Tall, dark-eyed Liz undoubtedly will be the inspiration for numerous parties among her intimates." Her friends included Ruth Johnson Glover and Lester Hall Glover and Katherine Fisher Satterlee and William Bertrand Satterlee.   
We don't know how Liz and Ted met. His early days were spent in New Haven, Connecticut; his father, Louis von Eltz, was a professor of languages at Yale. Ted studied at The Hill School in Pottstown, Pennsylvania. As a young man, he considered becoming a doctor, but instead made his Broadway debut at 19. During the course of his career, he appeared in more than 200 films. 
Ted's first wife was Peggy Prior, a screenwriter. Their seven-year marriage produced a son and a daughter and ended with tabloid headlines and a custody case. For a time, the children were in foster care. Peggy was an advocate of "trial marriage." As a practical matter, that meant that after she and Ted parted, she lived with Joseph Moncure March, (a writer mainly remembered now for The Wild Party), for some time before they bothered with a marriage license. Once Peggy and Joseph tied the knot, they remained a couple until his death in 1977. Joseph adopted Peggy and Ted's daughter, Lori, who took her stepfather's last name. As an actress, Lori March is best-known for starring as Valerie Ames Hill Northcote on The Secret Storm, a soap opera on CBS, from 1961 until 1974.
Liz and Ted married in September 1932 in Tijuana, Mexico. With them for the wedding were Liz's brother Cannon, and the recently-wed Martha Belle Aikins Smith and Walton Hall Smith, Kansas Citians who were then residing in Hollywood. The Kansas City Star got the story after Liz sent a telegram to another friend in Our Town, Hazel Baker Grant.  
Liz was a darling of the society page of the Los Angeles Times. Of her career, it was stated in the September 3, 1933, issue, "… speaking of that Liz von Eltz, that swell and peppy brunette is I. Magnin's lucky break at the Biltmore shop these days." Just days later, on September 19, 1933, the newspaper declared, "Liz Lorimer von Eltz was about the smartest looking thing glimpsed in ye-ahs and ye-ahs. She wore a black crepe frock with a guimpe of cream colored chiffon velvet, shirred very full around the shoulders and slit down the back, and a black velvet pancake beret, pulled over one eye." In 1941, it was reported in the Kansas City Star that Liz was assistant to Irene Lentz, a designer who also created costumes for films. For information on her later years, we rely on our scribe: Liz "became head of the French Room at Bullocks-Wilshire. She traveled yearly to the fashion centers of Europe to select clothes for the sophisticates of Los Angeles and Beverly Hills. These were her friends and it is said that when Liz von Eltz dined at her ringside table at Perino's, she fairly held court." A menu from circa 1950 brings Perino's into focus: it was a fashionable restaurant that offered a mouthwatering array of options from Oysters Rockefeller to Strawberries Romanoff, with entrees that included Calf Sweetbreads Saute Financiere and Filet of Sole, Bonne Femme, as well as a Half Broiled Chicken.
Peggy had testified in court that she disliked Ted's "Prussian disposition." Liz doesn't seem to have shared that disdain. Ted and Liz were married until he died in October 1964. Liz outlived him by nearly a decade. Her death was recorded in July 1974.
Also featured in the October 2, 2021 issue of The Independent
By Heather N. Paxton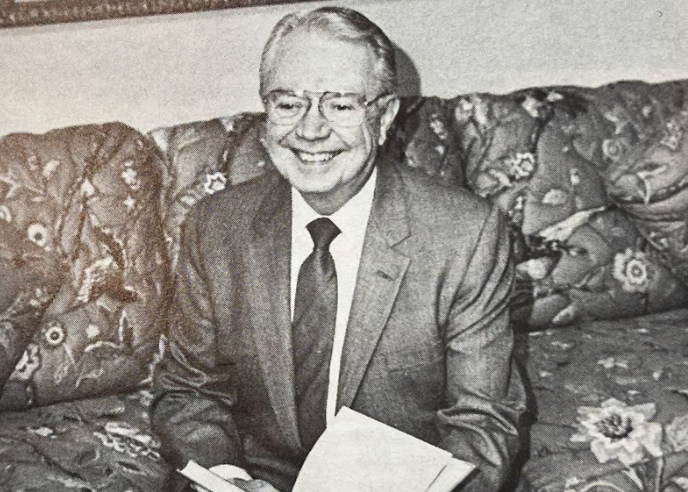 Harold D. Rice learned about community service at an early age. The son of Atha C. Dewees Rice and O. Lee Rice grew up at 4735 Virginia Avenue, in a…
January 1970 saw the launch of a new soap opera on Channel 9, Kansas City's ABC affiliate: All My Children, created by Agnes Nixon. One of its stars was Ruth…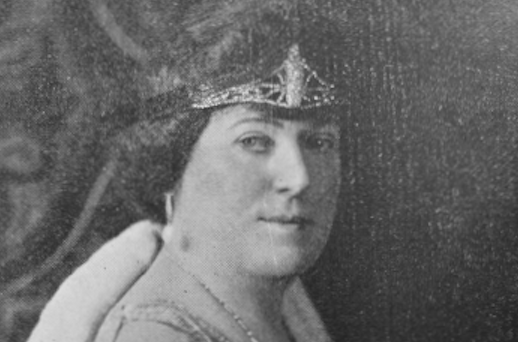 We're familiar with bling and swag. That said, we've never been to a dinner party where the guests received diamonds as souvenirs of the evening. Alas, we were born too…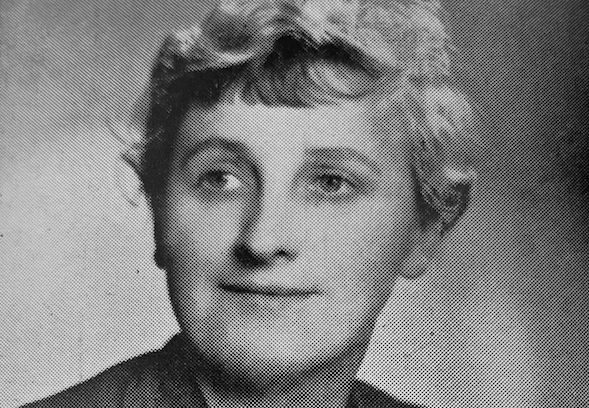 "I work quickly, without trying to put any message into my painting," Gertrude Freyman told the Kansas City Star in 1959. She added, "I don't think too much about what…