The Restaurant at 1900
The Restaurant at 1900 is a sleek, hip addition to Our Town's culinary scene. It is located in the 1900 Building, a modernist architectural treasure, originally built in 1967 and recently transformed by Karbank Real Estate Company into an LEED Gold Certified high-end, mixed-use building, including offices, performance and event spaces and a gallery. The restaurant itself, designed by RMTA architects and Jonkman Construction, is contemporary and comfortable, with its tones of gray in the walls and furnishings, along with the occasional pop of orange. Check out the fabulous salt and pepper shakers in display cases from the late Rose Karbank's personal collection and the paintings and sculpture by the late artist and KCAI professor Lester Goldman.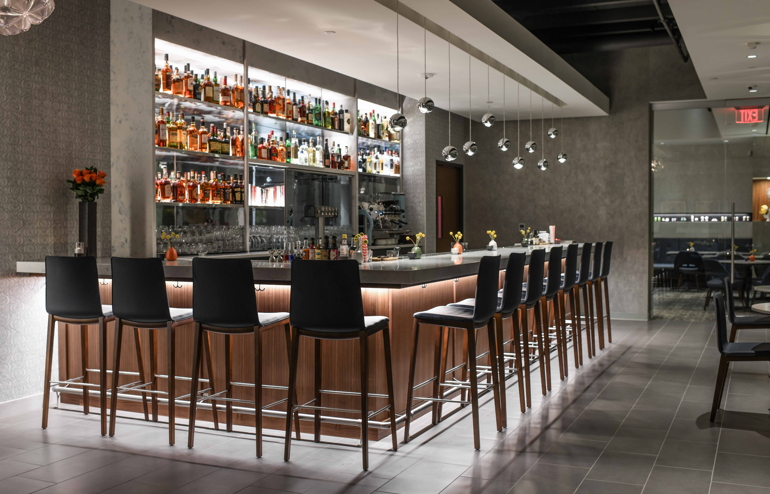 The Restaurant at 1900 could be a place to have lunch after a round of golf or for a special celebratory dinner. Said Jennifer Davidner Cattano, director of marketing for Karbank Real Estate Company; "We anticipate that many people dining at The Restaurant will not only live and work in the general vicinity, but will also pop in before and after parties, screenings, lectures, and performances we have in our event spaces downstairs. The Karbank family has a long connection with the Harriman-Jewell Series and with the Friends of Chamber Music and the International Center for Music at Park University as well." 
According to Jennifer, real estate developer Steve Karbank helped put together the "dream team" for the restaurant, which includes Executive Chef Linda Duerr, who came from The River Club, General Manager Keith Goldman, who was at Corvino Supper Club and Tasting Room, and world renowned Master of Wine and Master Sommelier Doug Frost. 
My fun and very smart group of diners included close friends Merilyn and Loren, Kathy and Scott, Doug and Judy, and my sister-in-law Jenny. "It's so warm and chic," exclaimed Merilyn. Judy liked the cozy quality of The Restaurant at 1900 and was pleased with the array of vegetarian and fish options. Jenny, who is an artist, said it was modern and fresh and especially admired the earthy neutral colors. "And the music is not overpowering." Everyone loved the savory grilled bread with just a hint of sweetness. "It just melted in my mouth," said Merilyn. "Such a refreshing change from what you normally get in restaurants."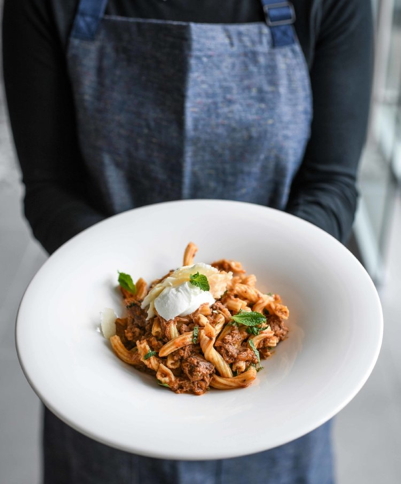 For the table, we got the lobster pop tart, with whipped VSOP cream and cherry tomato salad and the tempura fried mushrooms, with sweet black garlic and lime ails and gingered turnip pickle. "Everything is so good," said Jenny. "And I love the pickled turnips in the mushrooms." "The lobster pop tart is fabulous," said Judy. Both Kathy and Merilyn ordered the artichoke soup, garnished with hazelnuts, pepita oil and petite grilled goat gouda sandwich. "The soup is so savory and smooth," said Kathy. Jenny loved the sweetness of the roasted red pepper soup, which was a specialty item. Both Scott and Loren got the Narragansett Bay lobster salad roll for dinner. "This is the best lobster roll I've ever had," stated Scott. Merilyn ordered the pan seared Alaskan halibut special, which she raved about. Judy got the lemon ricotta agnolotti, and Jenny ordered the sea salt and sugar rubbed tenderloin of beef. My lemon and parmesan black sea bass was unexpectedly sweet and, of course, delicious. Kathy enjoyed the moistness of her slow cooked veal breast with crispy skin. 
The table decided to split three desserts. Kathy said the lemon chiffon layer cake was light and delectable. We all agreed the chocolate caramel tart was heavenly. And Merilyn especially loved the rhubarb streusel cake. "Such a surprise," she said. Everyone agreed that we didn't have one bad bite the entire evening. "Everything was amazing," said Judy. 
The Restaurant at 1900 is both friendly and professional, a relaxed vibe in a stylish setting, with outstanding food and service. "Quality is the element that weaves the components together at The Restaurant at 1900," said Jennifer Davidner Cattano. "We work hard to ensure that quality is ever present in what we do."  
Also featured in the June 9, 2018 issue of The Independent
By Ann Slegman
Photo Credit: Bonjwing Lee
The Restaurant at 1900
1900 Shawnee Mission Parkway
Mission Woods, Kansas 66205
913-730-1900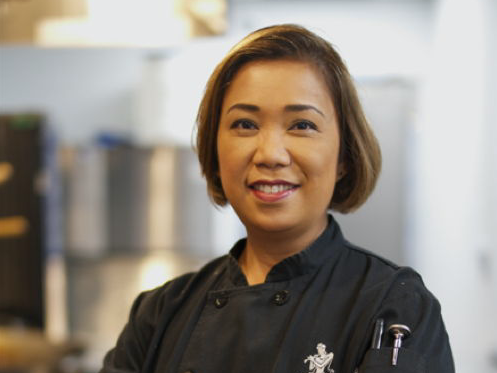 As the executive chef at Waldo Thai Place, Pam Liberda represents a new generation, a branch of a storied family tree that consists of her husband, Ted, and her mother-in-law,…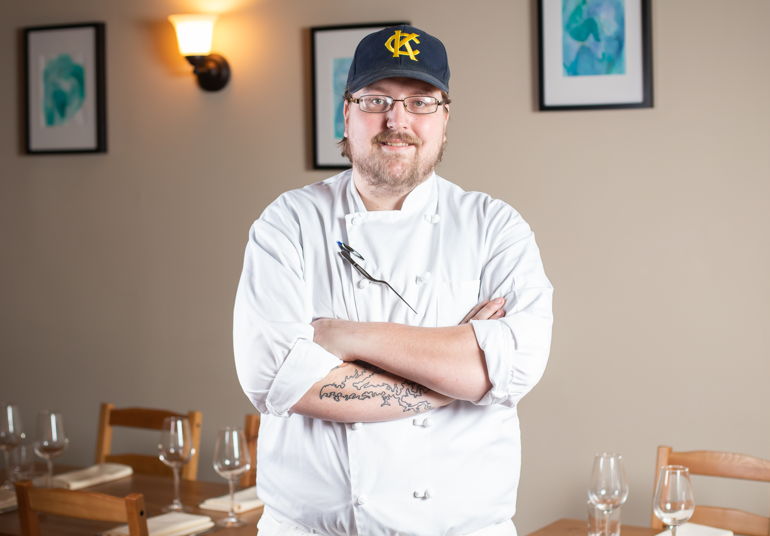 To many of Our Town's foodies and midtown residents, Calvin Davis is a hero. In June of 2017, a drunk driver, going 70 miles per hour, crashed into his well-received…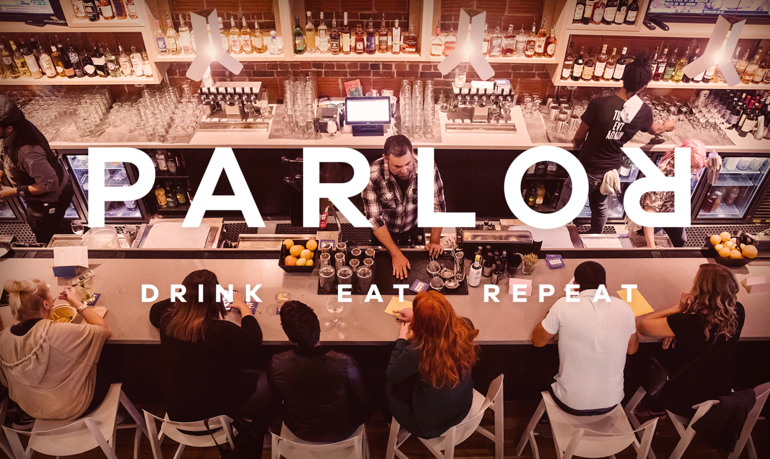 Food halls are red hot right now, providing a variety of cuisines for the most capricious of palates. (But don't confuse them with food courts, with their sampling of fast…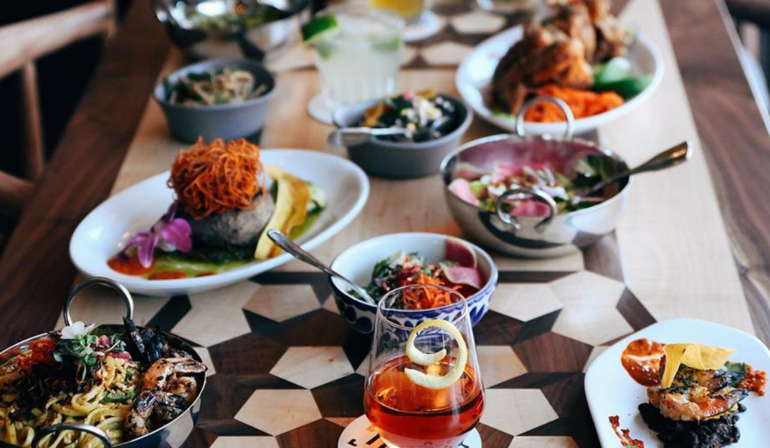 Open since March, Tribe Street Kitchen has a funky, global feel, yet it's also quite sophisticated. That is no coincidence. It showcases a large array of street food from around…