Palatable Pursuits – Fannie's African & Tropical Cuisine
The country's culinary scene is marked by fresh fish, rice, heavy spices, plantains, bananas, casava, yams, and hearty, eclectic soups and stews. Liberian cooks implement a "snout to tail" mentality when prepping in the kitchen and nothing goes to waste – from melon seeds to fish heads, chicken feet, and sweet potato greens, everything gets used. This approach leads to deeply flavorful dishes that are greater than the sum of their individual ingredients, with layers of flavor and texture. The country's American south culinary influences can best be appreciated when devouring a bowl of hearty soup or stew loaded with goat or chicken and marked by an abundance of flavor and richness.
A native of Liberia, Fannie Gibson moved to Kansas City more than 20 years ago. Five years ago, she opened Fannie's African & Tropical Cuisine at 41st and Troost, where she prepares and serves food from her native country of Liberia.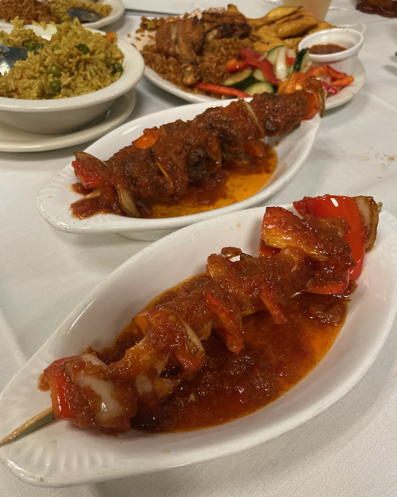 I had been hearing about Fannie's off and on and it has been on my list of places to check out. I finally did just that. On a sunny, unseasonably warm Friday afternoon in December, a friend and I met for lunch at Fannie's. The restaurant is located in a small strip of businesses on the east side of Troost, with ample street parking. 
Inside, the restaurant is proudly appointed with African art along the walls, a huge map of West Africa, and the tables are neatly dressed in white tablecloths. Afro-pop music played throughout as we seated ourselves at a cozy booth toward the back.
We were greeted by our server, Ayesha, who gave us some time to review the expansive menu. We then chatted about the menu options, and I asked if Fannie was available for a quick hello. Fannie came out of the kitchen and greeted us with a big smile. We asked her to surprise us with some of her favorite dishes, and she happily obliged us.
Fannie cooks at the restaurant six days a week and has some help off and on. Her oldest son helps in the kitchen on Sundays. I asked how her business fared during the early days of the pandemic, and she shared that the neighborhood kept her going. Fannie had a steady stream of regular customers who supported her business with carryout orders, and she had no trouble making it work. "If I did it all again, I would still choose Kansas City. Kansas City has been so generous and supportive."
Fannie is planning a second location that will serve alcohol (Fannie's doesn't have a liquor license due to its proximity to a church across the street). The location is still to be decided, but she is excited and eager to expand her business. 
Upon Fannie's return to the kitchen, I realized the restaurant had gotten much busier since we sat down. Ayesha was a one-woman show in the dining room, taking orders and serving drinks and huge platters and bowls of food. 
Our first dish came out, and it was the meat pie samosas. There were four huge pieces on a plate served with a sweet and tangy red pepper sauce. The samosas were filled with ground beef, peppers, and onions, and deep fried. The dough was thick and pillowy, and, honestly, it was so good I could have eaten it by itself, sopped in the red pepper sauce. We were off to a great start!
Next up was the most impressive dish visually… a whole red snapper (head and all!), served with plantains, fresh vegetables, cassava "rice," and more of that delish red pepper sauce. The fish had been fried, the skin was crispy, and the flesh was tender and flaky. The cassava rice resembled couscous but had an earthier flavor, and the plantains offered the perfect amount of sweetness to balance out the dish.
Chicken Jollof was next, one of her most popular dishes, and one of the more common foods of Africa found here in the Midwest. Jollof is a West African rice dish made with long grain rice, vegetables, tomatoes, and spices. This version had the addition of peas and reminded me a bit of fried rice. It was presented with the same vegetables, plantains, and red pepper sauce that came with the snapper. It was topped with a giant roasted chicken leg and thigh. The chicken was tender, and I shredded it with my fork and mixed it into the rice. Once again, the combination of flavors was delicious and comforting.
At this point, I was getting full and had no idea of what was to come since we didn't place our own order. Ayesha brought out two separate rarebit dishes, each with a skewer of protein and vegetables smothered in the delicious red pepper sauce. One of the skewers had beef and the other shrimp, and each was laced with fresh red bell peppers and sweet onions. I preferred the beef more than the shrimp, as the shrimp were a bit on the small side and slightly overcooked.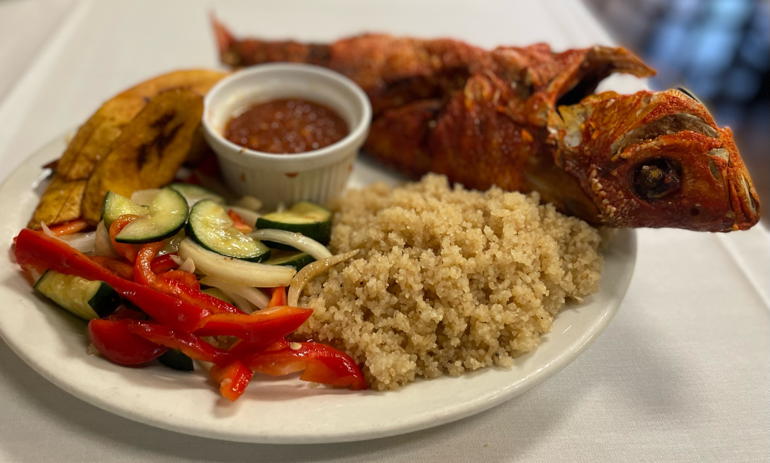 ---
We shared with Ayesha that we were getting stuffed and asked what was left. "Only four more soups" she quipped back. We laughed and pressed on, and she returned with a large bowl of Peanut Butter Soup with goat meat. It was served with fufu, a doughy ball that I pinched into small pieces, dipped in the soup, and swallowed whole without chewing. It was definitely a new experience, but one I will try again. Fannie's fufu is made with boiled yams that have been pounded and rounded into doughy balls. The soup was thick and hearty, with huge chunks of goat meat. It was the color of peanut butter as its name suggests, and it was delicious and hearty. It is definitely a meal on its own. 
Ayesha sensed we had hit the wall and opted to bring the last three dishes in the form of small samples, a flight of sorts. There were two soups and one side – Egusi soup, Ewedu soup, and fried spinach. The two soups showcased the West African way of not wasting anything in the kitchen. The Egusi soup was a hearty dish made with braised spinach and melon seeds. The Ewedu soup was a deep, dark green prepared from jute leaves. Jute leaves are somewhat bitter and are a nutrient-dense green, common in Asian and African cooking. Both soup samples were meatless, but Fannie also serves them with beef, goat, or chicken, with a ball of fufu on the side for dipping. The fried spinach was exactly as advertised – fresh spinach cooked in hot oil until it was wilted and almost creamy. It was delicious, and I only wish I had had more room!
As we wrapped up our culinary adventure, Ayesha brought us a stack of boxes to haul our leftovers home. The experience we had at Fannie's was one to remember – the food, the hospitality, and the dedication to her business and her craft. There is so much love and comfort in each of Fannie's dishes, and I can't wait to return.
Featured in the February 4, 2023 issue of The Independent.
By Jessica James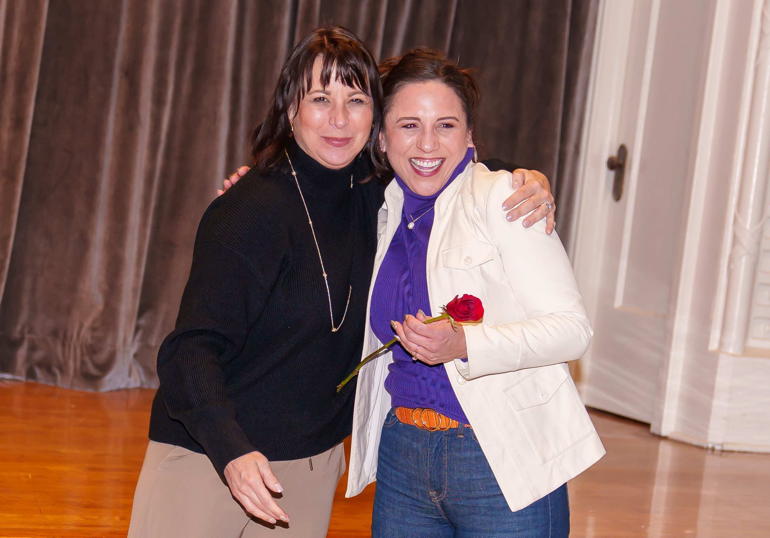 Cathy and Chip Toth are serving as the honorary chairs for Cristo Rey Kansas City's 17th Annual Dancing with the Kansas City Stars, "A Red Carpet Extravaganza." Susan Spencer, Christy…
KC Melting Pot Theatre strives to create a public sphere where the contributions of emerging and established Black playwrights can be shared in an enriching community environment. It works toward building…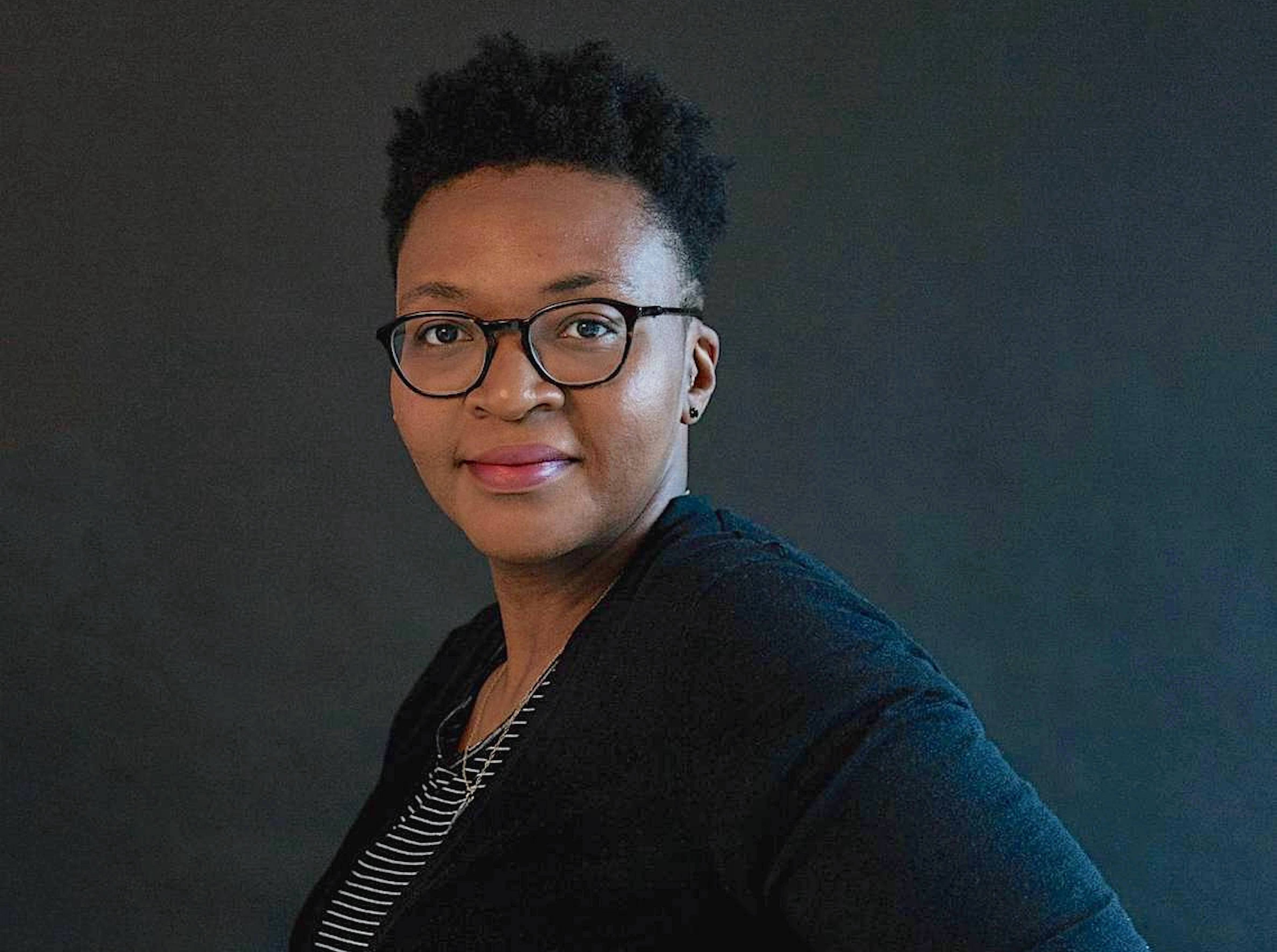 Kansas City's performing arts organizations have taken to heart the national push toward diversity and inclusion, and their commitment is reflected in this spring's performances. Rarely have we seen such…
"What if 15,000 people each donated $10?" This question, fueled by Brandon Calloway's vision for economic prosperity in the Black community, is the foundation of the innovative organization called G.I.F.T.—Generating…